Artsy New Cruella Character Posters Will Blow You Away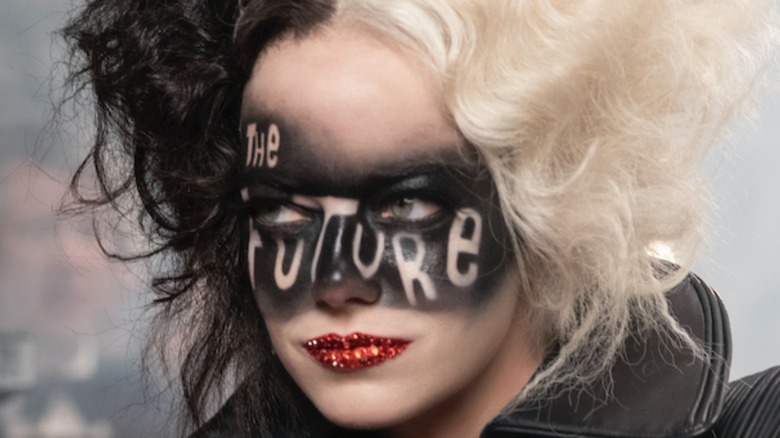 Disney
A brand new batch of posters for Disney's "Cruella" offers new insight into its vibrant cast of characters. The film is set to be released in theaters and on Disney+ (via Premier Access) later this month, and promises to forever change the way viewers look at the famously villainous Cruella de Vil.
Set in 1970s London during the city's punk rock wave, "Cruella" stars Emma Stone in its titular role and tracks her journey from starting out the rebellious Estella, an ambitious and enterprising young woman hellbent on becoming a powerful figure in the fashion world, to eventually becoming the wicked and vengeful Cruella de Vil. The film is directed by "I, Tonya" filmmaker Craig Gillepsie from a script co-written by "The Favourite" and "The Great" writer Tony McNamara, and following the release of its initial trailers earlier this year, has been on the receiving end of widespread comparisons to 2019's "Joker." 
Many have pointed out stylistic and narrative similarities between the two films, both of which tell the origin stories of iconic pop culture villains, but the "Joker" comparisons haven't stopped Disney from leaning all the way into the punk rock aesthetic and style of "Cruella."
The new Cruella posters tease the film's ensemble cast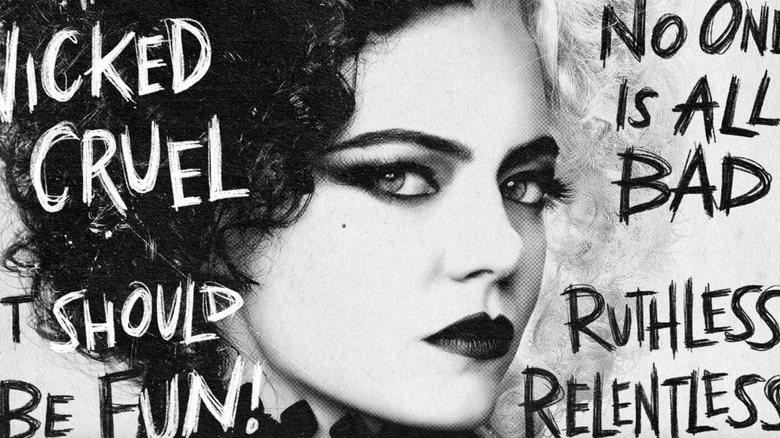 Disney
Earlier today, Disney unveiled five new character posters for "Cruella," each highlightin a different character from the film. Colored black and white to match the iconic hairstyle of the Disney villain, the posters all tease the personalities and mischievous impulses of the film's central figures.
Stone's Cruella gets the first character poster, which labels her as "wicked," "cruel," "ruthless," and "ready for revenge," while also cheekily noting that "no one is all bad." Baroness von Hellman (Emma Thompson), Jasper (Joel Fry), Horace (Paul Walter Hauser), and Anita (Kirby Howell-Baptiste) all get character posters of their own as well, with unique descriptions and labels for each of them. While the posters don't reveal much about the film's plot that wasn't already known, they do further sell the tone and style of "Cruella." 
Based on these artistic new posters and all the footage that has previously been released from the film, it's looking more and more possible that "Cruella" will carve out a space unlike any other live-action Disney film of recent memory. It may even manage to prove its worth outside of the overwhelming "Joker" comparisons that have piled on comment sections and social media in recent months.