The Real Inspiration Behind Cruella's Punk-Rock Fashion Looks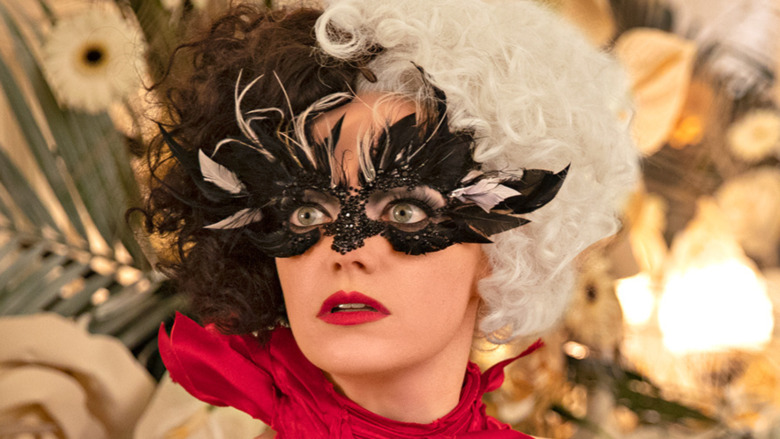 Disney
Emma Stone's upcoming villain origin story Cruella features some pretty incredible fashion looks — and the creative team behind the movie is opening up about their process.
Set for a late May release in theaters as well as with Premier Access on Disney+, Academy Award winner Stone stars alongside fellow Oscar winner (and name twin) Emma Thompson in Cruella, an origin story about the fashionable yet detestable villainess first introduced in the 1961 Disney animated classic, 101 Dalmatians. Taking the mantle from Glenn Close, who played the role in the first live-action adaptation in 1996, Stone will show audiences why Cruella becomes such an evil force — and according to the movie's creative minds, she'll look fabulous in the process.
In a new feature in Entertainment Weekly ahead of the film's release, director Craig Gillespie, costume designer Jenny Beavan, and production designer Fiona Crombie spoke to the outlet about their inspirations, the film's look and fashion, and the world they created around Stone's Cruella. Here's the real inspiration behind Cruella's punk-rock fashion looks.
Cruella's clothing is inspired by the gritty 1970s in London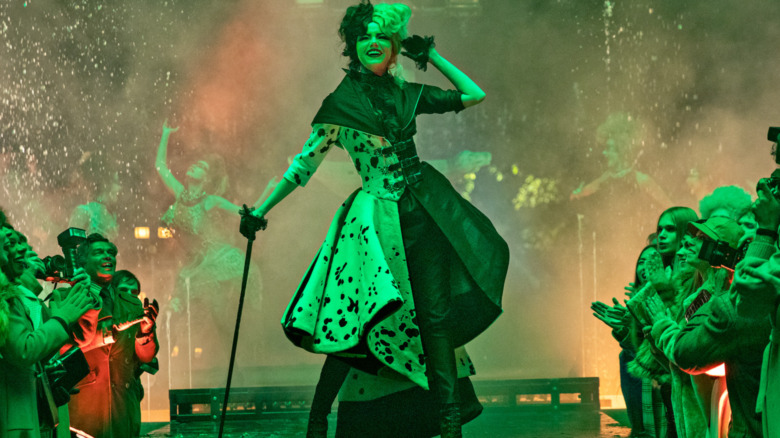 Disney
Considering that Cruella is a movie set in the world of high fashion, it stands to reason that the entire look of the film was of the utmost importance. As Gillespie told EW, "We're in a fashion world. That made it much more complicated, because everybody's going to have their fashion lens on as well. [We] run the risk of it taking you out of the film if you're not buying what they're selling."
Inspired by punk looks like the designs of Vivienne Westwood — a British designer who was one of the most influential London designers during the 1970s and even outfitted rock stars like the Sex Pistols — Beavan searched through thrift shops across the world for Cruella's outfits. "I thought [using found clothing] would be part of her ethic," Beavan told EW. She also was careful to chart Cruella's character development through the clothing, saying, "It's quite clear in the story how [Cruella] develops, so you've got a good arc to her life in clothes," At the beginning, while Cruella is still known as Estella, her clothing is more grounded and natural, and "as she becomes crueler and Cruella-er, she becomes sharper and more tailored."
As Gillespie noted, Beavan needed to marry the 1970s and current fashion, and no look represents that better than a military-inspired haute couture look Cruella dons during the film. Discussing the piles of figurines that top Cruella's epaulets, Beavan joked, "There's a whole world on that shoulder!"
Thompson, who plays a powerful designer, also rocks some pretty amazing looks, but they're very different from Stone's. "You have to remember, even though she's evil, she's a very, very good designer," Beavan says of Thompson's character, the Baroness, though she also notes, "by [the '70s] she's slightly old-fashioned" — paving the way for a new fashion mogul like Cruella.
However, animal advocates can rest easy, even when Cruella adorns herself with a spotted look reminiscent of dalmatian fur. As Beavan revealed, the fur was "was completely fake, printed by our printing department," clarifying, "no animals were harmed in the making of this major motion picture!"
Cruella — and all of its punk-rock looks — hits theaters and Disney+ on May 28.