Demon Slayer: Mugen Train Just Made Movie History In The US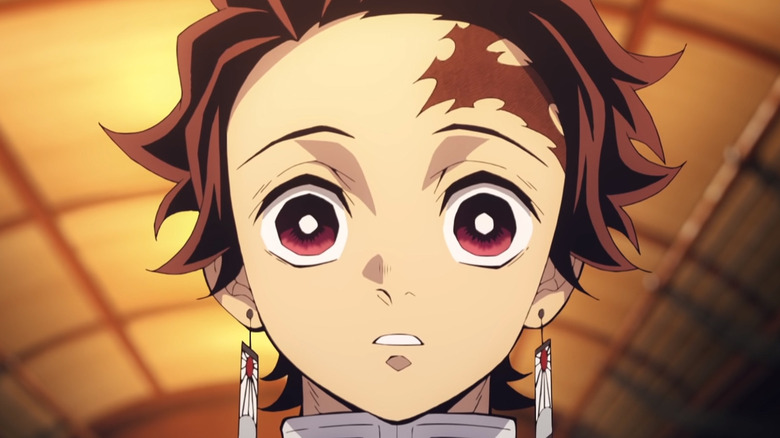 Toho/Aniplex
"Demon Slayer: Mugen Train," the violent shonen anime movie that's become a popular sensation, is setting all kinds of box office records. It's the highest-grossing movie in Japanese box office history, breaking the 20-year record held by Hayao Miyazaki's animated classic "Spirited Away," according to Crunchyroll. Making this record even more impressive is the fact that the movie did it during a pandemic. By December 26, 2020, it made over 32 billion yen, which is equivalent to over $313 million. It's the highest-grossing movie worldwide of 2020, when 2021 grosses are taken into account, according to Forbes. And it's making history at the U.S. box office, too.
"Demon Slayer" – aka its full title, "Demon Slayer: Kimetsu no Yaiba the Movie: Mugen Train" – is the first feature in the "Demon Slayer" franchise, which started as a manga by Koyoharu Gotouge. A series adaptation premiered in 2019 and has been renewed for a second season. The film is a direct continuation of Season 1. It tells the story of a group of young demon slayers, led by the hero Tanjiro Kamado, who board a train to help another demon slayer track down a particularly vicious demon. While onboard, strange, dreamlike things begin happening to the travelers.
It's a very niche film, but there are enough "Demon Slayer" fans in America to help put it over the top to make box office history.
Demon Slayer is a records slayer, too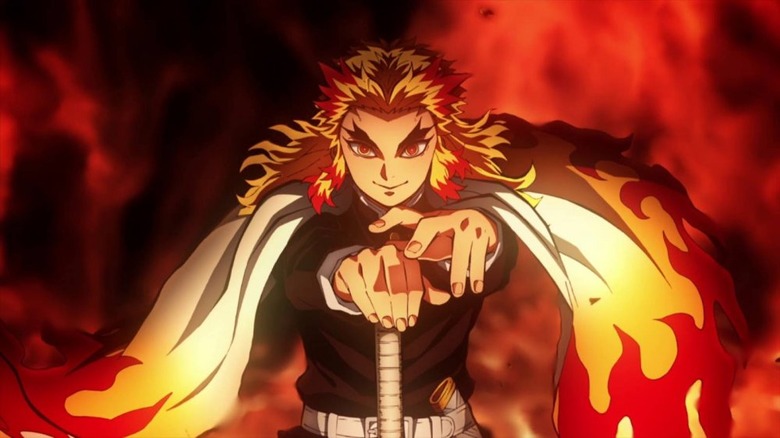 Toho/Aniplex
According to Variety, "Demon Slayer: Mugen Train" topped the U.S. box office this past weekend, edging out "Mortal Kombat" in both films' second week of release. "Demon Train" made $6.4 million, while "Mortal Kombat" made $6.2 million. The total North American haul so far for "Demon Slayer"  is an impressive $34.1 million. According to Kotaku, it had the best opening weekend ever for a non-English movie, earning $19.5 million in its opening weekend, breaking the record set by the martial arts epic "Hero" in 2004.
Anime News Network reports that "Demon Slayer" is the second Japanese film and the second anime film to ever reach the No. 1 spot at the U.S. weekend box office, and the first since "Pokémon: The First Movie" in 1999. "Demon Slayer" is now the third-highest-grossing anime film in the United States, behind "Pokémon: The First Movie" and "Pokémon The Movie 2000," but ahead of "Dragon Ball Super: Broly."
In normal times, "Demon Slayer" would not top the box office. If "Mortal Kombat" hadn't simultaneously premiered on HBO Max, it probably would have performed even better theatrically, to say nothing of the surefire blockbusters whose releases have been postponed. Regardless, it's still a very impressive showing for "Demon Slayer," and probably qualifies as a phenomenon: An R-rated animated Japanese movie topped the U.S. box office. 
If you want to catch up on the story, "Demon Slayer" Season 1 is available to stream on Netflix.