The Unexpected Reason Why Mark Harmon Loves Gibbs So Much
Andrew Toth/Getty Images
After nearly two decades on air, "NCIS" is still going strong in its 18th season. No matter how many options become available for viewers, the show remains one of the most-watched on television. Fans continue to love following Agent Leroy Jethro Gibbs and his team as they solve crimes as part of the Naval Criminal Investigative Service. Mark Harmon has played Gibbs since the character first appeared in "JAG" in 2003. 
Harmon has been acting since 1973 and is also known for his roles on hospital dramas "St. Elsewhere" and "Chicago Hope." However, his tenure as Gibbs is what most audiences know him for, and he's also portrayed Gibbs on spin-off "NCIS: New Orleans." Playing a character for 18 years requires an actor to really connect with the role, which Harmon definitely does, and he has shared how much he likes Gibbs and what keeps him returning to the show year after year. 
'I'm greatly attracted to his flaws'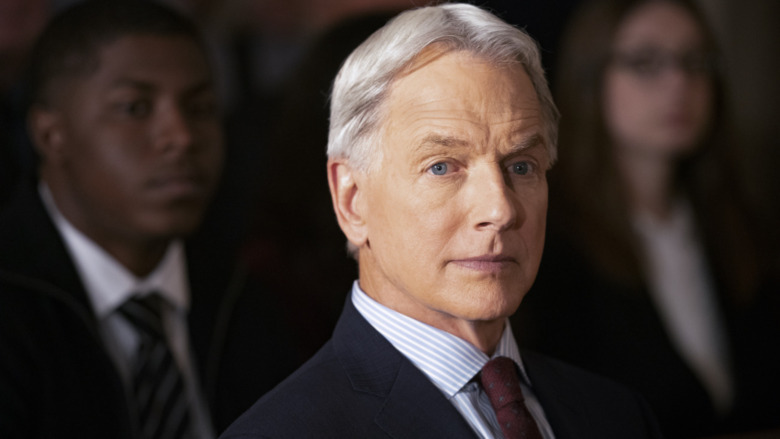 CBS
For an actor to remain committed to a character for so long, the character can't be boring. As far as Mark Harmon is concerned, Gibbs is anything but.
In an interview with CBS (via Showbiz Cheat Sheet), Mark Harmon shared his feeling about Agent Gibbs, saying, "I like this character a lot. And like him a lot because I'm greatly attracted to his flaws. And he has so many of them. There are a lot of things he does really well, and there are a lot of things he does horribly." Harmon elaborated on this in a 2014 interview with Larry King, saying, "[Gibbs] is complex, which is fun to play. And I've always liked the underbelly parts of this character more than any of it." Harmon has also commented on how different he is from Gibbs, which we're sure makes the performance even more fun for the actor.
Harmon's portrayal of Gibbs is undoubtedly the glue that holds "NCIS" together, and we can't imagine the show ever going on without him. Fortunately, with a 19th season already ordered by CBS, "NCIS" fans will have plenty more of Gibbs and co. to enjoy next year.