The Disenchantment Reunion You Didn't Notice In The Mitchells Vs. The Machines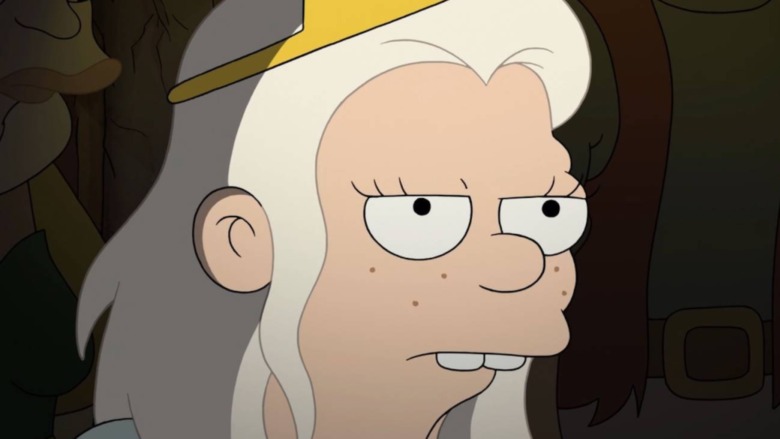 Netflix
One of the biggest culture clashes to occur in the modern age involves those who are fine with technology playing a role in every facet of our lives and those who are perpetually scared of Siri. It's this dynamic that's explored in-depth in the new Netflix film, "The Mitchells vs. the Machines" where a family goes on a road trip in the midst of a tech uprising. With strong themes, great jokes, and infectious songs, it's easy to see why the latest Netflix movie has been a major hit with critics, including Looper's own Larry Carroll. 
At first glance, it might seem like the animated comedy would share very little with another Netflix project — "Disenchantment" — which takes place in an ancient era where technology is replaced with magic. Characters still have to use candlelight on "Disenchantment" after all. 
But if you listen closely enough, then you may hear similar voices across the two properties. In fact, two extremely funny comedic actors are shared, and if you couldn't quite place your finger on where you've heard them before, here's all you need to know.
Abbi Jacobson and Eric Andre reunite for The Mitchells vs. the Machines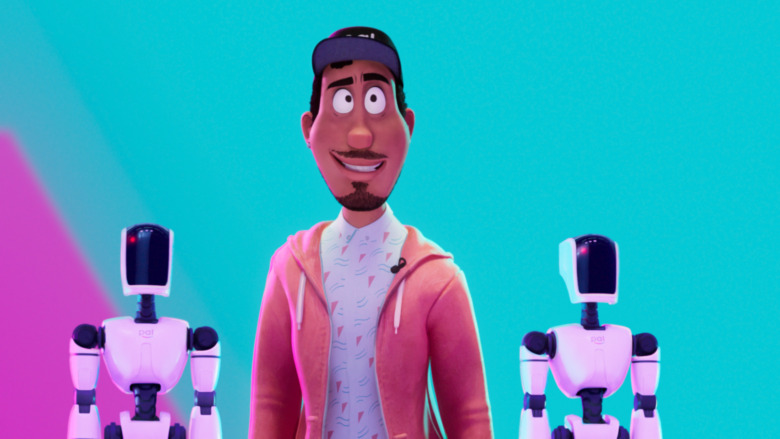 Netflix
On "Disenchantment," Abbi Jacobson voices Princess Bean, who would rather get drunk at the local tavern than rule a kingdom. Even then, she can't help but find herself in magical, world-altering plot that forces her to grow up sooner than she would've liked. The actress has now added to her lead role repertoire by voicing Katie Mitchell, the tech-obsessed filmmaker at the heart of "The Mitchells vs. the Machines." The actress has proven she had no problem taking on the spotlight before, either, as she starred as Abbi Abrams in a joint lead role for Comedy Central's "Broad City" for five seasons. 
She's joined by Eric Andre, who plays the demon, Luci, on "Disenchantment." The little guy who's frequently mistaken for a cat joins Princess Bean on many of her adventures, often doing what demons do best and encouraging her to pursue her basest instincts. Andre has a habit of playing characters who cause all sorts of mayhem (just look at five seasons of "The Eric Andre Show") as he also portrays the scientist, Dr. Mark Bowman," who's responsible for artificial intelligence getting out of hand in "The Mitchells vs. the Machines."
They're both immensely funny individuals, so it's no wonder to see them pop up with multiple collaborations. Plus, if you need any more incentive to check out "The Mitchells vs. the Machines" on Netflix, then you should know the voice cast also includes the likes of Danny McBride, Maya Rudolph, Conan O'Brien, and even internet sensation Doug the Pug. With that kind of star power, you know the laughs will be coming a mile a minute.