The Mitchells Vs. The Machines Review: Fun For The Whole Family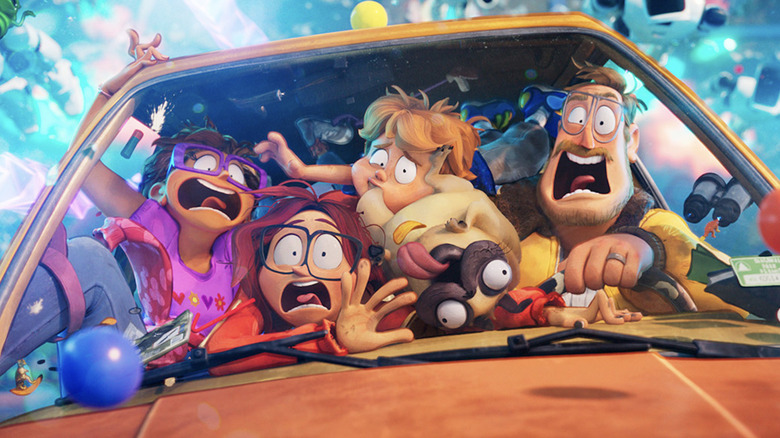 A family-friendly film that oozes fun out of its every frame, "The Mitchells vs. the Machines" isn't as majestic as something like "Raya and the Last Dragon" or as beautiful as something like "Wolfwalkers" — but it isn't trying to be. Instead, it's perfectly content to be a silly movie about sweet, stupid characters, and it's the best film to do so since the two "Cloudy with a Chance of Meatballs" films. Which is by design, because it's from many of the same people who put those endearingly irreverent "Cloudy" films on the big screen.
Produced by "Cloudy" writer/directors Phil Lord and Christopher Miller (who also drew up the blueprint for the endlessly fun LEGO movies), "Mitchells" is the first full-length movie directed by Michael Rianda and Jeff Rowe (both veterans of the beloved cartoon series "Gravity Falls"). According to the perky end credits, the film's eccentric Mitchell clan is based on Rianda's real family — presumably they didn't actually battle a robot uprising, but with the news cycle moving so quickly these days, perhaps we all missed that headline.
The movie begins by introducing us to this particular nuclear family, as well as all their endearing/ingratiating personality tics. Mom Linda (Maya Rudolph) bakes weird cupcakes and has a tendency to embarrass her kids; dad Rick (Danny McBride) is a wannabe-survivalist who hands out screwdrivers for birthday presents; little brother Aaron (Rianda) is obsessed with dinosaurs and angered by the inaccurate ways they are typically portrayed; big sister Katie (Abbi Jacobson) is an aspiring filmmaker old enough for college — and relentlessly annoyed by them all.
While we're learning all this in the film's opening moments, "Mitchells" keeps referencing "Pal," an Alexa-like virtual assistant who is in all the devices whose screens the family would rather stare at than each other over the dinner table. What they don't realize is that the Steve Jobs of this universe, Mark Bowman (Eric Andre), is making plans to toss Pal (Olivia Colman) aside and replace the ubiquitous AI with a bunch of robots — and that Pal will react to her planned obsolescence by taking over said robots and then setting her sights on the world itself.
Due in large part to their own ineptitude, the Mitchells are the only humans who manage to escape capture by these ominous white automatons. When the family befriends two malfunctioning robots (voiced by Fred Armisen and Beck Bennett) who reveal how they can take down the whole army of robots and return civilization to normalcy, it's up to this bothersome brood to save the world — if they don't drive each other completely nuts before the plan gets off the ground.
How are we gonna reboot that?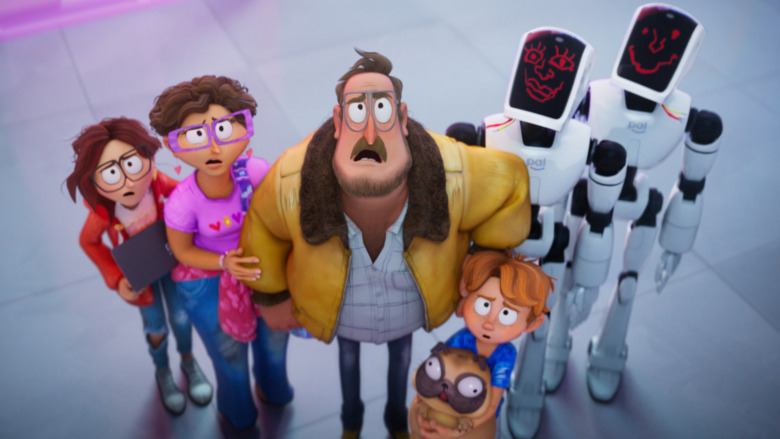 The first thing you notice with "Mitchells" is the animation style. It has a non-pretentious visage that disarms you, but look closer and you'll see a CG/hand-drawn hybrid that successfully unites the possibilities of the former with the warmth of the latter. Since Katie has an affinity for YouTube videos, memes and GIFs, scenes are frequently punctuated by crazy animals, dancing things and snort-worthy filters — don't worry, it's not nearly as annoying as it sounds. Taking matters one step further, some shots are photo real or actually real, taking a page from the genre-breaking mindset of the Lord/Miller-produced "Spider-Man: Into the Spider-Verse."
Beyond that, the film is just funny. Funny in a way far too many "comedies" simply aren't. It's often a random humor, one filled with Furby jokes and the agony of accidentally setting your phone to the wrong language, but it has a very high batting average considering the onslaught of punchlines that come at you rat-a-tat from the first frame.
Talk to anyone who has parented a child in the past ten years and they are likely to tell you they're thankful for the "Cloudy With a Chance of Meatballs" films. The original 2009 movie had a similar rapid-fire joke aesthetic, as well as a backbone of family awkwardness (Flint Lockwood's constant failures to find common ground with his fish-loving dad) that "Mitchells" wisely leans into. Its 2013 sequel was reminiscent of something like "Gremlins 2: The New Batch" in that it took a successful formula and tied a bottle rocket to it, and the result was another movie that parents didn't mind having playing in the house as their kids watched it for the fifth, fiftieth, or five-hundredth time. You kept finding something new to make you laugh with every viewing, and thankfully if feels like that baton has been passed along to "Mitchells," because it runs an equally impressive race.
"Mitchells" is also very clever in some of its biting commentary on us as a species. The robots find it very easy to round up every human on the planet, simply offering us wi-fi and snacks. Our jail cells resemble the kind of sleek, clean designs Apple specializes in, and many get in willingly with that same dazed look in their eyes they might have while lining up for another iPhone. Pal's plan is to shoot all of us into outer space, and it feels like the only concern most humans have is whether they'll still be able to use their devices in orbit.
Then there's the subtext, and it's one that will leave anyone who has ever had a family nodding in agreement. These people are weird, they have quirks, they're frequently making really bad decisions. But what you're left with is the image of them piled in their burnt-orange 1993 station wagon with "Wash Me" scribbled in the muck on the back windshield, spilling snacks all over each other while they team up to save mankind. By the end, don't be surprised if the last tear you shed is not one brought about from laughing so hard.
This is a movie that will make your kids realize that even when you're embarrassing them, they should still appreciate that mom and dad are trying so hard. The next time your family takes a road trip, or stops at a silly roadside dinosaur attraction, don't be surprised if the kids start quoting memorable lines from "Mitchells" — and maybe hug you a little bit tighter, too.
The family that clicks together, sticks together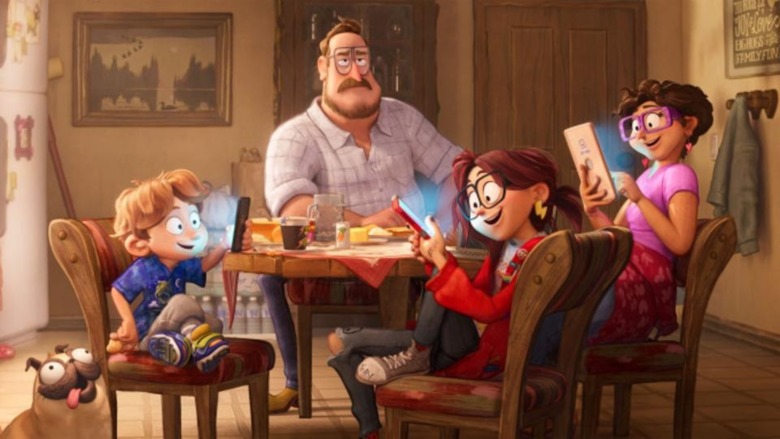 Kudos to a voice cast that gets the job done with endearing, infectiously silly ease. McBride hasn't done many "dad" roles, but with his face hidden behind a cartoon father's receding hairline and unironic moustache, it works. Maya Rudolph, of course, is simply a national treasure — and supporting voices from Armisen and Bennett to Conan O'Brien (and even John Legend and Chrissy Teigen as obnoxiously perfect neighbors) are adeptly cast.
The only real complaint with "Mitchells" is that its plot is relegated to the back seat of this family vehicle. Early on, we know the plan: this family needs to overcome the robots, get to Pal's headquarters, stop the evil app and save the world — and if you honestly think any of that isn't going to happen, well, the biggest surprise for you might be that there aren't any surprises.
But ultimately, you won't remember that. You will, however, remember the uproarious sequence where Katie storms the villains' lair by strapping the family's ugly dog to the hood of their car, causing the robots' recognition programming to malfunction while trying to identify it as a dog, a pig, or a loaf of bread. You'll also remember a silly scene where Pal teaches Bowman what it feels like to be a cellphone, ordering "Bring me pizza! Play me Taylor Swift!" and then dropping him in a toilet.
On the heels of 2020, a year in which we were stuck at home and relied on our families and devices more than ever, "Mitchells" is a silly, sweet reminder of which is more important. Watch it with the people you love, and don't be surprised if by the end you're all reminiscing about the ugly family vehicles, bad dad ideas and other familial foibles that make life worth swiping right.