The Real Reason The Mitchells Vs. The Machines Song Sounds So Familiar
This content was paid for by Netflix and created by Looper.
If you find yourself ready to dance after checking out the trailer for The Mitchells vs. The Machines, you're not alone. This preview is backed by one of the biggest songs from one of the world's hottest bands, and there's a very good chance you've grooved to it before many, many times.
The Mitchells vs. The Machines, which arrives on Netflix on Friday, April 30, presents the title family as a chaotic bunch who can't make it through dinner without a conflict, but still end up having the fate of humanity riding on their shoulders. It all starts when the nature-loving patriarch of the Mitchell family, Rick (Danny McBride), decides that his daughter Katie's (Abbi Jacobson) move to film school should become a family road trip, and mom Linda (Maya Rudolph), brother Aaron (Michael Rianda), and the family's dog are all dragged along for the messy ride. But soon, this dysfunctional brood becomes humanity's last hope as they are the lone people left standing against the machines.
The trailer for the film gives us a taste of the apocalyptic action ahead, and if you're left humming along to the background music and wondering where you've heard it before, we're here to help.
A K-pop sensation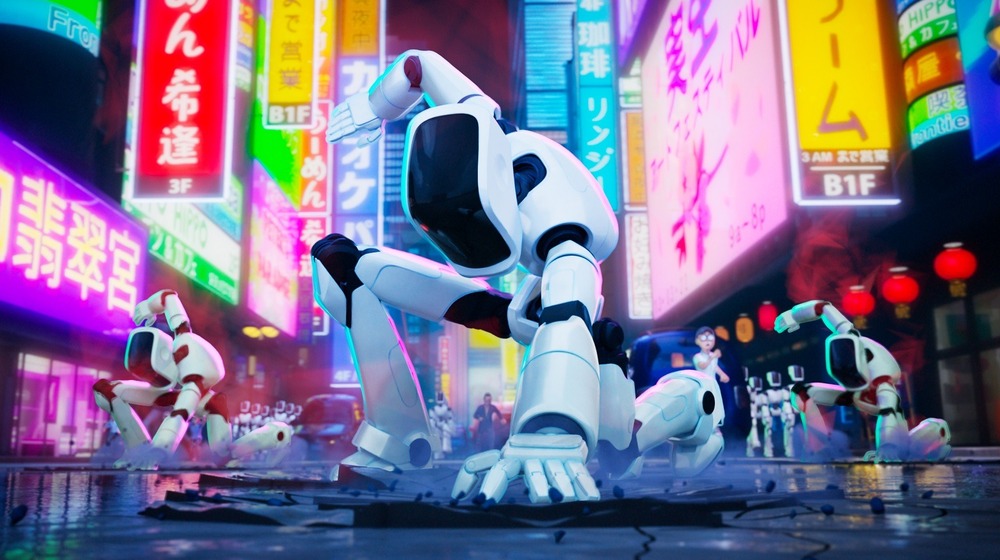 SPAI/Netflix
Chances are, if you have been even remotely aware of the internet or listened to a radio any time over the last five years, you may have heard of a little band called BTS. The Korean hip hop and pop group has steadily become the very definition of an international sensation in recent years. And as their global popularity has continued to grow following their original debut in 2013, the group continues to get even more musically inventive and impressive.
BTS, which is also known as the Bangtan Boys or the Bulletproof Boy Scouts, consists of seven members: singer-songwriter Kim Seok-jin a.k.a. Jin, rapper Min Yoon-gi a.k.a. Suga, rapper Jung Ho-seok a.k.a. J-Hope, rapper Kim Namjoon a.k.a. RM, singer Park Ji-min a.k.a. Jimin, Kim Tae-hyung a.k.a. V, and Jeon Jung-kook a.k.a. Jungkook. After originally coming together around 2010, the group burst onto the music scene with the release of their first single album 2 Cool 4 Skool in 2013, and the fanfare has only intensified since then. They've now released five Korean-language studio albums and four Japanese-language studio albums, along with performing in five major tours, amassing several world records, and helping to popularize Korean music's influence in America.
BTS now boasts a number of singles that have made it onto the mainstream radio waves and major awards shows in the United States — and one of their songs that really elevated their charting momentum with American fans was "Mic Drop." That track, which was released in 2017 as part of BTS's Korean language EP Love Yourself: Her, helped them become the first Korean band to earn certification by the Recording Industry Association of America, with the song's remix version going platinum.
Dropping the beat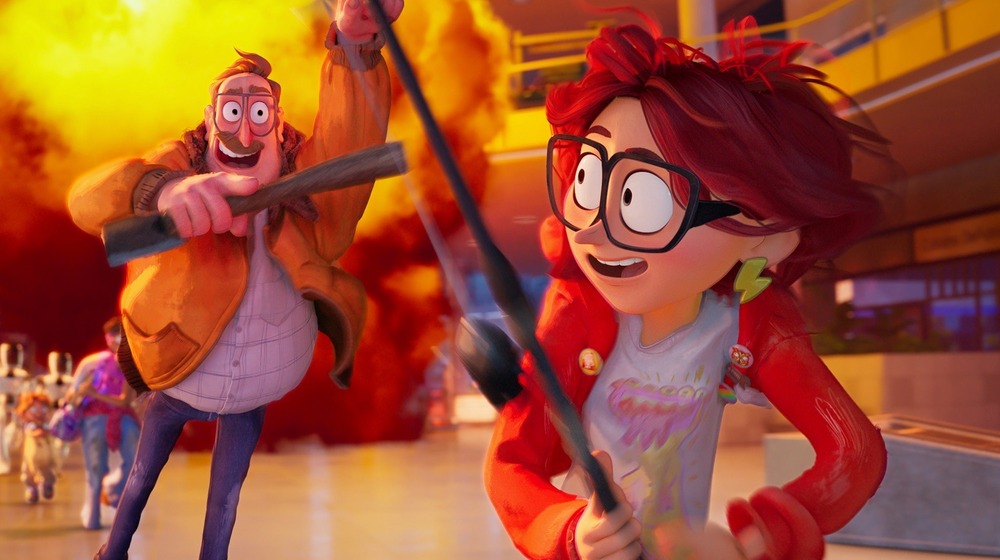 SPAI/Netflix
Originally appearing on the B-side of Lose Yourself: Her, BTS's "Mic Drop" was later remixed with an American producer, and that version of the jam is what you can hear in the background of the Mitchells' budding war with the machines in the new Netflix trailer. In all likelihood, you've heard this song before, because not only was it a radio favorite when the remix dropped in November 2017, but BTS has also performed the track live in some very visible venues. Notably, BTS first performed the song during their daytime television debut in 2017 on The Ellen DeGeneres Show, which also produced the interview in which RM revealed that he learned to speak English by sharing in one of America's favorite pastimes: watching Friends re-runs.
Soon after, the band made a splash on the late-night scene by performing "Mic Drop" on Jimmy Kimmel Live. Then in 2019, when they made their debut on NBC's stalwart sketch comedy series Saturday Night Live, "Mic Drop" was one of the two songs they chose to perform for the live audience, along with their newer single, "Boy with Luv."
"Mic Drop" was originally written by BTS's own full-time members J-Hope and RM, alongside the band's regular collaborators at Big Hit Entertainment: Shin Dong Hyuk a.k.a. Supreme Boi, "Hitman" Bang Si-hyuk, and Kang Hyo-won a.k.a. Pdogg. For the remix, which can be heard in The Mitchells Vs. The Machines trailer, the five original songwriters also collaborated with American DJ Steve Aoki and other artists.
RM told The Korean Herald that the original inspiration for the track was something then-President Barack Obama did to close his final White House Correspondents' Dinner appearance in 2016, when he famously dropped his mic after saying "Obama out." That moment reportedly reflected the swagger and ambition that the band had been developing, and the lyrics of the record certainly commemorate their rise.