Why Griffin From Men In Black 3 Looks So Familiar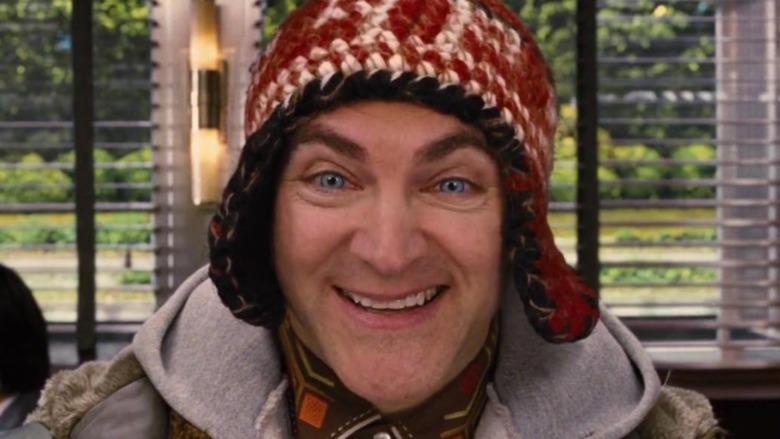 Columbia Pictures
2012's "Men in Black 3" was a franchise reanimator well above anyone's expectations. Ten years after the series' previous installment, it proved the kooky MIB alchemy between bizarro sci-fi, goofy comedy, and emotional sincerity could still work beyond the '90s and well into the blockbuster era, as long as the stories stayed engaging and the characters stayed charismatic.
One of the things that counted towards making "Men in Black 3" so fun and endearing was its re-invigoration of the J/K dynamic, by getting Agent J (Will Smith) together with a younger, more cheerful, yet still uncannily familiar version of Agent K (Josh Brolin). Another was its surprisingly deft incorporation of time travel into the plot, which made the denouement of J's story, with all that is revealed about his relationship with K, much more touching than it had any right to be. Another factor was the winning supporting cast, which included one particular character who instantly became a fan favorite: Griffin, the lovable clairvoyant alien.
The last surviving member of the Archanan race, Griffin had the ability to foresee all the infinite possible scenarios arising out of any one moment, which made him not only a hilarious eccentric but a genuinely fascinating voice in the movie's universe, whose unassumingly wise and hopeful outlook on the nature of time and lived experience formed the thematic center of "Men in Black 3." And of course, Griffin wouldn't have been so compelling if he hadn't been played by a great actor, capable of stealing the show with just a well-placed word or two. He may seem familiar even if you're not sure how. Here are some of the many places where you might have seen Griffin before.
The Coen brothers gave Michael Stuhlbarg his big break in A Serious Man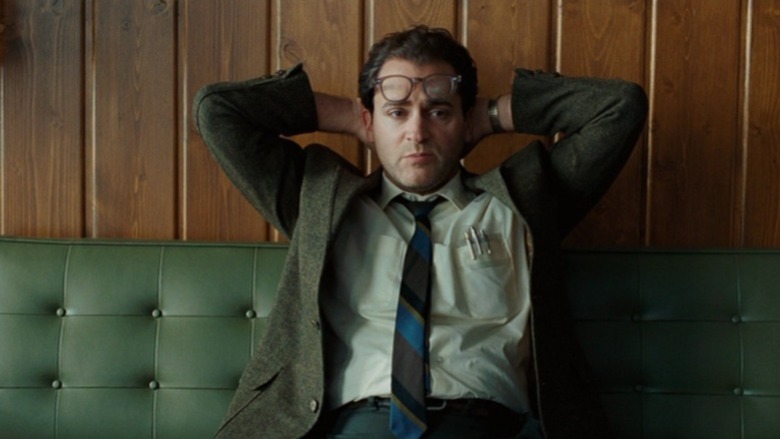 Focus Features
Californian actor Michael Stuhlbarg began his career in theater, appearing in a variety of stage productions on and off-Broadway throughout the 1990s and early 2000s (via Broadway World). Following a handful of TV roles on shows like "Law & Order" and "Studio 60 on the Sunset Strip," he was finally discovered by Hollywood when he nabbed the starring role on a Coen brothers movie, 2009's "A Serious Man."
Arguably the Coens' oddest, smallest-scale, most idiosyncratic movie, "A Serious Man" is nonetheless one of their masterpieces. The role of well-meaning 1960s Jewish schoolteacher Larry Gopnik, whose increasingly Job-like personal and professional trials lead to a massive crisis of faith, needed the exact right actor to strike the intended balance between comedy, tragic irony, and existential befuddlement.
Stuhlbarg was just the man for the job. Even though it was his first film role of real substance, he immediately seemed like one of those seasoned character actors so rarely allowed to have the spotlight to themselves, and so riveting when they do. His performance was riotously funny, carefully considered, bizarrely empathetic — everything you could want out of a Coen Brothers joint.
For his work, Stuhlbarg won several awards and acknowledgments, including a Golden Globe nomination for Best Actor in a Motion Picture – Musical or Comedy (via IMDb). "A Serious Man" even earned itself a surprise nomination for the Best Picture Oscar. It was the perfect kickoff to a career everyone knew right away would be great.
Michael Stuhlbarg was the all-powerful Arnold Rothstein on Boardwalk Empire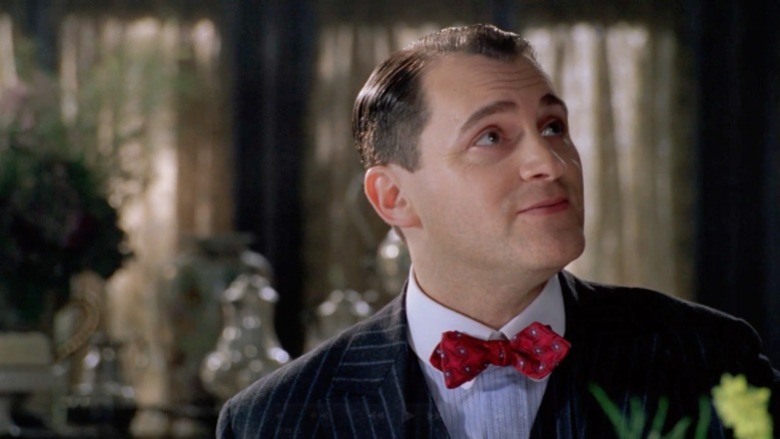 HBO
Right after the success of "A Serious Man," Michael Stuhlbarg found himself on his way to even bigger mainstream exposure in one of the main roles of HBO's "Boardwalk Empire." Playing real-life racketeering kingpin Arnold Rothstein, the most powerful New York mob boss in the show's panorama of the Prohibition era, Stuhlbarg once again found a rare, delicate balance between seemingly contradictory character traits. Rothstein was both a deeply menacing and deeply elegant figure, never raising his voice, always flaunting the effortless composure that comes with the certainty of real power.
Stuhlbarg starred on "Boardwalk Empire" for four of the show's five total seasons. On the first two of those seasons, "Boardwalk Empire" won the Screen Actors Guild Award for Outstanding Performance by an Ensemble in a Drama Series, thus making Stuhlbarg a two-time SAG Award winner alongside illustrious castmates like Steve Buscemi and Michael Shannon (via IMDb). That sustained four-year visibility allowed Stuhlbarg's star to keep rising, culminating in his role in "Men in Black 3" along with a string of other supporting turns in big movies.
Stuhlbarg played Doctor Strange's rival surgeon, Nicodemus West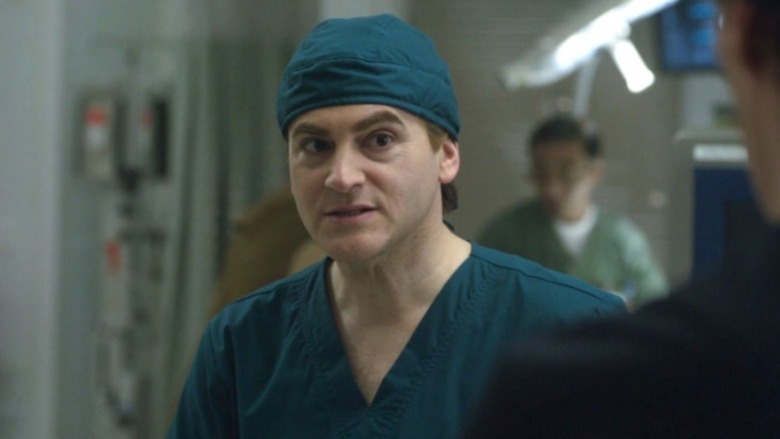 Walt Disney Studios
After brightening up the screen consistently in star-studded studio dramas like "Hugo," "Seven Psychopaths," "Lincoln" and "Steve Jobs," the inevitable happened to Michael Stuhlbarg: he got cast in the MCU.
Back when "Doctor Strange" was announcing its stars, things got to a point where it almost seemed like overkill: Benedict Cumberbatch, Rachel McAdams, Tilda Swinton, Mads Mikkelsen, Chiwetel Ejiofor, all extremely prestigious actors whose appearances in a superhero movie would be events on their own, let alone all together. Michael Stuhlbarg was one such actor, too, but his role wasn't as big as the others. Stuhlbarg played Dr. Nicodemus West, the fellow surgeon who maintains a friendly rivalry with Stephen Strange (Cumberbatch) at their hospital, only for that rivalry to turn bitter when he's unable to salvage Strange's hand movement after his car accident.
Despite the brief screentime, the role still allowed Stuhlbarg to bring out his signature combination of gravitas and comedic flair, effortlessly transitioning from West's comic-foil position early on to his more serious dramatic function as the movie progresses.
Stuhlbarg was in three Best Picture Oscar nominees in a single year
Sony Pictures Classics
Although the years of 2012-2016 were great for Michael Stuhlbarg's career, allowing him to leave his mark on some of the decade's most notable auteur projects, they were only a taste of what was to come in 2017. By then, Stuhlbarg had become such a mainstay of prestige cinema that he somehow managed to star in not one, not two, but three Best Picture Oscar nominees in the same year.
In one of those nominees, "The Post," Stuhlbarg found himself reunited with Steven Spielberg five years after "Lincoln," again playing a historical figure in the company of a ridiculously stacked ensemble of stars. In another, eventual Best Picture winner "The Shape of Water," Stuhlbarg played a tragic hero, Dimitri Mosenkov, the scientist whose sympathetic interest in the Amphibian Man (Doug Jones) runs foul of his orders as a Soviet spy. Both roles earned Stuhlbarg multiple Best Cast nominations and were included in his joint nomination for Best Supporting Actor by the National Society of Film Critics (via IMDb).
The 2017 role Michael Stuhlbarg is really remembered for, though, is Elio (Timothée Chalamet)'s father, Professor Samuel Perlman, in "Call Me by Your Name" (pictured above). For the majority of Luca Guadagnino's cult romantic drama, Prof. Perlman exists as a distant, albeit cool, mentor figure, helping both Elio with his life issues and Oliver (Armie Hammer) with his archaeology studies, seemingly unaware of their love affair. But towards the end of the movie, when Elio is reeling from their breakup, his father sits him down for an unexpected heart-to-heart, and Stuhlbarg utterly brings the house down. The gorgeous four-minute monologue was hailed as one of the very best movie scenes of the year and netted Stuhlbarg endless Best Supporting Actor accolades despite his lack of screentime — but not an Oscar nomination, regrettably (via IMDb).
Stuhlbarg brought all your worst academic nightmares to life in Shirley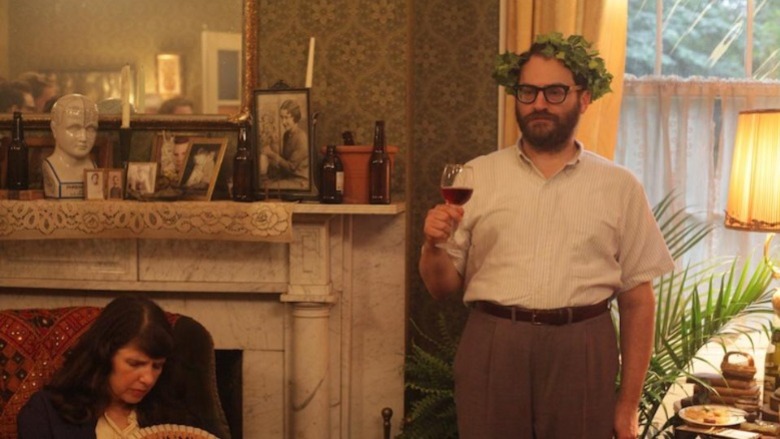 Neon
The flipside of Professor Samuel Perman is Stanley Edgar Hyman, the literary critic and husband to "The Lottery" author Shirley Jackson that Michael Stuhlbarg plays in Josephine Decker's skin-crawling anti-biopic "Shirley." Though seemingly supportive and loving at first, Stanley gradually reveals himself as less a helpful buffer to Shirley's (Elisabeth Moss) writing than a ruthless instigator of trauma and insecurity in the guise of encouragement.
During the movie's basic scenario, which sees young newlyweds Rose (Odessa Young) and Fred (Logan Lerman) move in with Shirley and Stanley so that Fred can accept a job working for Stanley, the initial bliss of meeting their literary heroes dissolves into a total nightmare for the two protagonists. Both the acclaimed writer and her notorious critic husband turn out to be damaged, neurotic, exploitative people who have gotten used to making each other suffer for sport, and it's not long until they're taking out all their pent-up frustration on the unassuming lovebirds.
The movie was too unpleasant and strange to go over well with mainstream audiences or awards bodies, but in many ways, it was arguably the best acting showcase for Stuhlbarg yet. Going toe to toe with the force of nature that is Elisabeth Moss, Stuhlbarg condenses his typical nice-middle-aged-guy charisma into a terrifying portrait of the misleading glitz, and eventual ego deathmatch, of mid-20th-century academia. There's no telling where Stuhlbarg's career will go now that he's one of the U.S.'s leading character actors, but let's hope for the sake of cinema that he keeps springing for roles that challenging.