What Only The Handmaid's Tale Book Fans Know About Gilead's Aunts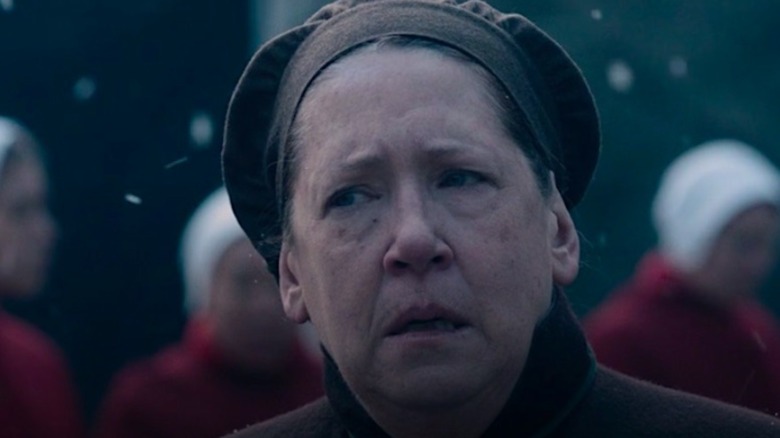 Hulu
"The Handmaid's Tale," based on the novel of the same name by author Margaret Atwood, presents the bleak and terrifying world of Gilead. After dropping fertility rates cause a global crisis, making the United States vulnerable, a totalitarian and religious government ultimately takes over the country and transforms it into a blatantly oppressive world in which fertile women become handmaids, unwilling broodmares for the wealthy and privileged. The series centers on June Osborne (Elisabeth Moss), who becomes known as Offred — "Of Fred" — in reference to her "commander," aka the husband (Joseph Fiennes) who impregnates her. June, having been separated from her husband Luke (O.T. Fagbenle) and their daughter Hannah (Jordana Blake), plots her way out of Gilead.
The oppressive servitude into which the handmaids are forced is difficult to watch, to say the least. They are completely stripped of any control over their own bodies, all to service the wealthy husbands and wives. Further, the treatment of the handmaids by the Aunts, the women in charge of overseeing them, is downright abusive — especially by Aunt Lydia (Ann Dowd), the central Aunt of the series.
Speaking of the Aunts, there are some details about this class of Gilead that only fans of the book know about.
What is the status of an Aunt? And other questions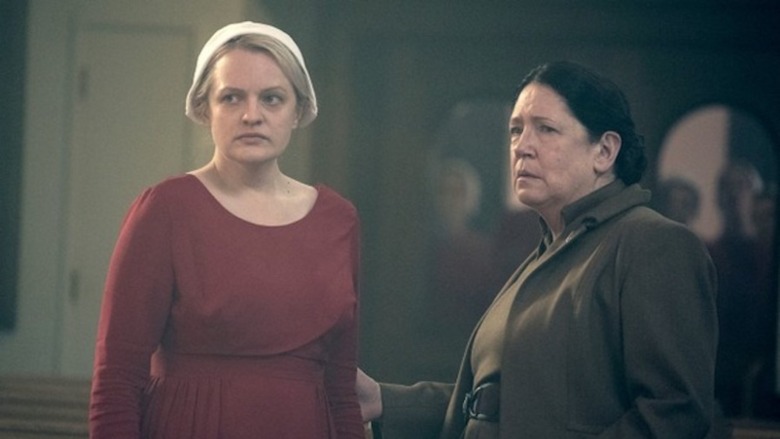 Hulu
With the fourth season of "The Handmaid's Tale" having just premiered, lots of fans have the show on their minds. Reddit user snappea1 recently became curious about the Aunts and the details of their lives, asking "Where do the aunts live? What is their status in Gilead (like drivers/angels/commanders etc)? Who becomes aunts (like how fertile women become handmaids)?" The user summed up the post by speculating that book readers may have more information about the Aunts — which proved to be true.
The first comment, from user key_lime_lie, offers some insight, including context that the second novel, "The Testaments," provides: "As far as status they're above the servant class and below the elites, probably on a par with Angels depending on the situation. They go into it quite a bit in Testaments, young girls can request to become Aunts instead of wives." User Informal-Problem-956 revealed that in the novels, Aunts were recruited from women in occupations such as "child advocates, lawyers, maybe teachers." Aunt Lydia, for example, was an elementary school teacher, which is also disclosed in the TV series. Further, user 2kittenish added a fascinating observation that may have gone unnoticed to the casual viewer: "Something interesting is that the Aunts are the only women that are allowed to read and write. That is so they can keep up with measurements for pregnant Handmaids and also read files to decide where they should go!"
While this context is extremely interesting and helps to humanize the Aunts to some degree, most viewers would probably still agree that they are just as evil as the Elites.