Why The Handmaid's Tale Season 4 Teaser Divided Oscars Viewers
Tens of millions of people tune in each year to watch the Oscars, according to Statista. Viewership of the ceremony has seen a slow decline since the early 2000s, but well over 20 million people have been watching it the last several years — and to advertisers, that's a lot of eyes. A handful of commercials broken up this year's Academy Awards, with many them being trailers or promos for upcoming movies and television series.
There was a major sneak peek for Hulu's upcoming miniseries "Nine Perfect Strangers" starring Nicole Kidman and Melissa McCarthy, while advertisements for Adidas, Apple, and Disney+ also took up our screens (via Variety). But one promo clip stood out more than the rest: The newest teaser for Season 4 of "The Handmaid's Tale," which became a trending topic on Twitter after it aired. 
The latest look at the new season had Oscar viewers scratching their heads and key-smashing in equal measure. Here's why.
The clueless versus the loyal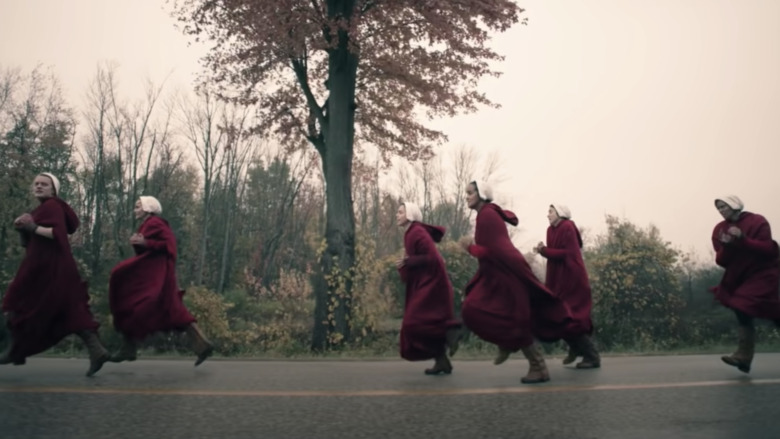 Hulu
When the promo for "The Handmaid's Tale" Season 4 aired during the 2021 Oscars, many people on Twitter admitted that they didn't know the series had a new season coming out. The show debuted in 2017 and has put out seasons fairly regularly, so the fact that there's a fourth season coming this year isn't that shocking. It seems as if people just forgot about "The Handmaid's Tale" altogether and were surprised to learn June Osborne (Elizabeth Moss) and the gang are still actively fighting the system in Gilead.
"Wait... The Handmaid's Tale is still going on?" one user asked on Twitter. "They're still advertising the handmaid's tale....." another wrote, adding a photo of reality TV legend Bethenny Frankel snoozing. "Handmaid's tale is still on?" yet another user asked their followers. "Hulu trying convince me that the handmaids tale is still a show that's currently on the air," a fourth Twitterer joked.
Of course, there are countless loyal "The Handmaid's Tale" fans out there, and they weren't shy about sharing their excitement for Season 4. "Yooooo The Handmaid's Tale finally coming with a new season. I can't wait!!!!!" one fan tweeted. "YES! Can't wait for this new season of Handmaid's Tale!!!" another wrote.
"The Handmaid's Tale" Season 4 will premiere on Hulu on Wednesday, April 28.