Lucifer Season 5, Part 2 Trailer Has Fans Freaking Out
"Lucifer" is a delightful paranormal police procedural with a truly unique premise: The biblical devil, Lucifer Morningstar (Tom Ellis), gets bored of presiding over his domain and becomes an L.A. nightclub owner who solves crimes with the police. The inspiration for "Lucifer" is technically Neil Gaiman's character from the "Sandman" mythos, and with Sandman himself finally on his way to Netflix, some fans are already anticipating a connective tissue between "The Sandman" and "Lucifer" (as well as "Locke & Key," which is also somewhat connected to the lore). 
Still, that's a lot of ifs, maybes, and high-fantasy concepts, and with four and a half seasons under his belt, Ellis' charismatic Lucifer has more than proven that he works extremely well in his own, quirky take on the police procedural concept. Luckily, more of this is on the way, and the wait for the Morningstar's new adventures is nearly over. In fact, the "Lucifer" Season 5, Part 2 trailer just dropped — and fans are completely freaking out. 
The new Lucifer trailer announces the arrival of a higher power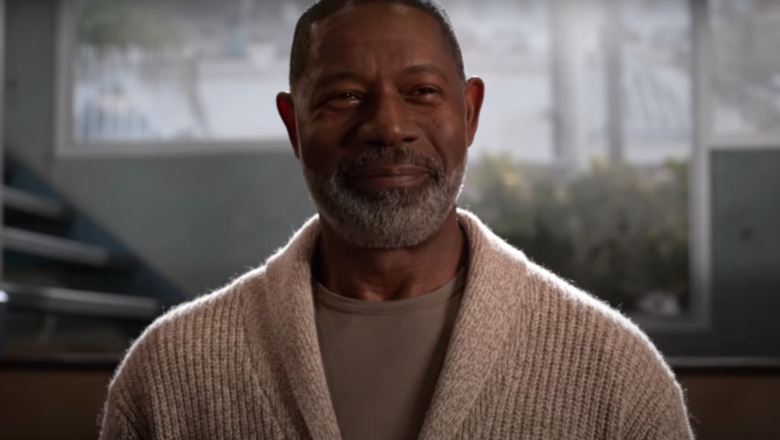 Netflix
Since "Lucifer" is about the devil and features a number of supernatural entities, such as the demon Mazikeen (Lesley-Ann Brandt) and Lucifer's brother, the archangel Amenadiel (D.B. Woodside), the existence of God Almighty has been teased multiple times on the show. We've seen the divine being's significant other, the Goddess (Tricia Helfer), a businessman with a magic belt (Timothy Omundson) briefly acted as a fake God, and Neil Gaiman himself has voiced God in the show — yet, the big guy has remained entirely unseen until very recently. 
The ending of "Lucifer" Season 5, Part 1 made it clear that God is coming, and the Part 2 trailer confirms that this is very much the case and that the deity looks a whole lot like Dennis Haysbert ("Far from Heaven," "24"). The dynamic between the deep-voiced, cardigan-wearing God and his fallen angel son seems to be of the "disappointed dad-prodigal son" variety, and things only get stranger when God announces his plans to retire. It looks a whole lot like Mr. Morningstar is set to take over the family operation ... that is, if he can survive the wrath of his twin brother, Archangel Michael (also Tom Ellis), who would very much like to be God himself, thank you very much.  
Fans are freaking out about a particular line in the Lucifer Season 5, Part 2 trailer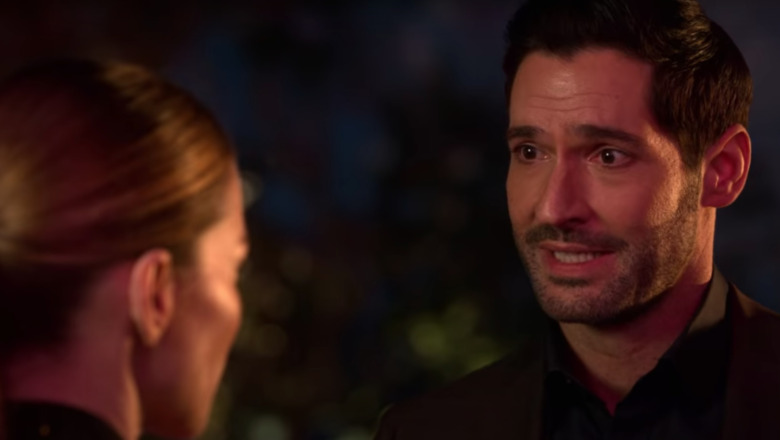 Netflix
The second half of "Lucifer" Season 5 has a pretty amazing concept going for it, and unsurprisingly, fans are absolutely loving it. Still, though the Twitter reply thread under the official trailer has a whole lot of excitement going on, many fans are focusing on one particular, potentially heartbreaking line. 
Amid all the big heaven-and-hell-themed beats, people have latched onto a very particular moment when Lucifer tells Detective Chloe Decker (Lauren German): "If I said those three words to you, it would be a lie." Since the obvious interpretation of "those three words" would be "I love you," many fans are freaking out over the prospect that Lucifer and Chloe's peculiar relationship might not work out after all. "Oh my Lucifer! What 3 words would have been a lie?!" Twitter user @Sand_4luv wrote, one drop in a sea of similar sentiment. "Lets not get carried away people," @inghamjj55 attempted to quell the general frenzy. "We don't know the three words, they may not be THOSE three words!!" 
Of course, we're talking about the devil here, so can you really trust anything that comes from his mouth, especially in a trailer context? Fans will finally find out what Lucifer meant with that line about the three words — as well as, you know, the end result of the whole "who becomes the next God" battle — when "Lucifer" Season 5, Part 2 drops on Netflix on May 28.