The Transformation Of Bonnie Wright From Harry Potter To Now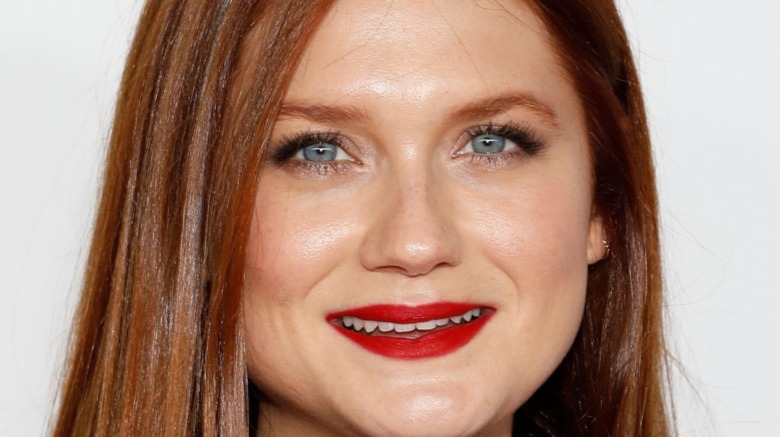 Taylor Hill/Getty Images
As many fans know, the "Harry Potter" series follows a young, orphaned wizard as he attends Hogwarts School of Witchcraft and Wizardry and fulfills his destiny to bring down the evil Lord Voldemort. The "Harry Potter" contains an enormous cast of characters, and Bonnie Wright was known for her role as Ginny Weasley, the youngest sibling of Harry's found family. She is one of thirteen actors to appear in every film. This also includes Daniel Radcliffe (Harry), Rupert Grint (Ron), and Emma Watson (Hermione), along with many memorable people who are still fondly remembered by fans for their contribution to the series.
Wright played Ginny for 10 years. Since "Harry Potter" ended in 2011, Wright has taken on other projects, including acting, directing, and activism. Although she is mainly known as Ginny, Wright has clearly extended her reach and covered many areas in the world of film and beyond. Let's see how she has transformed since her time on the popular franchise to now. 
Bonnie Wright began as Ginny Weasley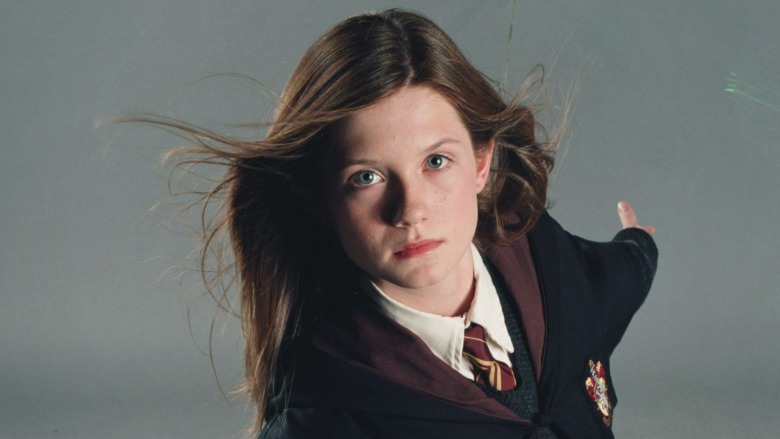 Warner Bros.
Bonnie Wright made her first appearance in "Harry Potter and the Sorcerer's Stone," when Harry meets the Weasleys on his way to board the Hogwarts Express. Though she only has one line ("Good luck!"), Wright's role steadily expands as the movies continue. 
This is seen in the following film when Ginny gets flustered around Harry, defends her crush against Draco Malfoy, and most importantly, opens the Chamber of Secrets under the influence of Tom Riddle. Ginny's interaction with Tom Riddle through his diary introduces viewers to the first of seven Horcruxes, a magical object that becomes even more important in the final three films. 
Unfortunately, Wright is underused in "The Prisoner of Azkaban," probably because Ginny doesn't have much to do in the third book. Like her first appearance, she only gets one line — "The Fat Lady! She's gone!" — and throughout the film, Wright is nothing more than a background character.
Wright isn't heavily featured in "The Goblet of Fire," either, but she does get more screen time as she joins the others at the Quidditch World Cup, helps her brother when he tries to ask out Fleur Delacour, and dances with Matthew Lewis' character at the Yule Ball.
Bonnie Wright and Ginny Weasley grew up together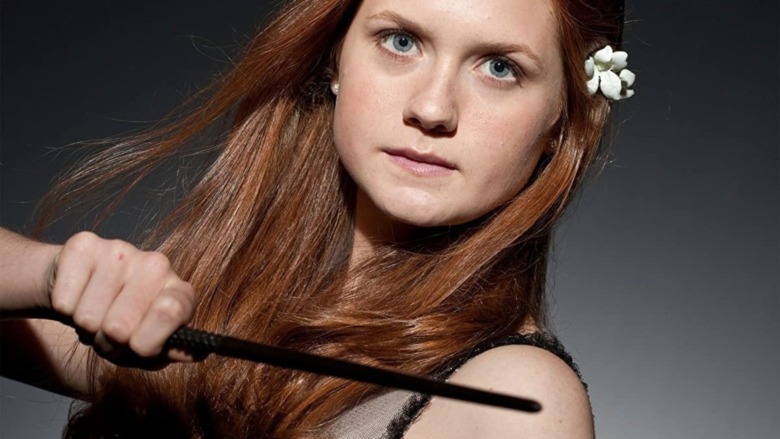 Warner Bros.
Bonnie Wright, like most of the cast, grew up on the "Harry Potter" set, and as she became a young woman, so did Ginny. In "The Order of the Phoenix," she joins the group at the Department of Mysteries — where Harry learns about the prophecy that sets him against Voldemort — and gets to show her tough side by using an impressive "Reducto" spell against the Death Eaters pursuing them. 
Wright's role is greatly expanded in "The Half Blood Prince," getting just as much screen time as she did in the second film. She now plays a confident young woman who has friends, a boyfriend, and a place in the Slug Club. Probably her most vital role in the film is her relationship with Daniel Radcliffe's character. After years of crushing on Harry, the chosen one finally realizes his feelings, and the two begin to date. She comforts Harry after Dumbledore's death, fights in the Battle of Hogwarts, and watches her own children head to her alma mater. 
Bonnie Wright moved on to independent films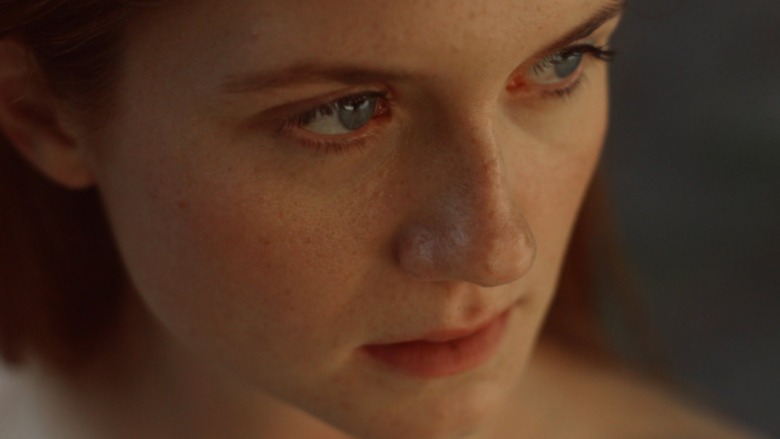 Elemental Cinema
After "Harry Potter," Bonnie Wright appeared in various independent films, including three in 2013. She played Rose in "The Sea," based on the novel by John Banville. It stars Ciaran Hinds and features a man's return to his childhood beach following the death of his wife. 
She then played Georgina, an orthopedic surgeon participating in a "what-if" scenario to gain entrance to a bunker in the case of an atomic apocalypse in the science-fiction, psychological thriller, "After the Dark." The film was nominated for "Best Motion Picture" at The Sitges Film Festival, known as the world's top fantasy film festival. 
Wright's final role in 2013 was as Phoebe in "Before I Sleep." The movie, which follows a reclusive poet on his search for peace, premiered at the Heartland Film Festival. She worked alongside James Rebhorn, whose part in the film was his final one before his death. 
Wright has become a director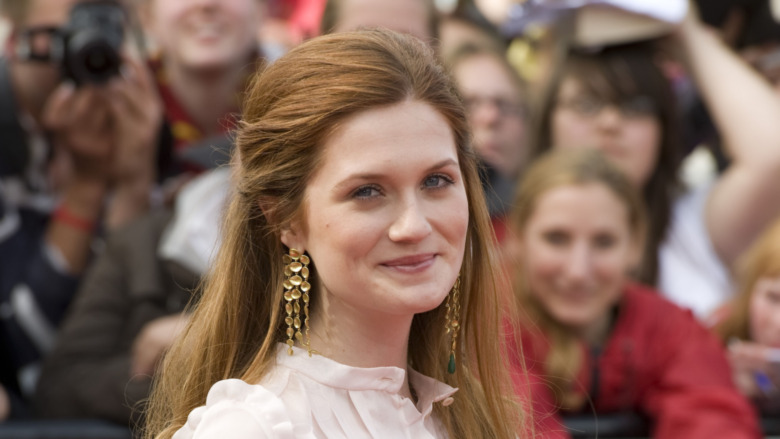 Shutterstock
In addition to being an actor, Bonnie Wright has also tried her hand at directing. In 2012, she made her directorial debut with the student film, "Separate We Come, Separate We Go," which follows a 10-year-old girl meeting and becoming friends with a widowed man (played by David Thewlis from "Harry Potter.) Premiering at the Cannes Film Festival and at the Gold Coast International Film Festival, the 12-minute film was well-received. 
This is not the only time Wright put her directing skills to the test. She also has directed the short films, "Know Thyself," Fade to Gold," and "Medusa's Ankles." Wright even has some music videos under her belt, the first of which being "Sea Ess" by George Schuster. She continued directing music videos in 2018 with "Taught You How to Feel" by Sophie Lowe, "Iguana Bird' by Pete Yorn and Scarlett Johansson, and "Fallible" by Maguire. Her latest project, "Melt," is also by Maguire and was released earlier this year. 
She's also an activist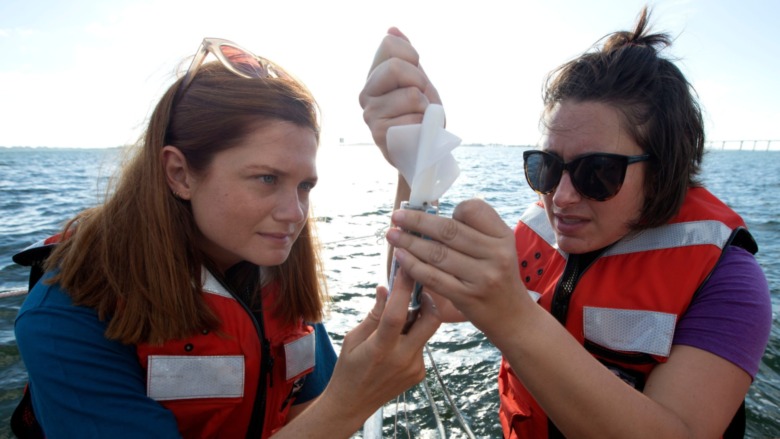 Teen Vogue
Bonnie Wright is an active spokesperson for environmentalism, especially when it comes to plastic. She has raised awareness about the dangers of plastic pollution, encouraging fans and friends to stop relying on single-use plastic. 
She joined Greenpeace in 2017 to highlight how single-use plastic has negatively affected our oceans and wildlife and the importance of beach cleanups. She participated in the fight against the Coca-Cola Company — according to Greenpeace, it is one of the worst producers of plastic pollution — to stop the production of billions of plastic bottles. "I'm happy to stand with the more than 585,000 people who are calling on Coke to phase out its use of throwaway plastic bottles," Wright said in response. 
Wright continues to fight for a cleaner earth through social media by promoting recycled products, showing the beauty of nature, and encouraging followers to take action. There aren't many roles she hasn't taken on since she first raised a wand in "Harry Potter," and she isn't showing any signs of slowing down.