Looper Exclusive: Lewis Tan On The Significance Of His Risque Fistful Of Vengeance Scene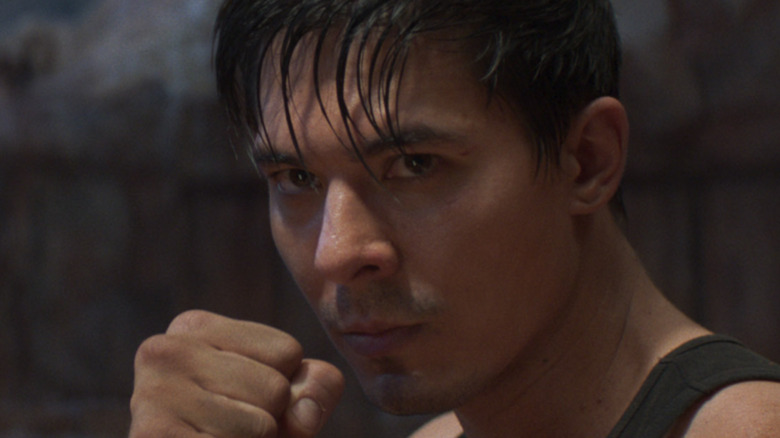 Warner Bros.
Fans have been excited since the red-band trailer for "Mortal Kombat" debuted in February. Now that the blood-soaked reboot earned a flawless victory at last weekend's box office, the buzz continues. While critics were divided on the film, it currently sports a robust 87%  audience score on Rotten Tomatoes. But that hasn't stopped the franchise's rabid fanbase from weighing in on what they liked and didn't like. One divisive point is controversial newcomer Cole Young, an original character that's never appeared in the long-running video game franchise, whereas "Mortal Kombat" fan favorite Johnny Cage was left out of the film.
Cole Young is played by actor Lewis Tan, known for projects like "Into The Badlands," and "Deadpool 2." On the "Mortal Kombat" movie posters, he's the strikingly handsome dude with the menacing stare and dragon birthmark on his chest. If you're a fan of his ripped physique, you might get to see a whole lot more than just his torso in the near future. The 34-year-old actor recently wrapped production on "Fistful of Vengeance," the follow-up to 2019's "Wu Assassins" on Netflix. This isn't a new season of the critically praised action series either; things are switching to a feature film format and Tan returns as the charismatic Lu Xin Lee, once again co-starring alongside Iko Uwais. 
During a recent exclusive interview with Looper, he dropped a bomb about a career-first: he did his first full-nude scene in the project
For Lewis Tan, going nude is about showing Asian actors "in a different light"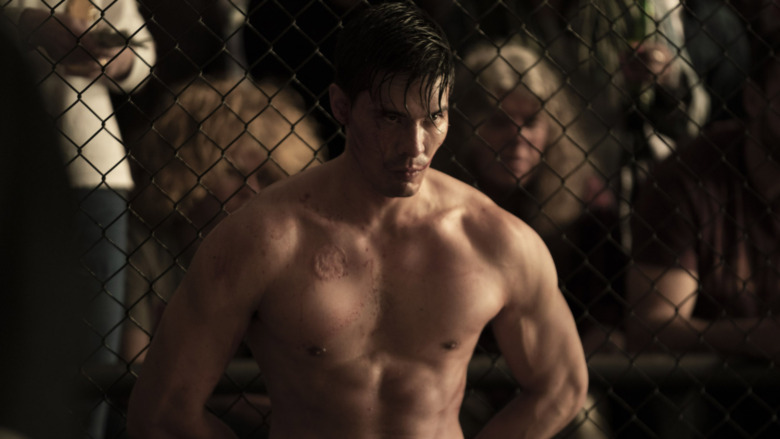 Mark Rogers/Courtesy of Warner Bros.
"This is going to be a very special action film that people are not prepared for," Lewis Tan told Looper. "And it's not 'Wu Assassins 2.' It's 'Fistful of Vengeance,' and it's much more brutal and much more violent. And I think I did my first fully nude scene in that movie. No one knows about that yet." As many of his fans know, Tan is a prominent advocate for the Asian-American community. Take a look at his Instagram or Twitter accounts and you'll see that he's passionate about speaking up about diversity and how Asians are depicted on film. Many believe that Asian men have been emasculated and desexualized throughout the history of Hollywood movies. Think about it — how often do you see Asian actors land those leading knight-in-shining-armor roles in Western-produced movies? How often are they the hero who gets the girl? This is something Tan aims to help fix, and "Mortal Kombat" was just the start.
"Well, here's the thing. When I talk about Asian representation, it's not just in that fashion of, I want to be a superhero. It's like, I want to represent what I've never seen," he explains. "You never see Asian Americans onscreen in a sex scene, where it's looked at as romantic and cool and sexy. It's usually like either you're the butt of a joke, or that's it really." He continues, "I mean, I could count on one hand how many times I've seen an Asian-American be intimate in a Hollywood movie, and that's insane. So yeah, when people ask me would I do this nude scene or would I do this sex scene, even though it might be awkward, if the story calls for it, I'm 100% down, because I need to show us in a different light. And so, I'm willing to do whatever it takes to do that."
"Mortal Kombat" is currently in theaters and streaming on HBO Max. You can stream the original season of "Wu Assassins" on Netflix.