MODOK Series Co-Creator May Have Let Some Good News Slip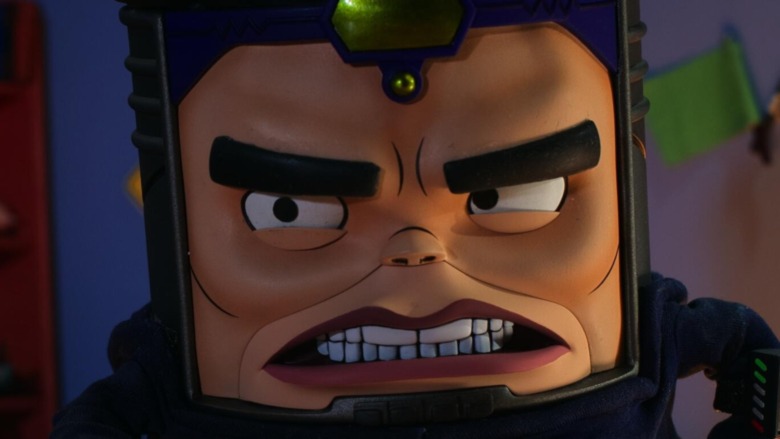 Hulu
The wait for "Marvel's MODOK" is almost over: It will premiere on Hulu on May 21, following a two-year wait. The animated comedy show centers on MODOK (Mental Organism Designed Only for Killing), a big-headed supervillain who struggles to balance his dramatic home life with his villainous aspirations. His tendency to underperform as a villain causes him to be kicked out of the esteemed supervillain organization he's in — at the same time his wife announces she's filing for a divorce. This inevitably leads to some temper tantrums and a mid-life crisis. "Marvel's MODOK" stars Patton Oswalt as the voice of MODOK, as well as Aimee Garcia as MODOK's wife Jodie Tarleton, Ben Schwartz as MODOK and Jodie's son Lou, and Melissa Fumero as MODOK and Jodie's daughter Melissa, among others.
Not only will Oswalt be starring in the show, but he also co-created, co-executive-produced, and co-wrote it alongside Jordan Blum, who has written for "American Dad" and "Community." Recently, Blum let some exciting news slip on Twitter, which has fans excited for the future of "Marvel's MODOK."
Jordan Blum teases Marvel's MODOK Season 2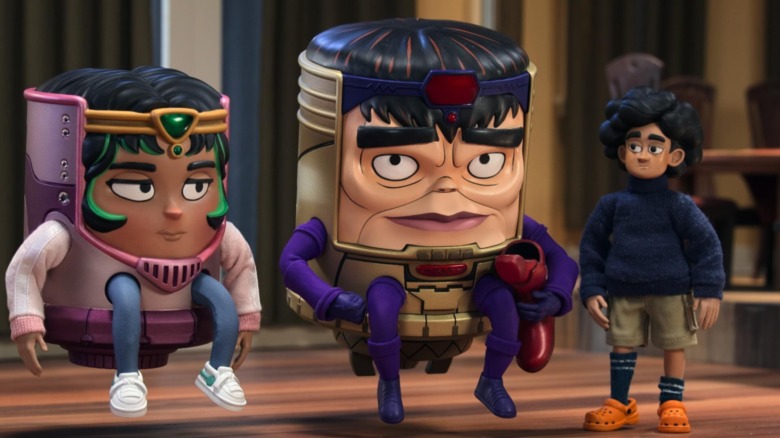 Hulu
While the first season of "Marvel's MODOK" hasn't premiered yet, Jason Blum recently tweeted about Season 2, seemingly confirming that it's in the books. 
During a Marvel Q&A on Twitter, a fan asked the @Marvel account if the series will feature a queer relationship from the Marvel comics. Blum stepped in to excitedly reply, "Yes, Melissa is bi. Season 1 focuses mostly on her relationship with her dad but season 2 will introduce her girlfriend. However there are other queer relationships on the show." He added in a follow-up tweet, "Sorry, I know I'm not MODOK but I love this question."
Blum's reference to Season 2 — not to mention the openly queer character — has fans pumped for what's to come, but everyone will have to wait for Marvel and Hulu to make an official announcement about Season 2 before getting too hyped-up. (And yes, we forgive him for speaking for MODOK.)
Season 1 of "Marvel's MODOK" is set to drop on Hulu on May 21. For fans who want to get in on the action before the premiere, the MODOK comics are available to purchase on Marvel's website.