MODOK Actress Reveals Why The Series Will 'Blow Your Mind' - Exclusive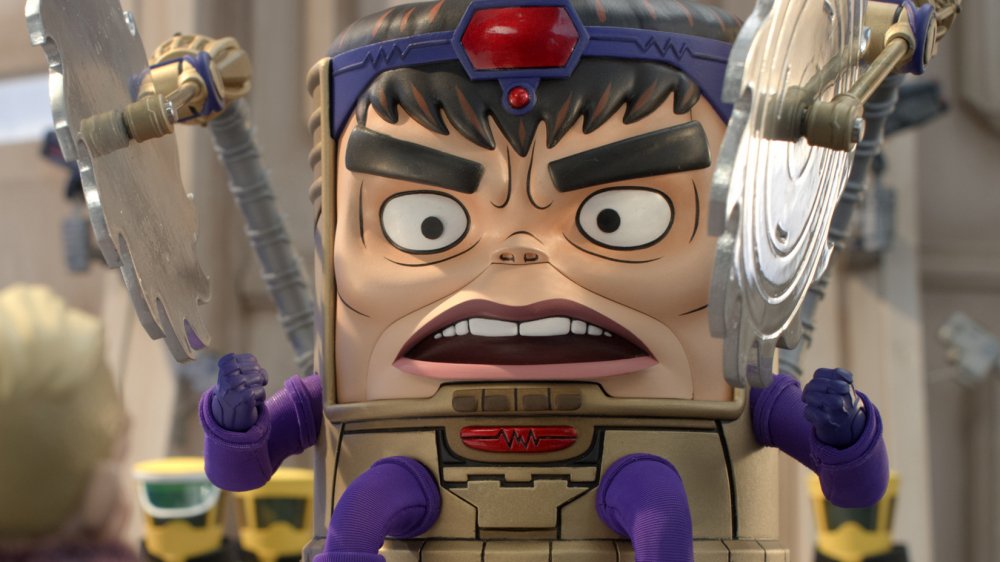 Marvel/Hulu
If you're a fan of Marvel Comics' M.O.D.O.K. — the acronym for a Mobile Organism Designed Only for Killing — you'll be thrilled to know that the villainous oversized head with puny arms and legs who floats around on a rocket chair is getting his own animated series on Hulu in early 2021.
Created by and starring Patton Oswalt (Reno 911!, Veep, Agents of S.H.I.E.L.D.), Marvel's M.O.D.O.K. will follow the goofy supervillain (otherwise known as George Tarleton) after he's ousted from A.I.M., a criminal organization made up of mad scientists and terrorists, due to his constant failure at taking over the world. The stop-motion series will peek behind the evil façade to explore what life is really like for a struggling supervillain who's experiencing a mid-life crisis all while trying to deal with a wife and family.
In addition to Oswalt, Marvel's M.O.D.O.K. features Ben Schwartz (Parks and Recreation) as M.O.D.O.K.'s 12-year-old son Lou; Melissa Fumero (Brooklyn Nine-Nine) as M.O.D.O.K.'s 17-year-old daughter Melissa; and Wendi McLendon-Covey (The Goldbergs) as Monica Rappaccini, M.O.D.O.K.'s work enemy.
Voicing M.O.D.O.K.'s wife Jodie is Aimee Garcia (Lucifer, Dexter), who spoke to Looper in an exclusive interview about what to expect from the highly anticipated show.
Marvel's M.O.D.O.K. will explore the everyday dealings of a floundering supervillain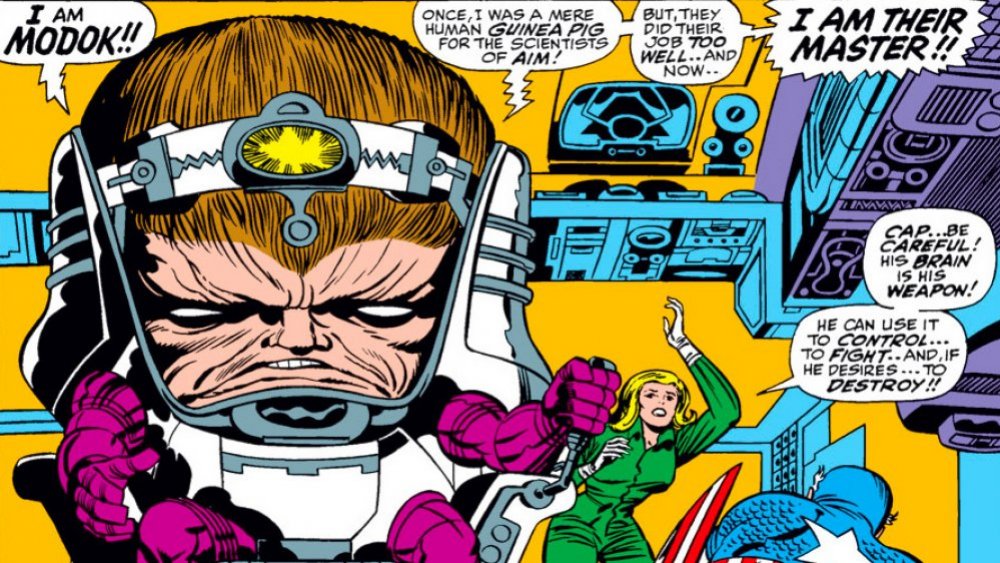 Marvel Comics
With Garcia's character Jodie officially entering the Marvel Universe, M.O.D.O.K. and Jodie's marriage is one of the first biracial relationships in Marvel's vault. According to a statement from Marvel, Jodie has a late-in-life awakening that leads her to pursue a new career and explore her independence (via Deadline). Unfortunately for M.O.D.O.K., Jodie feels the thing weighing her down the most is him and his constant negativity.
It's that kind of adversity that allows Marvel's M.O.D.O.K. to lean into a saucy, tongue-in-cheek take on the day-to-day life of a crabby, incompetent supervillain.
"It's so fun and completely irreverent," Garcia said of the show. "You're probably going to shake your head and think, 'I can't believe that they just did that!' It will blow your mind. It has no boundaries and is really funny."
She continued, "What I love about M.O.D.O.K. [in this series] is all he wants to do is destroy the world, but he can't because he's like, 'How can I destroy the world if my torture chamber is being replaced by a yoga studio? I can't work like this!' It's such a fun character. Who would have thought that a supervillain would feel like a fish out of water, and [who] can't do his supervillain-y things? He's so upset, and that's where the show is born. I love when underdogs get their moment in the sun."
One other tidbit Garcia teased is that iconic Marvel superhero Iron Man will be part of the series, but there's no word yet about who will play him or in what capacity.
Marvel's M.O.D.O.K. doesn't yet have an exact premiere date, though it's expected to hit Hulu sometime early next year.