Is Jordi Vilasuso Leaving The Young And The Restless?
There's one surety in the land of soap operas - relationship drama. A steady romantic connection on a soap opera is often considered a kiss of death to eager viewers who enjoy angst, yearning, and pining. Ergo, when Jordi Vilasuso's Rey Rosales married Genoa City heroine Sharon Newman (Sharon Case) in a Christmastime wedding in 2020 on the CBS Soap "The Young and the Restless," fans began to count down the days until the twosome were torn apart for some dramatic reason – likely only so they could slowly work their way back toward oneness. 
A series of onscreen events, however, have caused fans to wonder if that reconnection will ever pan out. Sharon seems to be increasingly drawn to another man – and heroic cop Rey seems to be increasingly drawn to the dark side. Does this mean that Vilasuso will wind up leaving the role he created in 2018? 
The short answer? No - at least for now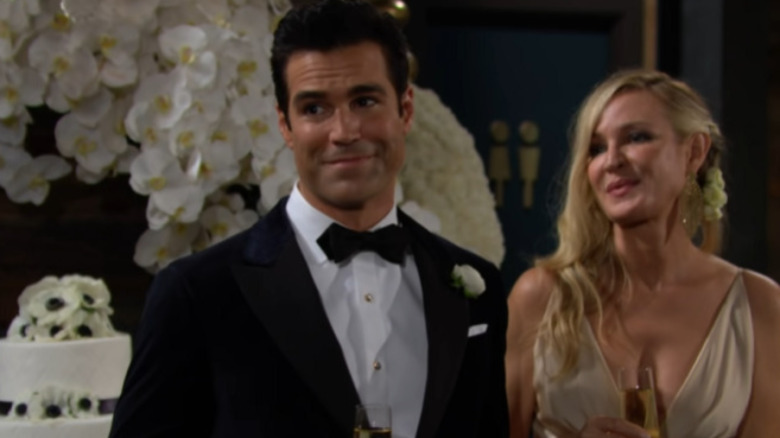 CBS
This Post Contains Possible Spoilers for future "Young and the Restless" episodes
We'll chalk this all up to the result of rumors and onscreen drama – as CBS Soaps In Depth reported in a recap of Rey's storyline, while the character came close to death in a recent storyline, the actor doesn't seem to be going anywhere.
Rey has recently been in the middle of a lot of turmoil recently. His wife, Sharon – fresh off a battle with breast cancer – is dealing with the fallout from her daughter Faith's being bullied, which has also turned into a health crisis for the teenager. All the while, Sharon has been battling an attraction to Adam Newman (Mark Grossman), one of her ex-husbands. Sharon's obsession with Adam has turned into an obsession for Rey, who has been trying to lure the Newman black sheep back to town so he can make him "pay" for his numerous crimes, using Adam's son with Chelsea (Melissa Claire Egan) to draw him back in.  In March, Rey became a victim of thallium poisoning, and while things looked dire for him, he has recovered and is currently trying to figure out who tried to kill him.
According to Soap Dirt, however, spoilers indicate Rey and Sharon will overcome this drama and stay together instead of splitting up. 
There have been rumors going all the way back to the summer of 2020 that Vilasuso was ready to leave the sudser, so it isn't uncommon for such scuttlebutt to circulate about actors who're in the middle of dramatic storylines. Vilasuso himself has not indicated he's interested in leaving, according to Monsters and Critics.