The Truth About Glenn Close's Awesome Oscars Dance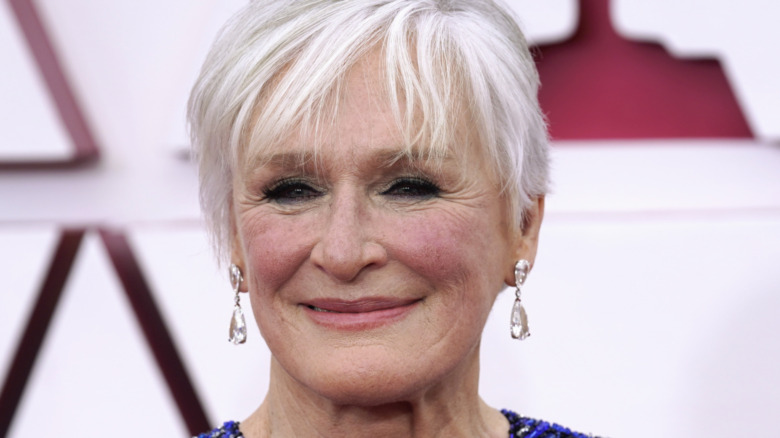 Pool/Getty Images
The 93rd Academy Awards ceremony was a wild ride, especially in the final half-hour or so. The show moved from the out-of-nowhere comedy bit we're about to discuss to a very fast Oscars In Memoriam segment, then to Best Picture, Best Actress, and, finally Best Actor, which the show's producers anticipated would go to the late Chadwick Boseman for "Ma Rainey's Black Bottom" but then unexpectedly went to Anthony Hopkins for "The Father."
The wildest sequence of Oscars events since "Moonlight" won started with a comedic game in which "Get Out" star Lil Rel Howery asked attendees if the songs being played by musical director Questlove were nominated for or won Oscars. After joking around with "The United States vs. Billie Holliday" star Andra Day about "Purple Rain" not being nominated for an Oscar and reminiscing with his old friend, Best Supporting Actor winner Daniel Kaluuya, about the time he "stole a car from work" and rescued him from some evil white people, Howery turned to Glenn Close, who was nominated for Best Supporting Actress for her performance in "Hillbilly Elegy."
Her song was a stumper, but she knew it. "Wait a second, that's 'Da Butt,'" the eight-time nominee said. She explained that it was a "classic song by the great Washington D.C. go-go band EU, shoutouts to Sugar Bear and the Backyard Band and the whole DMV." She said that director Spike Lee had the song written for his 1988 film "School Daze," and the Oscars "missed it," and didn't nominate it, which was "absolute bulls—." Then she got up and demonstrated that she knew the accompanying dance, too. Glenn Close doing "Da Butt" was not a moment anyone expected, but it was a show-stealing Oscars highlight of a very weird night.
Glenn Close is a great actress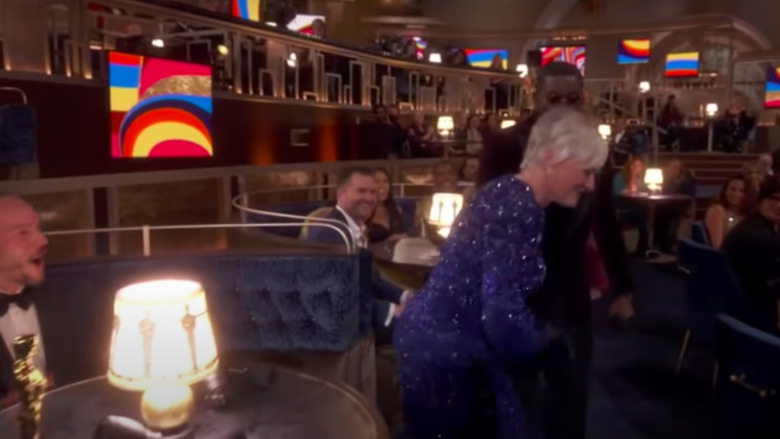 ABC/YouTube
Glenn Close should have won an Academy Award for her performance as someone who knows the song "Da Butt." She was so convincing while seeming to pull "Da Butt" out of her ... memory bank ... that the Los Angeles Times had to confirm that her dancing to "Da Butt" was indeed a scripted bit. Even though it was scripted, it was still very funny. Spike Lee himself appreciated it, taking to Instagram to give a "shoutout to my sista @GlennClose" for showing his movie some love. "Glenn Close was doing 'Da Butt!'" the legendary director enthused. "I saw it on video! You were getting down! All right, Glenn. Thank you."
"Da Butt" reached No. 1 on Billboard's R&B chart in 1988, and has endured as a crowd-pleasing tribute to the derriere ever since. "It was a lottery ticket," E.U. bassist and lead singer Gregory "Sugar Bear" Elliot told the Washington City Paper in a 2012 oral history of the song. "And the good Lord blessed us to still be playing it to this day."