The Most Evil Character Evan Peters Has Played On American Horror Story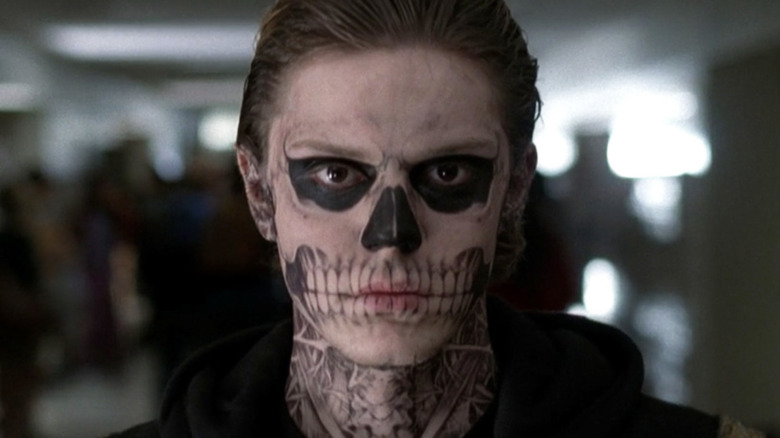 FX
For eight seasons of "American Horror Story," actor Evan Peters has beguiled audiences with his ability to seamlessly disappear into roles, starting with homicidal ghost Tate Langdon in "American Horror Story: Murder House." Since that inaugural season, Peters has played an alien abductee, a resurrected monster a la Frankenstein, and a sideshow freak, among others. From the endearing to the dastardly, Peters' "AHS" roles have been one of the reasons fans tune in to the FX horror anthology year after year. But of all the many characters Peters has played on "AHS," his role in "Cult" is by far the most sinister.
Premiering in 2017, "Cult" is the seventh installment of the "AHS" franchise. The season begins on Election Night 2016, with the news that Donald Trump has become the 45th president of the United States. In "Cult," Peters takes on seven roles, including real-life cult leaders David Koresh, Jim Jones, Charles Manson, and Marshall Applewhite. His main role in the season, however, is the most evil.
Evan Peters went to a dark place as Kai Anderson in AHS: Cult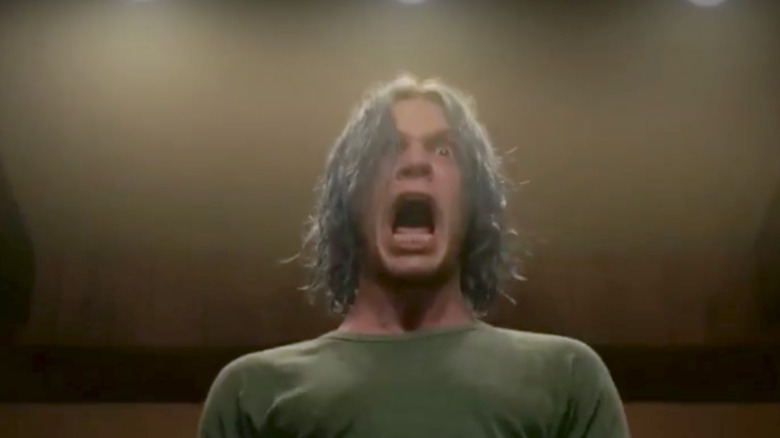 FX
In his role as Kai Anderson, Evan Peters portrays a maniacal budding cult leader who sees Trump's win as an opportunity to enact his own rise to power via fear, violence, and division. One of the first parts of Kai's plan is to secure a seat on the local city council — a seat opened by Kai's murder of Councilman Tom Chang. Kai gains public support after surviving an assault by a group of Mexicans — an assault that Kai incited. After winning the election, Kai's political star continues to rise as the victory draws national attention, further expanding his flock of followers.
With his eyes now set on the U.S. Senate and eventually the presidency, Kai continues his racist and misogynistic rhetoric, a particularly brutal kind of evil. As his power and influence grow, so too does his psychosis. Believing they are plotting against him, Kai murders both his siblings. Eventually, the FBI comes for Kai, arresting him and killing his followers. After escaping incarceration, Kai is killed by a former member of his cult.
In 2019, Ryan Murphy, co-creator of "American Horror Story," told Entertainment Weekly that "Cult" was his favorite season. He especially praised Peters' performance, telling The Hollywood Reporter that "Cult" has "Peters' best performance to date." For the actor, his turn as Kai Anderson was challenging. "He has been a difficult character to play, with a lot of highs and lows, and a lot of darkness," he told THR. That journey into darkness earned Peters' his first Critics' Choice Television Award and Saturn Award nominations.
After taking a break from AHS for its ninth season, Peters is set to return this fall in the upcoming 10th season of AHS, "Double Feature." He will be joined by Sarah Paulson, Kathy Bates, Macaulay Culkin, and Paris Jackson.