What Is The Song In The Chopard 'The Happy Diamonds' Commercial?
There's greatness in simplicity, especially in commercials. Chopard uses this example to showcase Maison's iconic moving diamonds, a jewelry innovation from 1976. In their "The Happy Diamonds" commercial, directed by Xavier Dolan, there are three elements: the product, an actress, and a fun song to put you and her in a dancing mood. Done correctly, this creates a mesmerizing advertisement that can captivate any audience.
The product, as mentioned, is the happy diamonds seen inside Chopard watches. The actress is Julia Roberts, who has amassed an incredible career ever since her turn in "Pretty Woman." There is nothing special around Roberts; it's just her smiling, dancing, and having the best time of her life in an empty room. She blows kisses and struts her stuff to a fun and energetic song that makes you want to bounce around with her. While you and Roberts are celebrating, the happy diamonds jump around with you, creating a beautiful design. The watch ends up with a personality to rival one of Roberts' characters.
So, what is this song in the Chopard "The Happy Diamonds" commercial?
Chopard enlists Paloma Faith for a dance party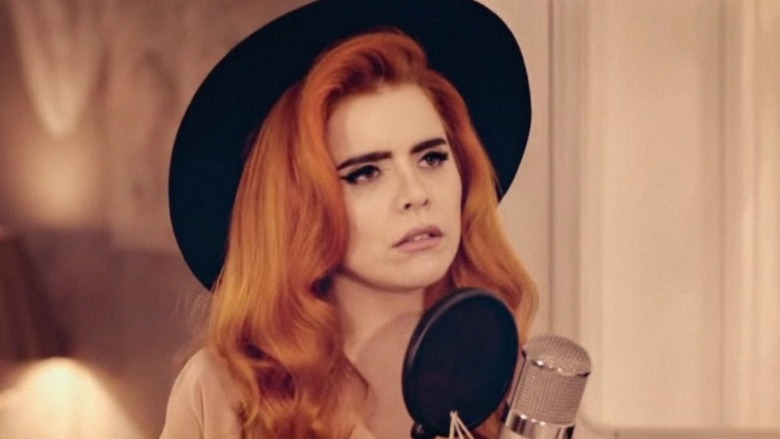 Sony Music Entertainmment
The upbeat melody comes from "Upside Down" by Paloma Faith. Her singing is perfect for dancing, especially when a call and response begin with the chorus' backing vocals. Throughout the commercial, Roberts proves that any dance move will work with this song. Not only is this song a perfect fit thanks to its energy, but the lyrics pair well with the message behind the ad. By the end of the ad, the song finishes with "I think I like living upside down," as shown by the diamonds inside the watch.
This is the fourth single to come out of her 2009 debut album "Do You Want the Truth or Something Beautiful?" and reached number 55 in the UK. Faith would go on her first tour in support of this album. Other than that, not much has come from this single, unlike other ads featuring catchy or recognizable tracks. There was one instance in 2012 when Special K used this song for their "Original Morning Deliciousness" commercial, but right now, Chopard is turning the song on its head all over again.
Whether you're dancing alone in your room while living your best life, or you're a set of diamonds peacefully existing inside a watch, this song is for you.