The Supernatural Drama Hidden Gem You Can Catch On Hulu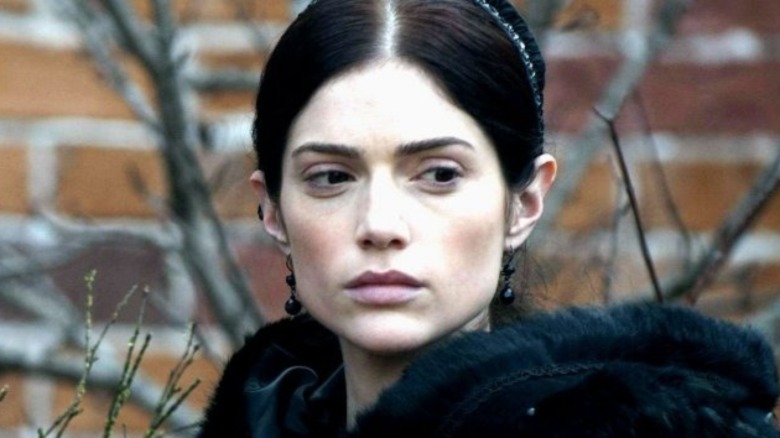 WGN America
It feels like there's been an explosion of magic-themed television shows in recent years, from ABC's "Once Upon a Time" to Netflix's "Chilling Adventures of Sabrina" and beyond. The trend shows no sign of slowing, with 2020 bringing us "Motherland: Fort Salem" on Freeform, and Netflix dropping "Fate: The Winx Saga" in 2021.
Among this magic boom came "Salem," a historical drama which debuted in 2014 on WGN America as the network's first-ever scripted series. According to Deadline, "Salem" was initially a hit, drawing 1.5 million viewers to its premiere despite the network's prior under-the-radar status — it was then a single-feed channel which only reached 62 percent of the country. The premiere was WGNA's highest-rated offering in more than seven years.
Deadline goes on to point out, however, that the show was generally panned by critics, with Variety and AV Club among the unimpressed publications, and the ratings fizzled. The show was cancelled in 2017 after just three seasons, but it garnered a strong social media presence during its run and a cult fan-base that fought valiantly, albeit unsuccessfully, to save the show. On Rotten Tomatoes, "Salem" stands at a respectable 82%, with an average audience score of 76%.
After this tumultuous history and divisive reception, "Salem" has found a second life on Hulu. Here's why you just might want to check out this supernatural hidden gem.
Salem boasts a talented cast and crew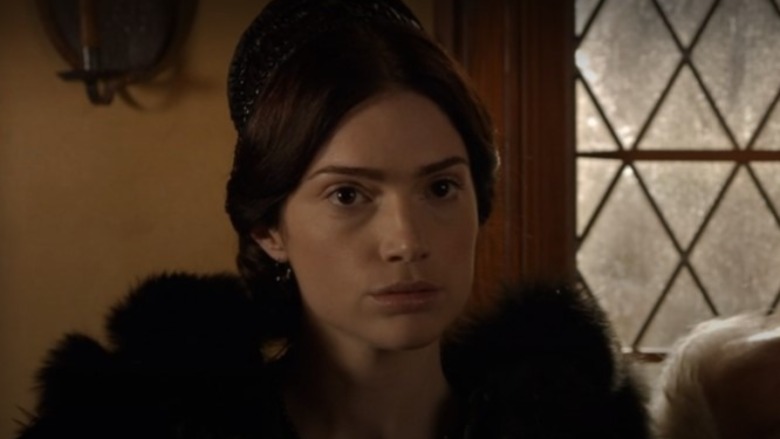 WGN America
"Salem" boasts a cast of several talented, established, and beloved actors. Female lead Janet Montgomery came to the show having had roles in feature films including "Black Swan" and on the acclaimed British mini-series "Spies of Warsaw" and "Dancing on the Edge." The male lead on "Salem" is Shane West, who stole hearts in the 2002 Nicholas Sparks film "A Walk to Remember."
Appearing alongside West and Montgomery are TV favorites Seth Gabel ("Fringe") and Tamzin Merchant ("The Tudors"), as well as veteran film actor Xander Berkeley ("Terminator 2: Judgment Day") and the beloved Lucy Lawless ("Xena: Warrior Princess").
Operating behind the scenes were creators Brannon Braga (best known for multiple "Star Trek" projects) and Adam Simon ("A Haunting in Connecticut").
Despite what mainstream critics may have said upon its debut, the cult following "Salem" earned proves that the creators defied the odds in crafting an off-beat network's first foray into scripted television. The series even picked up some genre-specific awards recognition, including a 2015 nomination for Best Syndicated/Cable Television Series by the Academy of Science Fiction, Fantasy & Horror Films, USA. Meanwhile, the Fangoria Chainsaw Awards recognized multiple cast members — Janet Montgomery, Tamzin Merchant, Seth Gabel, and Lucy Lawless — across the show's run.
The plot of Salem blends history with supernatural intrigue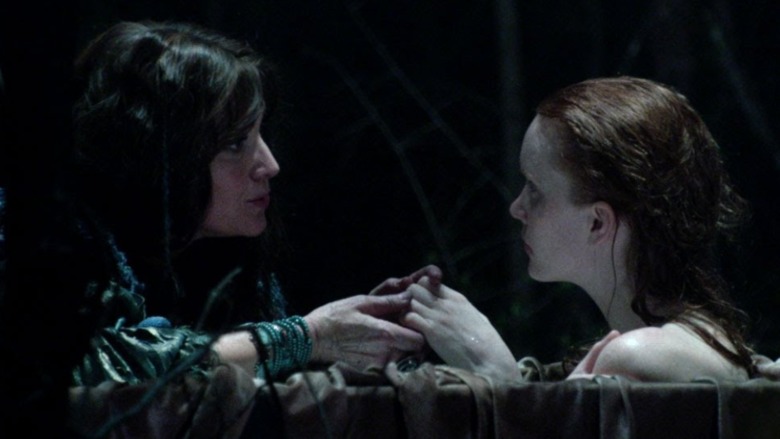 WGN America
Fusing real history with the fantastical moreso than perhaps any other witch-themed show of the decade (Freeform's "Motherland: Fort Salem" is its closest relative), "Salem" uses the 17th-century Salem Witch Trials as its touchstone. Set in that time, the show follows Mary Sibley (Montgomery), a powerful witch whose actions help spark the Witch Hunts and whose personal agenda is disrupted when her love John Alden (West) returns from war.
For history buffs, "Salem" delights in its inclusion of a few famous names of the era, including Tituba (Ashley Madekwe), Mercy Lewis (Elise Eberle), and Cotton Mather (Gabel). Then there's the fun of the magic, the power struggle between Mary and her various adversaries, and plenty of romance and sexual tension to go around. As Variety points out, that's the area where "Salem" pushes boundaries most, with bold uses of nudity.
Another reason "Salem" is worth a watch: although it was cancelled prematurely, the creators were given ample warning. Unlike so many other axed shows, there's a real ending. "We knew this would be the third and final season and were able to craft an exciting climax to Mary's transformational saga," Braga and Simon told Deadline in 2016, ahead of the finale.
In the years since "Salem" ended, the cast has moved on. Janet Montgomery has been starring on the NBC medical drama "New Amsterdam," and Shane West appeared as Bane on "Gotham" in 2019. Meanwhile, WGN America recently rebranded into NewsNation, as part of a move to become strictly a news platform.
"Salem" may be over, but its appeal lingers, and you can catch up with this supernatural drama hidden gem on Hulu now.