Was Julia Louis Dreyfus' Marvel Villain Debut Hiding In Plain Sight?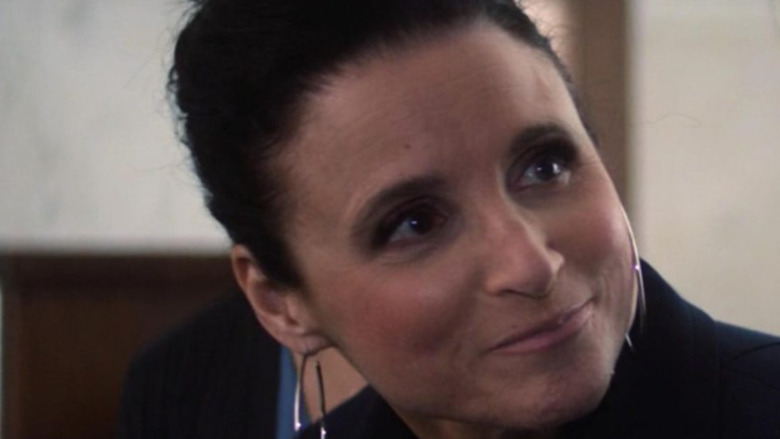 Marvel/Disney+
The second to last episode of Disney+ and Marvel's second huge series, The Falcon and the Winter Soldier, introduced a huge new villain... and fans of this Emmy Award-winning actress might have seen this coming years ago. Spoilers ahead!
In the fifth episode of the series, "Truth," the MCU met a villain that could potentially impact the cinematic universe for years to come: Julia Louis-Dreyfus' Contessa Valentina Allegra de la Fontaine. After John Walker (Wyatt Russell) is remanded and fired from his post as Captain America by the United States in the aftermath of his public murder of a Flagsmasher, the Contessa makes him an appealing yet vague offer, promising that we'll see much more of Louis-Dreyfus to come in the MCU.
However, is it possible that fans knew it was Julia all along? In a Vanity Fair profile ahead of the Emmys in August of 2019, a huge hint dropped that Louis-Dreyfus would eventually join the MCU... but it's unlikely that most people took notice at all. Here's how Julia Louis-Dreyfus' Marvel villain debut may have been hiding in plain sight for years.
A Vanity Fair profile might have revealed Julia Louis-Dreyfus as a formidable Marvel villain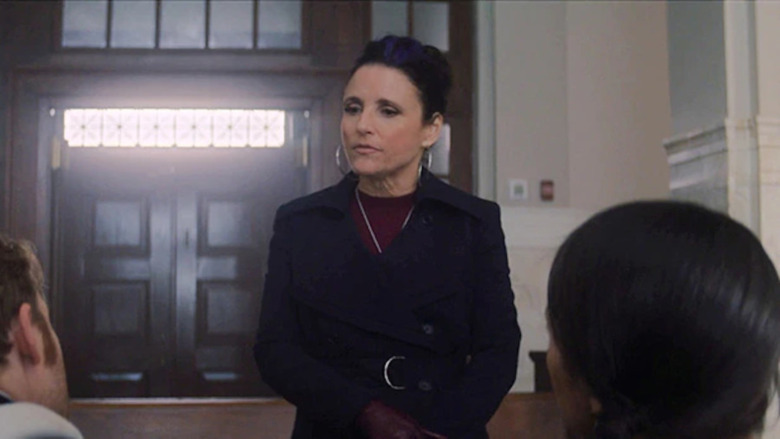 Marvel/Disney+
In advance of the 2019 Emmys, Vanity Fair writer Nicole Sperling sat down with the multiple Emmy Award-winner — who, to date, has won seven Emmys, most of which were for her portrayal of ruthless, unhinged Vice President (and President) Selina Meyer on HBO's Veep. (Louis-Dreyfus was largely expected to break her record, which she holds with Cloris Leachman, at the 2019 Emmys, but ultimately lost to Fleabag breakout Phoebe Waller-Bridge.)
At the end of the interview, Spelman mentions to Louis-Dreyfus that she spoke to some of her collaborators about what the actress' post-Veep career could look like, revealing what her directors and co-stars thought she should do next. Director Nicole Holofcener simply expressed her desire to work with Louis-Dreyfus again, while her Veep co-star Tony Hale said he thought she would make a great cartoon Disney villain. However, when Louis-Dreyfus learned that Veep showrunner David Mandel wanted her to play a Marvel villain, she seriously perked up.
According to Sperling, the idea seemed to "[spark] something" in Louis-Dreyfus. "Swinging around on wires and kicking people in the face," Louis-Dreyfus said about a potential MCU gig, laughing. "Shooting fire out of whatever you shoot fire out of. I would dig that." Only time will tell if the Contessa will swing around, kick people in the face, or shoot fire, but clearly, Louis-Dreyfus is up for anything.
The MCU has big plans for Julia Louis-Dreyfus' Contessa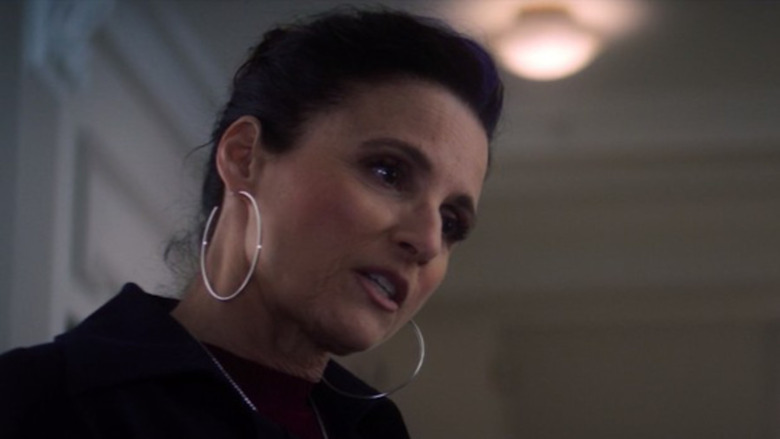 Marvel/Disney+
Now that Louis-Dreyfus has officially made her MCU debut, Vanity Fair has released a new feature about the actress' future in the cinematic universe, and it seems as if she's here to stay. As Vanity Fair points out, the character of Contessa Valentina Allegra de la Fontaine is extremely important within the Marvel comics and makes appearances in several different stories, interacting with some of the franchise's biggest characters.
According to the outlet, Louis-Dreyfus was originally set to make an appearance in the Black Widow film — which is still shelved — but was included in Falcon and the Winter Soldier instead after showrunner Marcus Spellman teased fans about a huge upcoming cameo. However, she could prove even more important in Black Widow after her character's tease in Falcon; in the comics, the Contessa, an Italian socialite, eventually becomes a secret agent, which could mean that she'll interact with Natasha Romanoff (Scarlett Johansson) and Yelena Bolova (Florence Pugh). To make matters even more interesting, the Contessa eventually becomes Madame Hydra, a Russian asset... which would definitely make sense for Black Widow and her backstory. There's a lot of directions for the Contessa to take, but if she is involved with Black Widow, Madame Hydra may become a part of the MCU's fourth phase.
The final episode of The Falcon and the Winter Soldier, which will hopefully feature even more of Julia Louis-Dreyfus, will drop on Friday, April 23 at midnight PST at Disney+. The first five episodes are available to stream now.