The Internet Is Losing It Over Nat's Costume In New Black Widow Stills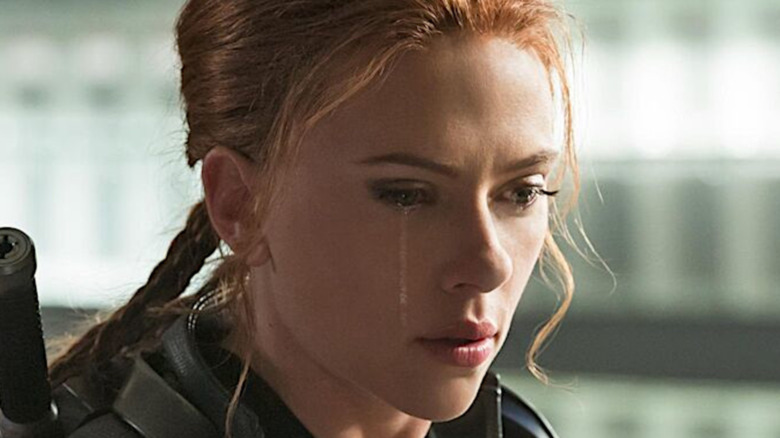 Marvel/Disney
After many delays, the Black Widow movie is finally coming to both theaters and Disney+'s premium service beginning July 9, 2021. The film is set between the events of Captain America: Civil War and Avengers: Infinity War. There's a lot for Marvel fans to be excited about for this solo spin-off film. By exploring Natasha's (Scarlett Johansson) past, we get to meet a lot of characters who haven't shown up in the MCU so far, such as popular comic villain Taskmaster (who also recently appeared in the Marvel's Avengers video game). There's also the return of General Thaddeus Ross (William Hurt) who helps connect this solo movie with the Avengers and Captain America films.
But what separates the Black Widow movie most from her previous appearances is that, in revisiting her past, we discover the family we never knew she had. And while it will be exciting to Rachel Weisz and David Harbour enter the MCU as a spy and super-soldier, respectively, the big story is about Natasha Romanoff herself and her connection with potential future Black Widow Yelena Belova (Florence Pugh).
Today we got close-up photos of costumes for both Natasha and Yelena, and they reveal some very interesting details about both characters.
How Black Widow's costumes tell a story
We've seen some promotional shots of Black Widow's costume before, especially in the first trailer, but this is one of the first times we've seen a more candid shot of it without any other distractions. What's cool about the suit we see in these apparently leaked movie stills (via Black Widow News) is how it bridges the gap between the suit Natasha wears in Captain America: Civil War and Avengers: Infinity War. In Civil War, Natasha is wearing almost all black, but her suit is slightly more heavily armored since she's going up against former friends who are both fast and strong. By Infinity War, Natasha has switched over to a suit whose entire chest piece is more gray than black. Moreover, the suit is no longer designed for stealth at all, but almost entirely for protection.
Looking closely at the Black Widow movie costume, we can see it is a blending of both styles. The suit has gray details throughout, is heavily armored (especially the knees and legs) but still maintains the classic Black Widow silhouette and details on her belt and wrist cuffs
The photo of Yelena Belova's costume also holds some secrets. We can see she's wearing a white suit similar to the other suit Natasha wears in the Black Widow trailer, but Yelena's has an additional detail — a buckled vest. If that vest looks familiar, that's because it bears more than a passing resemblance to the one we see Natasha wear in Avengers: Infinity War. It's always interesting to see how costumes tell a story of the relationships between characters. In this case, it may be that Yelena's suit hints at her future involvement in the MCU with Natasha no longer in the picture (at least as of now).
Black Widow comes to theaters and Disney+'s premium service on July 9, 2021.