Avengers: Infinity War Filming Begins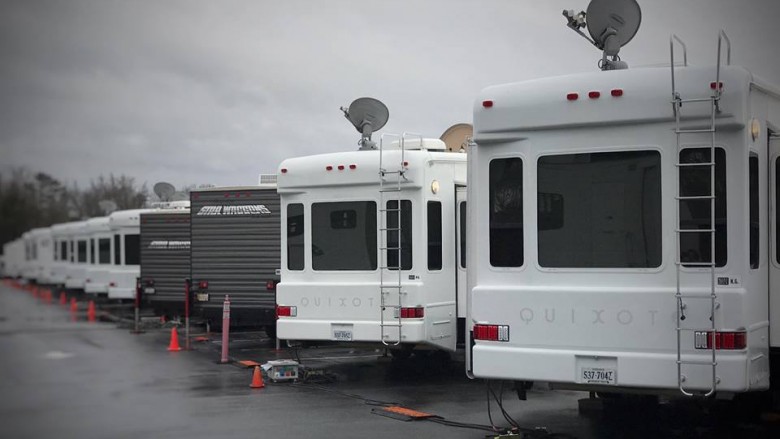 Avengers: Infinity War has officially started filming.
Directors Joe and Anthony Russo posted a photo from the first day of filming on their Facebook page Monday morning. The pic, which features a whole lot of trailers, basically highlights what we know about the film so far: that it will feature a whole lot of Marvel superheroes. Confirmed characters for the film include Iron Man, Thor, Captain America, Doctor Strange, Ant-Man, Hulk, The Vision, Scarlet Witch, Bucky Barnes, Captain Marvel, the Guardians of the Galaxy (including Nebula) and Thanos. According to Variety, Peter Dinklage is in early talks to play a "key role" in the films.
The Russos, who already have experience in the MCU as the directors of Captain America: The Winter Soldier and Captain America: Civil War, are set to direct both Infinity War and the untitled fourth Avengers movie, which will film back-to-back, according to Collider.
"I can't get into too much detail about who we're introducing, but these two movies are intended to be the culmination of everything that has happened in the MCU since the very first Iron Man movie," Anthony Russo told IGN about the films in August. "In being a culmination, these movies are in some ways going to be an end to certain things, and in some ways, they're going to be the beginning of certain things."
This isn't the first photo the Russo brothers have shared from the set. They posted a picture a few months ago showing Thanos actor Josh Brolin in motion capture gear, captioning the photo, "Rehearsal."
Avengers: Infinity War is set to premiere on May 4, 2018, while the next Avengers film is set for May 3, 2019. While we wait, check out these characters who we think could die in Marvel's Phase Three.