Read This Before You See The Woman In The Window
This content was paid for by Netflix and created by Looper.
When it comes to psychological thrillers, Amy Adams is one of the best actresses in the game. And now she is ready to captivate and confound us all once again when The Woman in the Window hits Netflix on Friday, May 14.
Adams stars in the film as Anna Fox, a child psychologist with agoraphobia who is unable to venture outside of her posh New York City brownstone. Instead, she spends her downtime watching other people's lives play out through her windows. Anna might just want to live vicariously and document some petty drama while secretly spying on her neighbors — but on one fateful night, she witnesses something truly horrific unfold from a distance.
Shortly after befriending her neighbor Jane Russell, portrayed by Julianne Moore, Anna sees the woman being attacked in the house across the street. Because of her condition, Anna is unable to physically intervene in what seems to be a violent scene, but she does inform the authorities...and that's when things get even more upsetting. Soon, Anna is introduced to another woman — portrayed by Jennifer Jason Leigh — claiming to be Jane Russell, and Anna is forced to confront her own grasp on reality, even though she feels sure that what she saw was real.
Based on the best-selling book of the same name, The Woman in the Window is a riveting murder-mystery with a psychological twist that fans of thrillers like Gone Girl and The Girl on the Train will not want to miss. Here's a look at what else you should know about this story before it hits the streaming service next month.
A window into production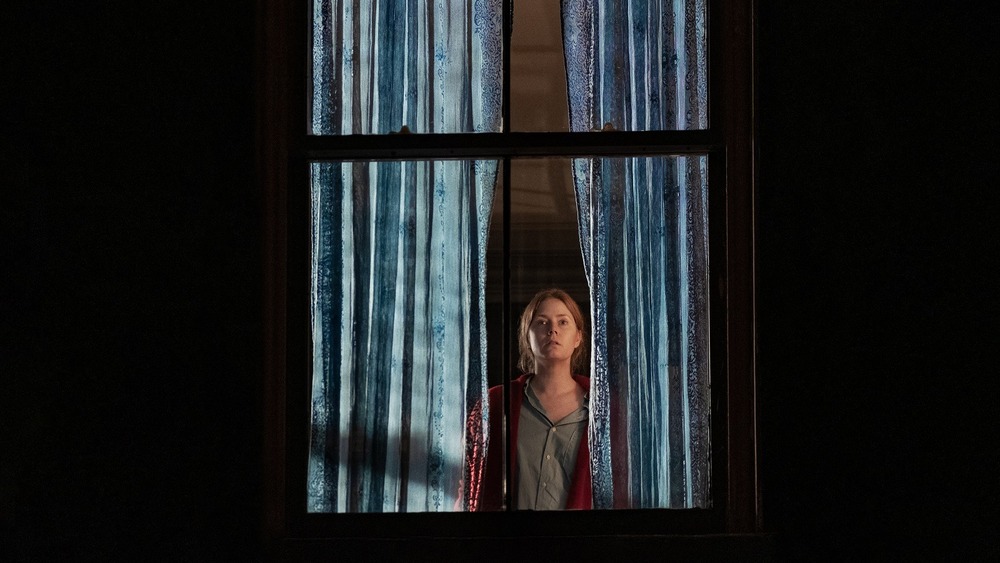 Melinda Sue Gordon/Netflix
The screenplay for The Woman in the Window is written by the multi-talented scribe Tracy Letts, who is also known for adapting his own plays for the screen in Bug, Killer Joe, and August: Osage County. Letts, who is also an accomplished actor, also has a role in The Woman in the Window as Dr. Landy.
Meanwhile, the film is directed by Golden Globe nominee Joe Wright, who has previously proven his talents behind the lens with unforgettable films like Hanna, Atonement, Anna Karenina, and Darkest Hour, along with the all-timer episode "Nosedive" from Black Mirror. For Wright, the prospect of making such a claustrophobic thriller as The Woman in the Window was very exciting.
The director told Entertainment Weekly that he was intrigued by the "kind of minimalist constraints of making a film that is completely set in one house," along with the story's "blurring between subjective and objective reality, truth and lies, and the lies we tell ourselves and how we create our own reality."
A cast worth watching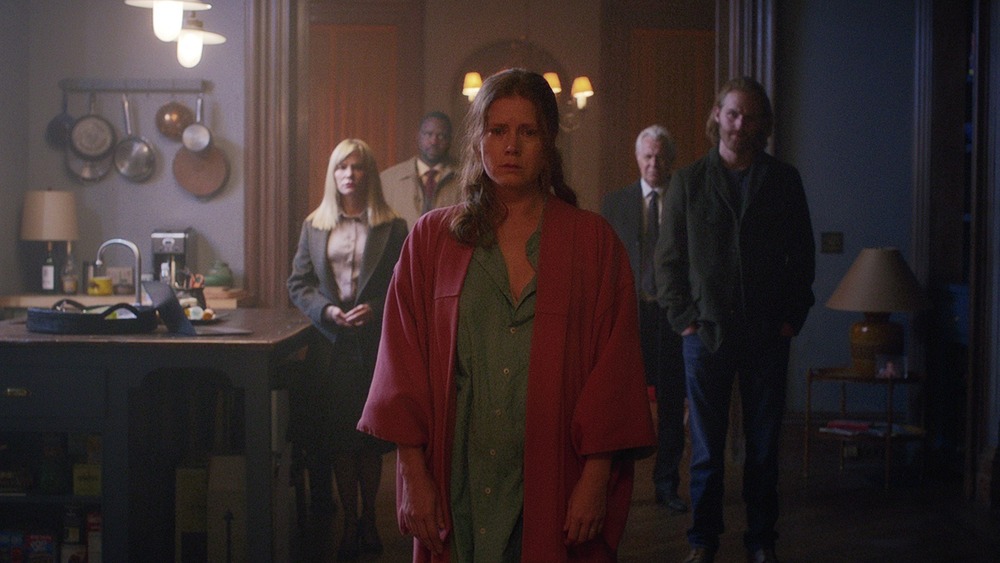 Netflix
The cast of The Woman in the Window is absolutely stacked with all-star talents. Lead actress Amy Adams, who recently stunned audiences with her heartbreaking performance in Hillbilly Elegy, is one of the most esteemed and accomplished actresses in show business. Adams boasts a whopping six Academy Award nominations (and counting) for her performances across multiple genres, including comedies, dramas, and period films. She has also made a name for herself as an incredible screen presence in thriller stories, including the 2016 film Nocturnal Animals and her recent role as Camille Preaker in HBO's mini-series Sharp Objects.
Another celebrated actress in the film is Julianne Moore, who recently won an Oscar for her work in Still Alice after earning four other acting nominations. Like Adams, Moore has been a standout across many genres, with some compelling work in thrillers like The Hand that Rocks the Cradle, The Forgotten, and Shelter.
Gary Oldman also stars in The Woman in the Window as Alistair Russell, and he, too, is a seminal star with an Oscar for his gripping work in Darkest Hour and two additional nominations for Tinker Tailor Soldier Spy and, most recently, Mank. In addition to being a celebrated drama actor, Oldman is also a renowned scary movie star, thanks in no small part to his titular role in Dracula. Adding to the bevy of A-listers in The Woman in the Window is MCU star Anthony Mackie, who previously starred in several Netflix Original Films and Series, including IO, Black Mirror, Point Blank, Altered Carbon, and the new sci-fi/action favorite Outside the Wire.
Wyatt Russell, who currently appears alongside Mackie in The Falcon and the Winter Soldier and is also known for his work in Black Mirror, Lodge 49, and Overlord, also has a role in the film. Also starring in the pic as Detective Little is Brian Tyree Henry, who is known for his Emmy-nominated work in popular shows like This Is Us and Atlanta as well as his film roles in If Beale Street Could Talk, Widows, and Spider-Man: Into the Spider-Verse.
Jennifer Jason Leigh also comes to the cast with considerable credentials, including an Oscar nod and some searing psychological thriller roles, including in Single White Female and Delores Claiborne. And rounding out the main cast is Fred Hechinger, who has previously impressed with his work in films like Eighth Grade, Alex Strangelove, and News of the World.
In other words, in addition to being a tight and dizzying thrill ride, The Woman in the Window will also entertain audiences with its showcase of thespians at the top of their game. Be on the lookout for this one when it hits Netflix in May.