Disney's Live-Action Cruella Trailer Has Everyone Talking
Who would have thought that 65 years after the release of Dodie Smith's novel The Hundred and One Dalmatians, its main villain would be getting her own origin story film –one in which she declares "I am woman, hear me roar"?
On February 17, 2021, Disney dropped the trailer for its new live-action prequel film Cruella — and, of course, the internet is already buzzing about it. 
Set in London during the 1970's, Cruella stars Oscar-winner Emma Stone as the younger version of the titular character who, throughout the trailer, wreaks havoc, confronts and dresses like Baroness von Hellman (Emma Thompson), and declares that she "wasn't for everyone." The puppy-skin-obsessed Cruella says she thinks people were always scared that she'd be "a psycho." And after viewing the trailer, it's a little easier to see why.  
It's a tall order for any actor to live up to the iconic Cruella de Vil role fans know from Smith's book, Disney's animated movies featuring the sinister villain, and especially the previous live-action version in 101 Dalmatians, in which Ms. de Vil was played by Glenn Close, who serves as executive producer on Cruella. All this considered, one has to wonder: Exactly how are people reacting to the Cruella trailer?

Many people think Emma Stone's Cruella de Vil resembles the Joker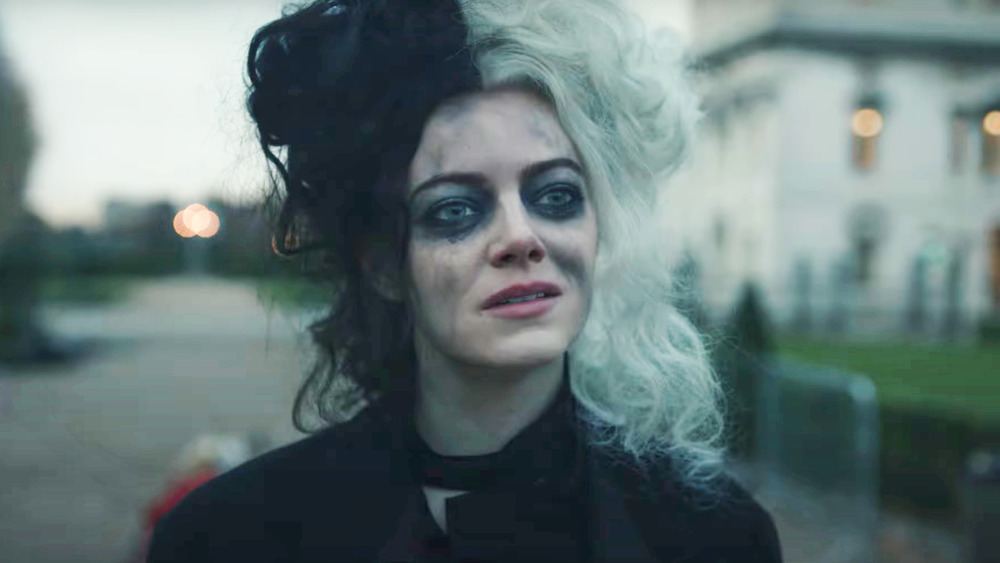 Disney+
If you glance at the YouTube comments under Cruella's trailer, the top comments include excitement for both the sneak-peek footage and for the movie as a whole. YouTuber Garrett Watts wrote in the comments section that Cruella "looks incredible already" and that he will watch the trailer "easily, 50 times more." (For good measure, Watts then took to Twitter to share some screencaps from the footage, writing in the caption, "It is my civic duty to put these gorgeous shots from the new Cruella trailer on your timeline. I am obsessed.") Elsewhere, a YouTuber user going by the name Homework Radio noted that the movie looks like "has got a serious edge to it" and that they really like it.
However, as you scroll through the comments on the Cruella trailer, you'll come across users commenting on the similarities in tone between Cruella and Todd Phillips' 2019 film Joker. User ParadoxPixels quipped, "So basically it's Joker but ... Disney style." Another viewer felt that Cruella is a lot like 2020's Birds of Prey, starring Margot Robbie as a post-breakup-with-the-Joker Harley Quinn. They commented, "Why do I [get] this 'Harley Quinn'-ish vibe [from] this trailer?"
It's hard not to see the resemblance between the films, especially Cruella and Joker. The two feature gritty color palettes, sprawling city shots, and scenes that reveal a character who's both whimsical and very dangerous. Over on Twitter, BuzzFeed's Jess Goodwin took the comparisons one step further, tweeting a still of Heath Ledger's Joker dressed as a nurse in The Dark Knight with the caption, "I for one am very excited to watch the Cruella movie."
On the flip side, some fans are apprehensive about the approach of making the villainous, dog-killing Cruella de Vil someone viewers should root for. YouTube user BoneStudios15 expressed disbelief in the comments, writing, "Disney is really about to make a woman that kills puppies likable." Similarly, Twitter user @ClaudiaBoleyn criticized the film by asking, "Why are they trying to make the puppy killer into Harley Quinn??? I swear Cruella is one of the last Disney villains you can make a misunderstood anti hero of. She is a rich lady that skins puppies."
No matter what fans are saying about the film, it's certainly garnering a lot of attention — and isn't that all (in addition to Dalmatian skins) Cruella de Vil wants?
Cruella is scheduled to hit Disney+ on May 28.