The Musical Nickelodeon Comedy That's Crushing It On Netflix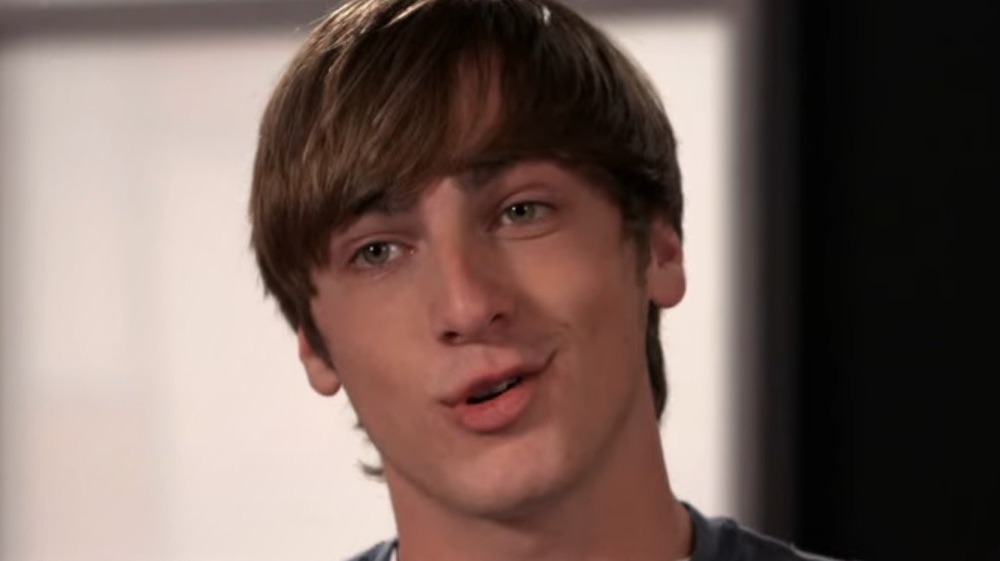 Nickelodeon
For many teens, there's no greater dream than being plucked from obscurity and turned into a world-famous music sensation. Nickelodeon made a big bet on the popularity of that particular fantasy in 2009 when they launched the comedy series Big Time Rush.
The show focuses on four friends — Kendall (Kendall Schmidt), James (James Maslow), Carlos (Carlos Pena Jr.), and Logan (Logan Henderson) — who are living relatively ordinary lives in Minnesota. They play hockey, pull pranks, hang out and razz each other, and get schooled by Kendall's genius little sister, Katie (future Cherry star Ciara Bravo). Everything changes when the quartet meets a superstar record producer who decides to give them their big break.
The guys are transformed into international sensation Big Time Rush, a boyband that puts out best-selling albums and embarks on glitzy world-tours. In the case of this particular scripted show, the success of the band wasn't contained to a fictional universe. The group actually did release several albums, including BTR, which is certified gold by the RIAA and peaked at number 3 on the Billboard Top 200 chart.
While the show has been off the air since 2013, the same year the band released its last album, that doesn't mean Big Time Rush has been forgotten about. The series is currently streaming on Netflix, where it appears to have found a renewed following. At the time of writing, Big Time Rush was on the list of the top 10 most viewed series on the streamer.
If you're worried that the show's four seasons won't be enough for a satisfying binge watch, don't fret. There's also a TV movie to extend your Big Time Rush marathon.
Big Time Movie sees the guys going international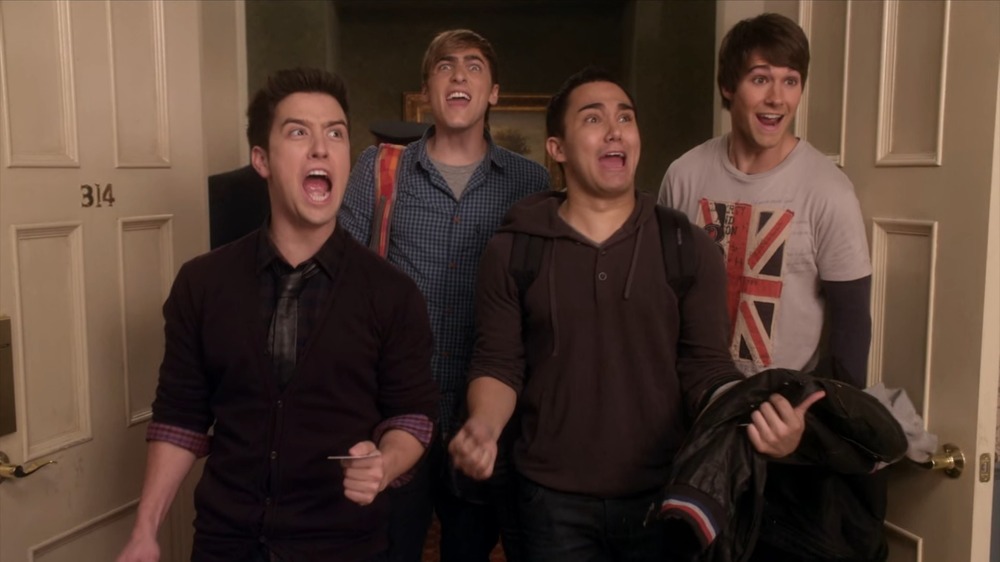 Nickelodeon
Released between the second and third seasons of the show, Big Time Movie saw the band embarking on a world tour at the height of their popularity. Their first stop is London, where their dreams of playing to sold-out stadiums full of British fans are almost immediately put on hold. After a baggage mixup at the airport, the group comes into possession of a powerful weapon being sought by a devious businessman named Sir Atticus Moon (Trevor Devall). As though learning all those dance moves wasn't hard enough, the guys also now have to figure out how to thwart a supervillain's potentially catastrophic plan.
Thankfully for them, they get some help in the form of teenage secret agent Penny Lane (Emma Lahana) and her father, the incomparable MI6 Agent Simon Lane (Christopher Shyer). With some actual secret agents on their side, the group is better equipped to halt Moon's scheme while still having time to sneak in a little sight-seeing, as well. They even take some time to lay down a few covers of songs by arguably the most popular boyband of all time, The Beatles, for the movie's soundtrack.
And there is one last thing. If you've binged the show, watched the movie, and listened to all the albums, don't forget to also check out the band's 2020 virtual reunion.
Big Time Rush and Big Time Movie are both currently available to stream on Netflix.