Ciara Bravo Reveals What It Was Really Like Working With Tom Holland And The Russos On Cherry - Exclusive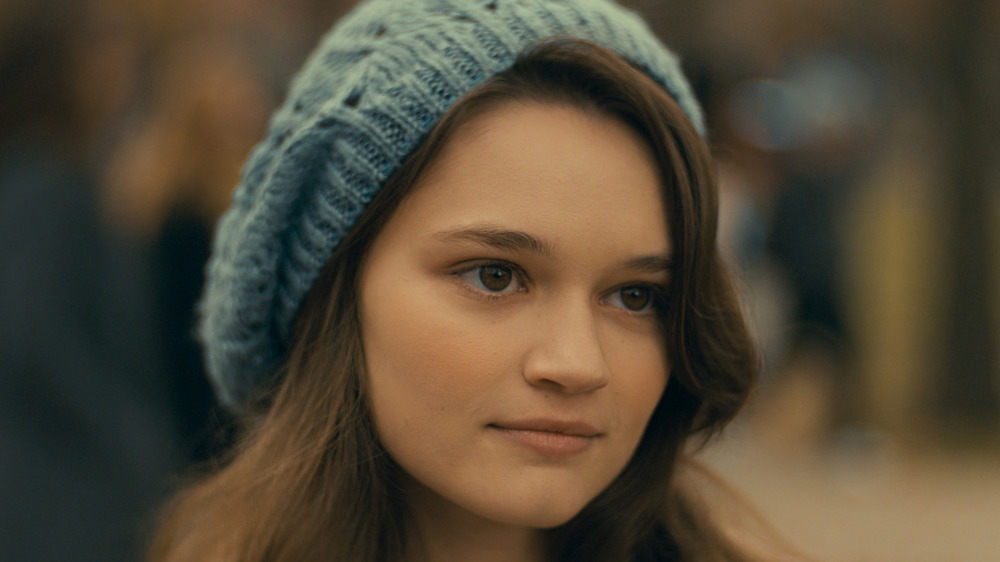 Apple TV+
Although Ciara Bravo has had much success over her career — with roles in the hit sitcom Big Time Rush and the dramedy Red Band Society, as well as guest stints on series like NCIS and Agents of S.H.I.E.L.D. – the actor knew she was taking her craft to a whole new level with the recently released crime drama Cherry. That's partially because of the nature of the film, based on Army veteran Nico Walker's 2018 semi-autobiographical best-seller of the same name, and partially because of the directors bringing it to life: Marvel stalwarts Joe and Anthony Russo.
Bravo admitted to Looper that she "wasn't super familiar" with the Marvel Cinematic Universe films that catapulted the Russos — and their Spider-Man star, Tom Holland — to superstardom, but she was certainly aware of their A-list stature in the film industry. (And yes, for good measure, once she was cast in the film and got to know Holland and the Russos, Bravo did get caught up with the films of the MCU.)
In the new Apple TV+ film, Holland stars in the title role of Cherry, a disenfranchised Army veteran suffering from PTSD after serving in the Iraq War, who spirals into opioid addiction and eventually begins robbing banks to fuel his dangerous habit. Bravo stars as Cherry's wife, Emily; despite her best efforts to help her husband heal from his trauma, Emily becomes an opioid addict herself to cope with the anguish over her fruitless efforts.
In an exclusive interview with Looper, Bravo opened up about what it was really like working with Holland and the Russos on Cherry.
Ciara Bravo knew immediately Tom Holland was putting his heart and soul into Cherry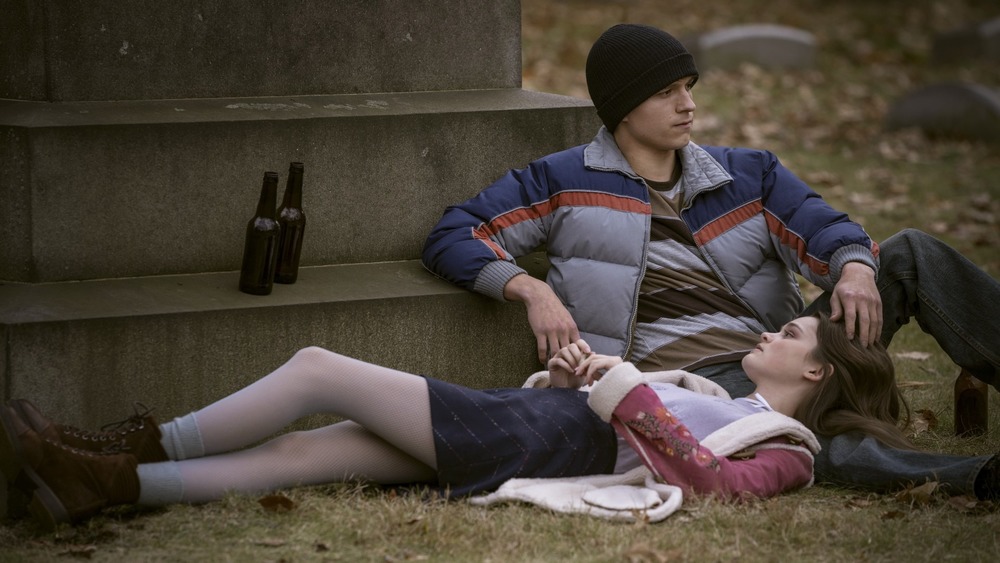 Apple TV+
Without hesitation, Bravo said she "knew from day one that Tom was an absolute force." 
"It was clear from the second I stepped in the room with him that he was going to be giving 110 percent of his character," she shared with Looper. "With the amount of weight that he lost and the preparation that he had done going into it, speaking with him and sharing the information that we had learned, it was clear that he was putting his heart and soul into this. And I think that in watching this film, it's obvious to the viewer as well. He's such a talented person." 
Bravo's certainly not wrong: Holland, who usually weighs around 140 pounds and stands at 5'7", lost 27 pounds to play Cherry while he's struggling with addiction ... then gained weight and muscle mass back to film the sequences wherein Cherry's at war (via British GQ). Not only that, but Holland also had to go to some very dark places to portray the films' title character, and worked closely with a former addict to ensure that he was portraying things accurately.
Bravo said that she wasn't surprised by anything Holland brought to the performance. She was, however, amazed at how quickly he could leave the character in the rearview mirror once work was done for the day (even though Holland has said he'll never play a character like Cherry again).
"What did surprise me and what I was most impressed with was his ability to flip back and forth between himself and Cherry," she noted. "It's very rare that you find a performer that's able to turn that switch on and off and really leave their work on set and go home, be themselves, come back to it, and do such an impeccable job. I hope to be able to build that skill myself as I continue in my career, but Tom's got it down."
The Russos promoted a family atmosphere working on Cherry, Ciara Bravo says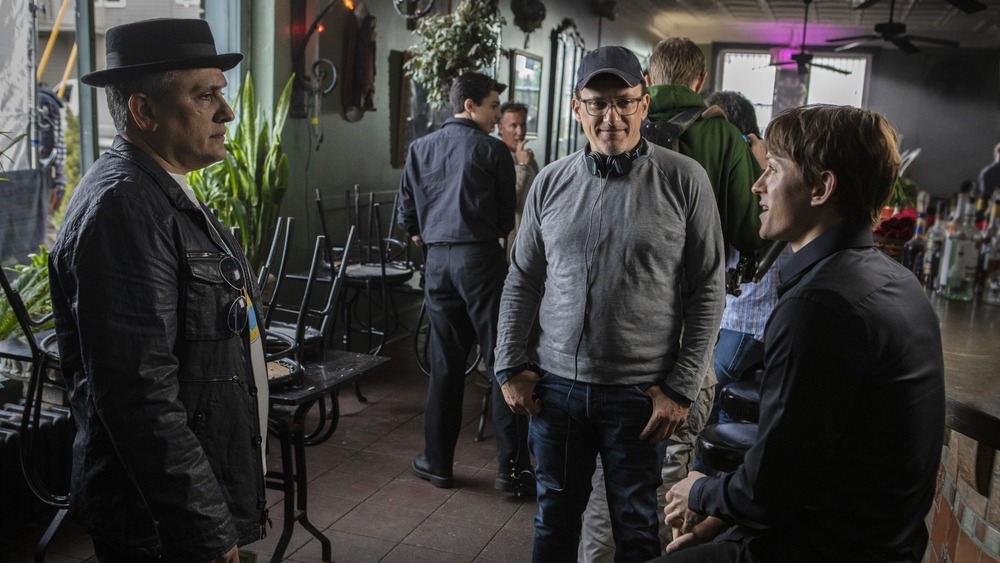 Apple TV+
Because of the dark subject matter of Cherry, Bravo said that she, Holland, and the Russos were "respectful during times where we did have to be in really dark places, which was the majority of the time [filming the scenes]." But that doesn't mean Holland and the Russos couldn't be light and funny.
"Of course, working with the brothers and Tom, it's like working with three brothers," Bravo enthused. "So, it has that family atmosphere where you're poking fun at each other and you get to understand their inside jokes and watch them exist. It makes working far more fun."
What truly made the work special for Bravo, though, was how the Russos "emphasized this family atmosphere" on set. "They would always have times — probably a couple of times a week — we would all go out to dinner together and just enjoy each other's company, and decompress and talk, laugh and dance, and get to process what we did and clear our heads so that we can keep moving forward," she said.
Whether the conversations took place either on or off the set, Bravo appreciated how open the Russos were to her and Holland's suggestions, which made for an extremely open and creative working environment. "We sat down quite a few times before we began filming to discuss our different thoughts on the characters and communicate to each other who we imagined them as and where we imagined them going — and they we're very receptive to it," Bravo recalled. "The notes that we gave in different scenes, we would work through and rebuild the scenes. They're awesome. They're collaborators through and through, in every sense of the word."
Not surprisingly, Bravo shared that she'd work with the Russos again in a heartbeat — and she's not limiting herself to the drama genre either. Now that she's become an MCU study, Bravo would even leap into the genre that made the brothers super stars. "If it means I get to work with the Russo brothers again, I'm always down for a superhero film," Bravo exclaimed.
Cherry is now playing in select theaters and will debut on Apple TV+ on Friday, March 12.