The Idris Elba Crime Drama Fans Of The Take Should Watch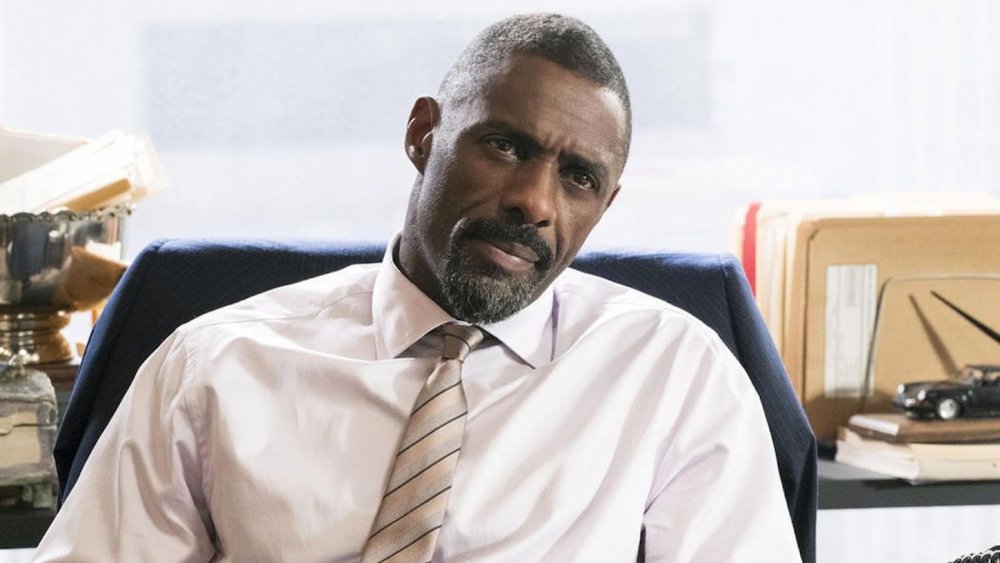 STX Entertainment
There really isn't much Idris Elba hasn't done on screen over the course of his career. That includes appearing character-driven streamers (Netflix's Beasts of No Nation), award-winning small screen series (HBO's The Wire, BBC's Luther), and big screen blockbusters (Marvel's Thor trilogy, Pacific Rim, Hobbs & Shaw). Heck, he even scored a hilarious, multiple-episode arc on NBC's beloved workplace sitcom The Office. But if one fact remains true of Elba's screen work, it's that the actor excels at portraying charming, physically imposing, and fiercely intelligent official types who aren't afraid to twist a rule or two to meet their desired ends.
That's exactly the sort of character Elba plays in the action-thriller The Take, which is currently finding a fervent audience on Netflix. Co-starring former Game of Thrones standout Richard Madden and current Yellowstone breakout Kelly Reilly, The Take finds Elba portraying a rule-breaking CIA Agent investigating what initially appears to be a terrorist bombing in the streets of Paris. Matters take a turn for the unexpected when the agent discovers the prime suspect in the attack (Madden's street-wise pickpocket) had not a clue he was even a part of it, and that a far more sinister plot is afoot that leads all the way to key members of the French Interior Ministry.
Directed with propulsive energy by Eden Lake and The Woman In Black helmer James Watkins, The Take is a smart, ass-kicking thriller that features as vintage an Idris Elba performance as the screen has ever seen. And if you're looking for a compelling little crime drama to fill out an "underrated Idris Elba flicks" double feature on Netflix, 2017's Oscar-nominated Molly's Game should more than fit the bill.
Molly's Game found Elba teaming up with a pair of Hollywood heavy weights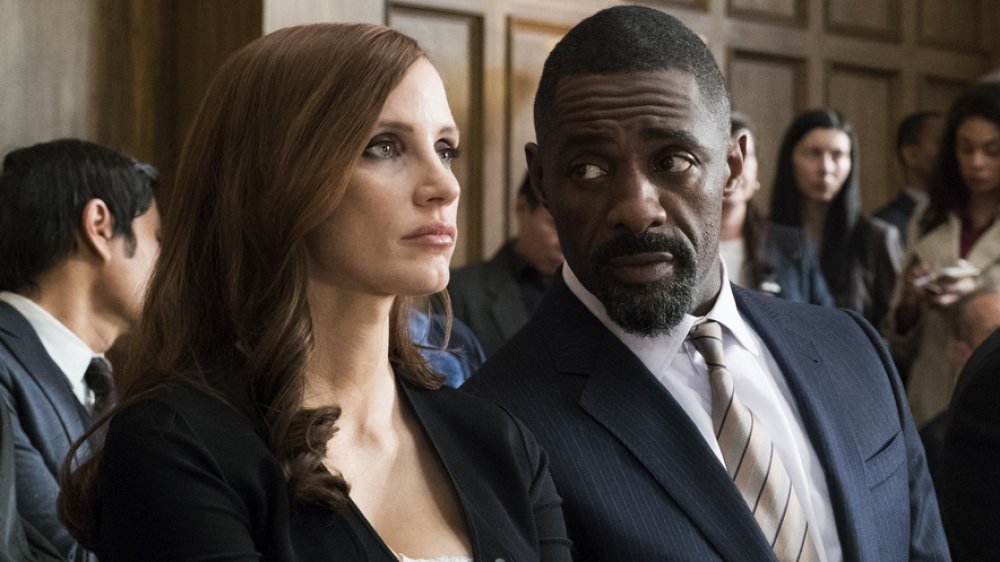 STX Entertainment
Unfortunately, Idris Elba was not the Oscar-nominated party from Molly's Game. That honor went to Aaron Sorkin (in his directorial debut) and the crackling screenplay he spun from the titular 2014 memoir. And just for the sake of transparency, you should know Molly's Game boasts virtually none of the explosive action or fisticuffs as The Take.
That's not to say Molly's Game isn't an explosive piece of work. Even if the film isn't fueled by gunplay and set pieces, Sorkin's scorching dialogue alone should be fuel enough to keep your blood pumping for the entirety of its 140-minute runtime. And if it isn't, well, Elba's commanding turn as Defense Attorney Charles Jaffey will be more than enough to hold your gaze — not to mention the fiery work of his co-star Jessica Chastain, who portrays the titular femme in Molly's Game.
Chastain's Molly Bloom is actually the star of the show here. And if you're wondering what Molly's Game is all about, well, it really is about a game. Specifically, it's about a very exclusive (and very illegal) high-stakes poker game run by the real-life Bloom for the better part of a decade before encounters with gangsters, shady businessmen, and sketchy Hollywood types eventually brought the FBI to her door. 
Elba appears in the film as Molly's only ally in her defense, and enough simply cannot be said about the duo's spirited work in the film. Ditto for their co-stars Kevin Costner, Michael Cera, and Chris O'Dowd.
As for Sorkin, the famed scribe delivers another barn-burning screenplay to be sure. But he leaves his mark on Molly's Game from the director's chair, imbuing the film with a meticulously orchestrated, intensely understated energy that puts the talent of his cast front and center, and makes for a distinctly human drama of the first order.