Whatever Happened To Anna From Predator?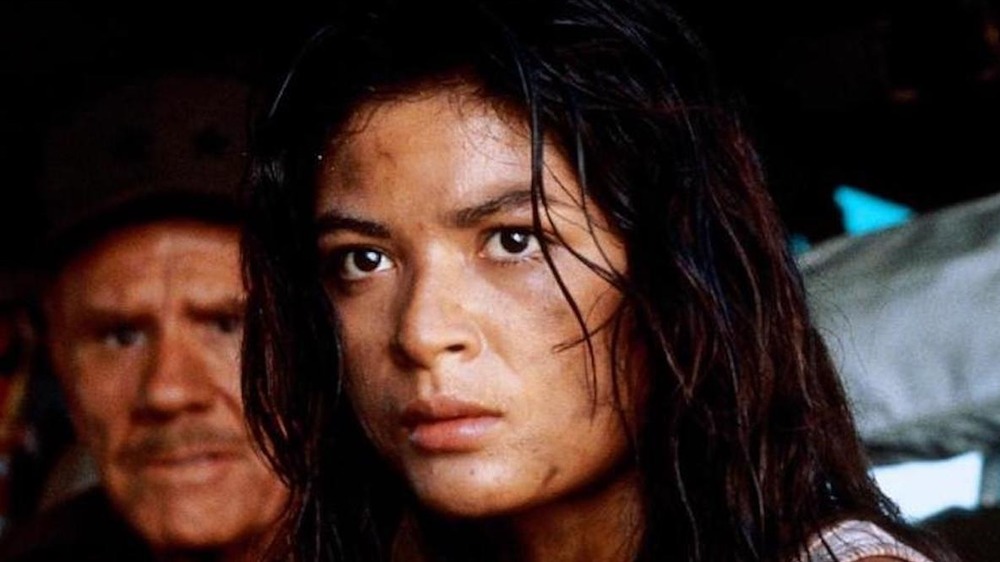 Fox Studios
These days, the 1980s are generally regarded as a decade marred by shameless excesses stretching from the wolf-ridden halls of Wall Street to the freshly mowed yards of suburbia. They were marred by relentless excess at movie houses as well, with the likes of Sylvester Stallone, Steven Seagal, and Arnold Schwarzenegger giving new meaning to big-screen bombast. And perhaps more than any other star of the era, Schwarzenegger pushed the action game into the stratosphere of spectacular and spectacularly silly, fronting some of the best and worst action movies of the decade. (Highs: The Terminator, The Running Man. Lows: Commando, Raw Deal.)
One of his finer big screen moments undoubtedly came in 1987 when he stepped into the lead on a high octane sci-fi adventure by the name of Predator. Directed by John McTiernan (Die Hard), that film found the future Governator portraying a special forces commando who leads a crack team of troops into South American jungles in hopes of finding surviving troops from a downed helicopter. Soon after they land, that motley crew finds themselves doing battle with a chameleonic extra-terrestrial who begins picking them off one by one.
Steeped in '80s action movie machismo and featuring some truly dazzling set pieces, Predator is such a testosterone-heavy production it's almost easy to forget Arnie and the gang had a female companion in tow for most of the proceedings: captured guerrilla soldier Anna. It's even easier to forget she was the only member of the party outside of Schwarzeneggar's "Dutch" to survive the carnage. She was beautifully portrayed in the film by a then up-and-coming Mexican actor by the name of Elpidia Carrillo. Here's a look at what Carrillo's been up to since her Predator breakout.
Elpidia Carrillo has kept busy on the big screen since her Predator days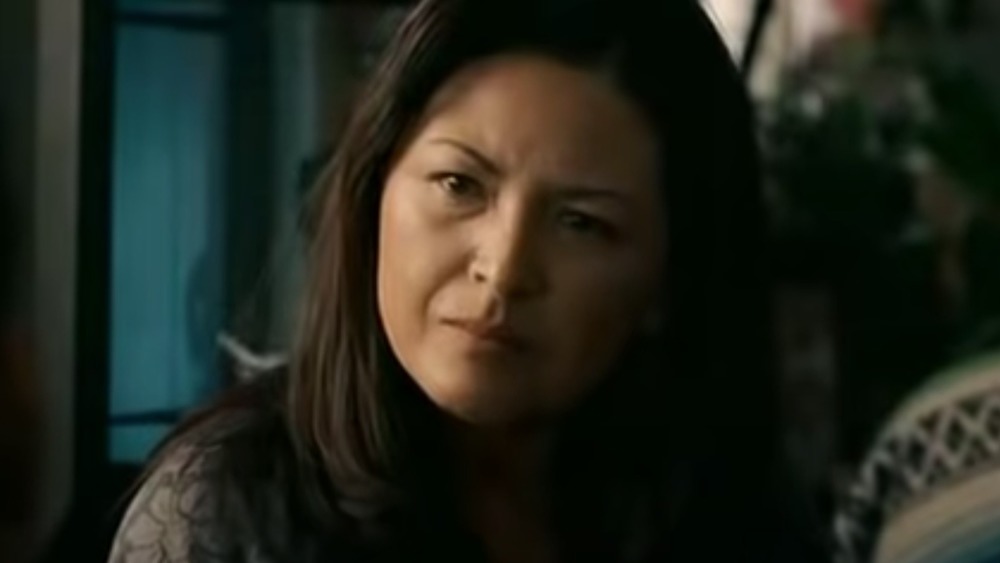 Columbia Pictures
It should hardly come as a surprise that Elpidia Carrillo has indeed kept acting since throwing down alongside Arnie and his would-be army of ass-kickers in Predator. Carrillo was, after all, a working actor before her big break in one of the best action movies ever, earning raves for her work in Oliver Stone's Oscar-nominated 1986 historical drama Salvador. She'd also already shared the screen with the likes of cinematic icons such as Jack Nicholson (The Border), Gene Hackman (Under Fire), and Michael Caine (Beyond the Limit).
Carrillo wasted no time capitalizing on the notoriety earned from her Predator work though, quickly claiming the co-lead in a 1990 action flick called The Assassin. Unfortunately, that same year she also made an appearance in Predator's much-maligned sequel Predator 2, reprising her role as Anna in what's little more than a cameo. She followed that appearance with more dramatic work, turning up opposite Edward James Olmos, Jimmy Smits, and a young Jennifer Lopez in the decades-spanning family drama My Family. A couple of years later, Carrillo shared the screen with Johnny Depp, Marlon Brando, and Luis Guzmán in Depp's little-seen directorial debut The Brave.
Elpidia Carrillo kicked off the 2000s by breaking indie in the all-star cast of Rodrigo García's understated drama Things You Can Tell Just by Looking at Her and landing a minor role in Steven Soderbergh's vividly realized (and tragically underrated) sci-fi drama Solaris. She even traded lines with Will Smith in his 2008 drama Seven Pounds. Most recently, Carrillo earned some serious laughs opposite Danny Trejo in 2018's hilarious Mexican superhero farce The Green Ghost and shared the screen with Riverdale star K.J. Apa in the 2020 pandemic drama Songbird.
Elpidia Carrillo has been a small-screen regular over the years, too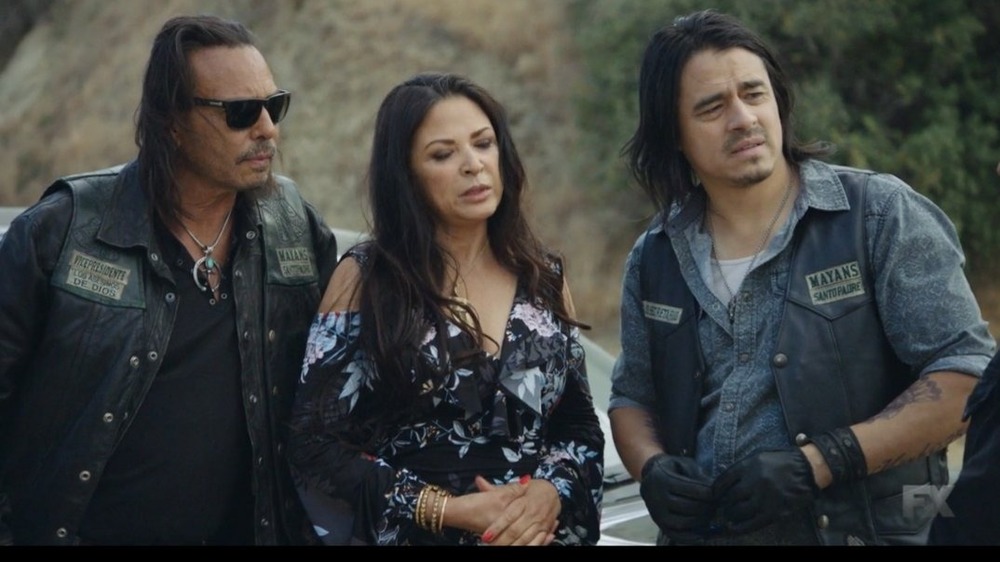 FX
While Elpidia Carrillo has remained prolific on the big screen, she's appeared just as often on the small screen since her Predator breakthrough. In fact, in the ensuing decades, Carrillo has turned up on some of the best-loved series on television. That run began with a pair of 1989 appearances on the stylish, Michael Mann-produced '80s cop classic Miami Vice. Carrillo followed that high-profile gig with a one-off turn opposite Johnny Depp on his kitschy primetime classic 21 Jump Street (doing so in an episode directed by Emmy-winning Band of Brothers and Game of Thrones helmer David Nutter no less).
Carrillo has gone on to deliver memorable work on popular series like The Pretender, ER, Law and Order: Special Victims Unit, and The Mentalist. In 2014, she landed a three-episode arc on the wildly popular country music drama Nashville, appearing as the mother of Kiley Brenner (Alexa PenaVega), who fans no doubt recall had a complicated past with series star Gunnar Scott (Sam Palladio). A couple of years later, Carrillo was again playing matriarch, this time on HBO's hit teen drama series Euphoria. If you're struggling to place Carrillo's face, she appeared in a pair of Euphoria episodes as Maddy's (Alexa Demie) overprotective Mom Sonia, and, yes, most folks agree she was darn good in that small but pivotal role.
She was every bit as good in her most recent small screen appearance, by the way, breaking bad for Sons of Anarchy creator Kurt Sutter and his current band of biker-bound bad boys on Mayans M.C. As for what the future holds for Elpidia Carrillo, the sky appears to be the limit, and it should be fascinating to see what she does next.