Hocus Pocus 2 - What We Know So Far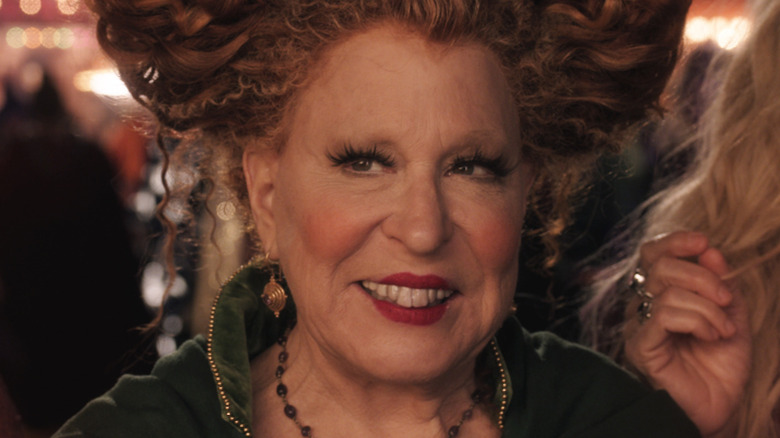 Disney Enterprises, Inc.
When Kenny Ortega's "Hocus Pocus" was released in 1993, nobody knew it would slow burn its way to becoming one of the classic Halloween movies people love to watch. The story focuses on the Sanderson sisters, whom teenager Max (Omri Katz) has accidentally brought back on Halloween night by being a virgin who lit the cursed black flame candle. The witchy trio (played by Bette Midler, Kathy Najimy, and Sarah Jessica Parker), need the life force of children to stay alive, but are ultimately foiled by Max, his girlfriend Allison (Vinessa Shaw), his younger sister Dani (Thora Birch), and a talking black cat called Thackery Binx (voiced by Jason Marsden).
The film's opening weekend was a modest $8.1 million at the box office, but over the years it has collected over $44 million worldwide (via Box Office Mojo). More importantly, it put a spell on baby millennials everywhere. Whispers about a sequel were echoing for years, and on September 30, the Sanderson sisters finally haunted Salem once more. Let's take a look at what we know about "Hocus Pocus 2."
Who is in Hocus Pocus 2?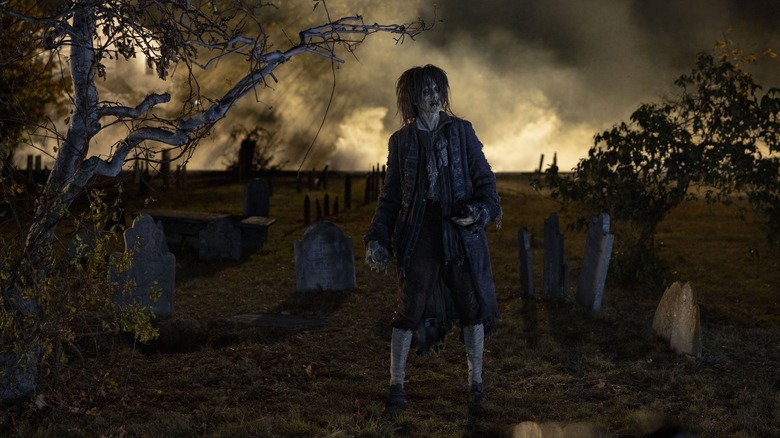 Matt Kennedy/Disney Enterprises, Inc.
Several key members of the original movie's cast return for "Hocus Pocus 2." These include all three original Sanderson sisters — Bette Midler as Winifred Sanderson, Sarah Jessica Parker as Sarah Sanderson, and Kathy Najimy as Mary Sanderson — as well as Doug Jones as the zombie Billy Butcherson. 
However, the younger stars of the original movie are nowhere to be seen, as Omri Katz, Thora Birch, and Vinessa Shaw aren't listed as part of the project. The events of the first film were narrated by the cursed black cat Thackery Binx, but it seems that a non-speaking, yet adorable new cat called Cobweb will occupy the "black cat" spot in the sequel. Binx may return in some shape, form or way, but his voice actor Jason Marsden won't be in the movie, either (via Entertainment Weekly).
There are several new faces to take over, however. Whitney Peak and Belissa Escopedo play young wannabe witches Becca and Izzy, and Lilia Buckingham is their fellow student Cassie. The main adults in the movie's modern timeline seem to be Sam Richardson's Gilbert — who operates the magic shop at the Sanderson's old house — and Tony Hale's Mayor Jefry Fraske, who's also Cassie's dad. 
Interestingly, the movie will also cast some light on the Sanderson sisters' youth, and their tutelage under a more experienced witch played by "Ted Lasso" star Hannah Waddingham. Taylor Paige Henderson, Nina Kitchen, and Juju Journey Brener play young Winifred, Mary, and Sarah Sanderson. 
What's the plot of Hocus Pocus 2?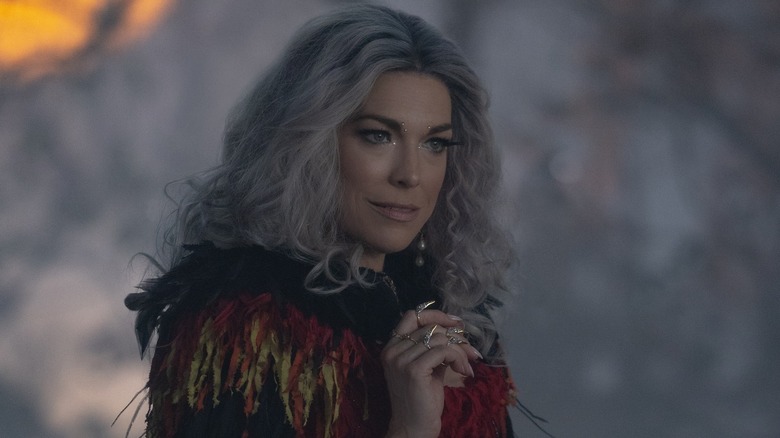 Matt Kennedy/Disney Enterprises, Inc.
When a new "Hocus Pocus" was first announced, Disney had originally said the new film would be a reboot, which immediately caused Midler and her fellow actresses to lose any interest in the film, according to MovieWeb. Of course, as we know by now, the ultimate end result takes a more conventional sequel approach, and features all three original Sanderson sisters. 
Judging by the official trailer, the movie will focus on a new generation of Salem residents, who once again unwittingly resurrect the Sanderson sisters with the black flame candle, and have to find a way to save Salem (and themselves) from witches. High schoolers Becca, Izzy and Cassie are the Sandersons' main opponents, while another prominent character who finds himself face to face with the Sandersons is Olde Salem Magic Shoppe's current proprietor and the owner of Winifred's spellbook, Gregory. 
There are also certain wild cards in the movie, whose precise role isn't currently known, but who will definitely be in the mix. The powerful witch who encounters the Sandersons in the past is a new character to the franchise. Meanwhile, Gregory digs Billy Butcherson from his grave, which implies the two may or may not team up, depending on whether Billy manages to convince Gregory that he's a good guy. 
Is there a trailer for Hocus Pocus 2?
There most certainly is. The official trailer for "Hocus Pocus 2" (via Walt Disney Studios' official YouTube page) offers a glimpse at the movie's general vibe, which seems to mirror the original in a very "Hocus Pocus" fashion. 
The trailer opens with a flashback into the Sanderson sisters' past, as the young versions of the characters meet Hannah Waddingham's ominous, shape-shifting witch for the first time. The scene then shifts into the modern day, and introduces the young girls who end up resurrecting the Sandersons once again. From that point on, it's full-on witchy mayhem of the exact sort you'd assume from a "Hocus Pocus" sequel, as the Sandersons wreak delightful havoc, and the town of Salem is in trouble once more. At the very end of the trailer, good old Billy Butcherson emerges from the grave, and immediately finds it difficult to explain that he's a good guy despite appearances.
If you prefer to watch trailers in order, there's also a slightly shorter teaser trailer for "Hocus Pocus 2," which came out on June 28. 
Who directed Hocus Pocus 2?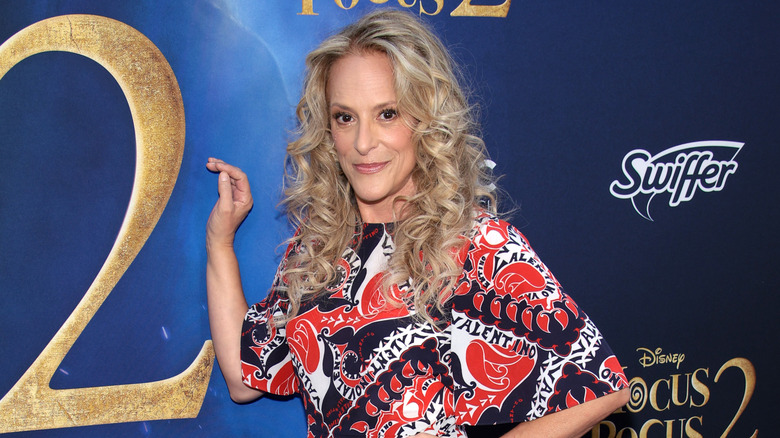 Dimitrios Kambouris/Getty Images
The director of "Hocus Pocus 2" is Anne Fletcher. Her former directorial credits include projects that range from the romantic comedy "27 Dresses" to episodes of the popular family drama "This Is Us," which demonstrates the kind of versatility that will potentially work very well for the alternating vibes that are par for the course for a "Hocus Pocus" sequel.
Fascinatingly, Fletcher's body of work also includes choreographing, acting, and dancing, which is obviously an asset for the movie — after all, the original "Hocus Pocus" has some serious musical chops the sequel no doubt aspires to live up to.
In an interview with TV Insider, Fletcher promised that "Hocus Pocus 2" certainly aims to deliver on the musical number front, even though she suspects that the first movie will still continue to reign supreme. "You can't compete with 'I Put a Spell on You'," she conceded. However, one thing she says the movie definitely can deliver is Bette Midler's, Sarah Jessica Parker's, and Kathy Najimy's witchy trio, which Fletcher indicated has remained shockingly unchanged from the original movie. "It was surreal," the director described seeing the actors in their costumes. "You were thrown back 29 years and you're like, how is it possible they look the same?"
Where to watch the first Hocus Pocus movie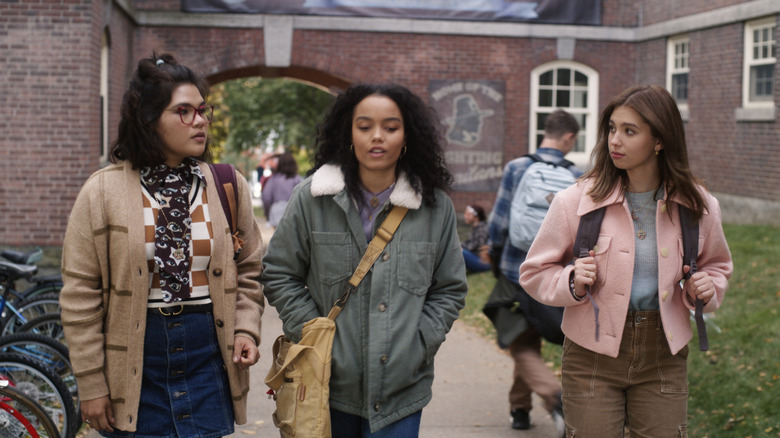 Disney Enterprises, Inc.
Before embarking on a new "Hocus Pocus" adventure, you might want to rewatch the original classic. After all, there's every chance that "Hocus Pocus 2" includes plenty of Easter eggs and references to the original, so it might be well worth your time to visit "Hocus Pocus" before the sequel. So, the question is: Where can you watch the classic "Hocus Pocus" with minimum hassle? 
The fact that "Hocus Pocus 2" is exclusively streaming on Disney+ is the key here. Like the sequel, the original "Hocus Pocus" is also a Walt Disney Productions picture, which is a pretty heavy hint at its availability. Disney+, then, is your destination for both the original "Hocus Pocus" and "Hocus Pocus 2." This is doubly handy because you won't have to switch platforms between the two, in case you want to watch them back to back. 
What is Hocus Pocus 2 rated?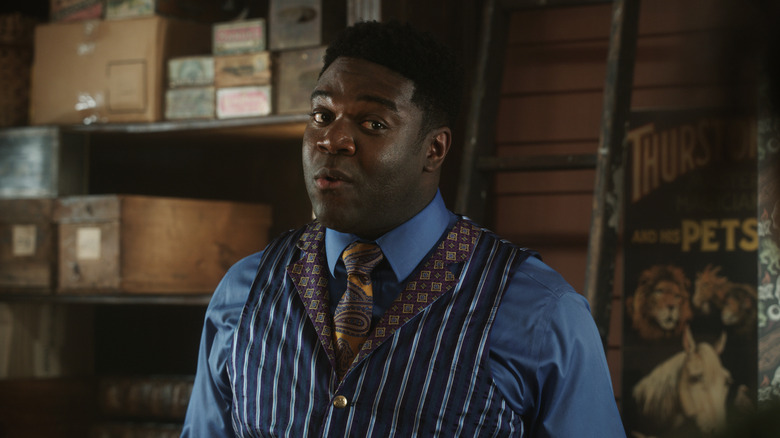 Disney Enterprises, Inc.
The original "Hocus Pocus" is the quintessential creepy family movie, in that it's full of books bound on skin, zombies, innuendo, and threat — and despite all this, everything is done in a fun and entertaining way that allows the movie to be rated PG (via Rotten Tomatoes). Wouldn't it be surprising, then, if "Hocus Pocus 2" opted for a far more violent or risky approach, taking the spookier and flirtier aspects of the original to their logical maximum? 
It certainly would. Fortunately, the people behind the sequel to the cult classic have been well aware of the fine line the original "Hocus Pocus" dances, and have managed to keep things at a similar level — as far as its Motion Picture Association film rating is any indication, anyway. As The New York Times notes, "Hocus Pocus 2" is rated PG, just like the original.