Bette Midler Teases Progress On A Hocus Pocus Sequel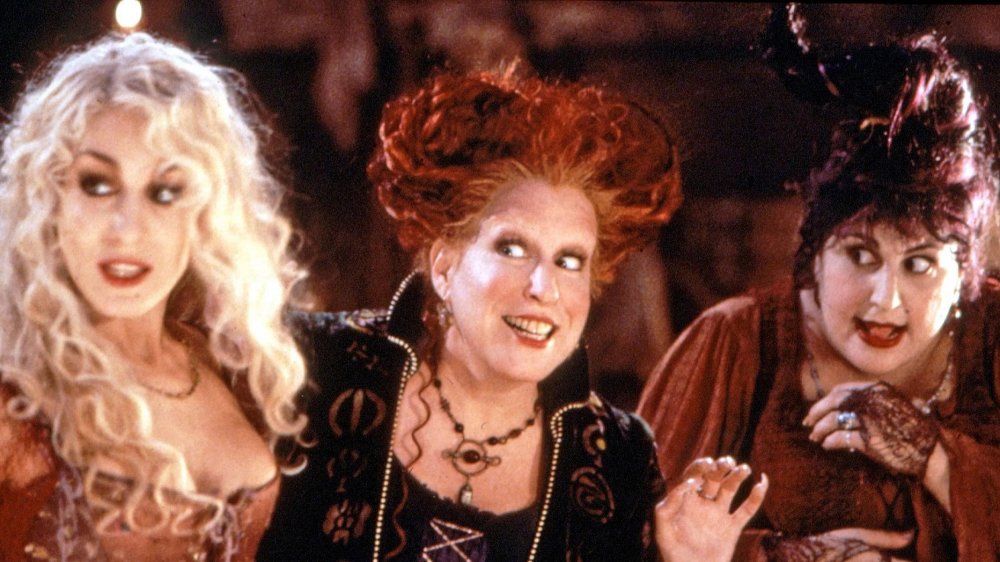 Buena Vista Pictures
The Sanderson sisters may soon be flying high again.
Bette Midler, who starred alongside Sarah Jessica Parker and Kathy Najimy in the 1993 cult hit Hocus Pocus, has teased in an interview with ET Online that she's all but a lock to join the picture's upcoming sequel. While nothing has been officially confirmed, other recent developments — along with comments made by Parker — have given fans some encouragement that all three are keen to jump aboard Hocus Pocus 2, which will be a Disney+ exclusive.
The 1993 comedy-horror flick featured Midler, Parker, and Najimy as the Sanderson sisters (Winifred, Sarah, and Mary, respectively), 15th-century witches inadvertently brought back to life by teenager Max Dennison (Omri Katz) in Salem, Massachusetts. With the help of his sister Dani (Thora Birch) and crush Allison (Vinessa Shaw), Max must find a way to reverse the spell that resurrected the trio before they literally suck the souls out of every kid in town.
Released barely a month after the pop culture juggernaut that was Jurassic Park, Hocus Pocus unfortunately flopped during its theatrical run. Luckily, its popularity as a cult film has increased steadily in the years since — thanks to repeated airings on ABC, the Disney Channel, and Freeform (formerly ABC Family) during the Halloween season.
The Hocus Pocus sequel has been in the works for some time, but the question of whether the three iconic actresses at its center would return has been an open one. Now, though, it appears that at least one Sanderson sister is ready to saddle — er, broom – up again. Asked if this could be the case by ET, Midler said, "Oh yeah, absolutely. I can't wait to fly!" 
The star went on to say that at this point, she and the filmmakers are "just talking logistics," which certainly sounds like her casting is a done deal.
Hocus Pocus 2 seems to be shaping up nicely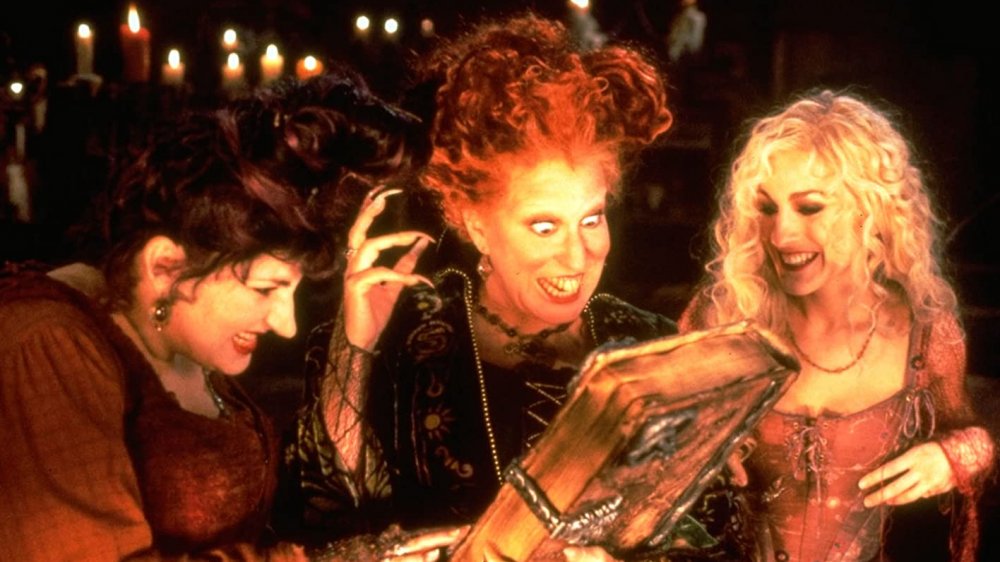 Buena Vista Pictures
Disney has been guilty of a number of false starts involving Hocus Pocus 2, as it seemed for a while that the Mouse House was unsure of which creative direction to take for the flick. All the way back in 2012, it was reported (via NME) that a sequel subtitled Rise of the Elderwitch was in development, but that didn't take long to fizzle out. Then, in 2017, rumors began to fly that Hocus Pocus would get a continuation in the form of a TV movie for Disney Channel — likely without any of the original cast (via Deadline). Needless to say, fans weren't super-psyched about this development, and it may have been that tepid response that prompted ol' Mickey to change course.
Adam Shankman, who has helmed such flicks as A Walk to Remember and the 2007 edition of the musical comedy Hairspray, will direct the Hocus Pocus sequel. He'll direct from a script by Jen D'Angelo, who has worked as a writer on series like Workaholics and Happy Together, and is one of the credited producers on the hit Hulu animated series Solar Opposites. 
In an interview earlier in 2020, Parker likewise spoke as if the return of all three Sanderson sisters was simply a matter of working out the details. 
"I think that [returning] is something that Bette, Kathy, and I are very hospitable to ... and I think for a long time people had been talking about it as if people were moving forward with it in a real way, but we were unaware of it," Parker explained (via Dread Central). "I think now we have gotten to the point where we all have agreed publicly to the right people that yes, that would be a very, very fun idea. So we'll see what the future holds."
The Sanderson sisters will be reunited for a virtual fundraiser later this month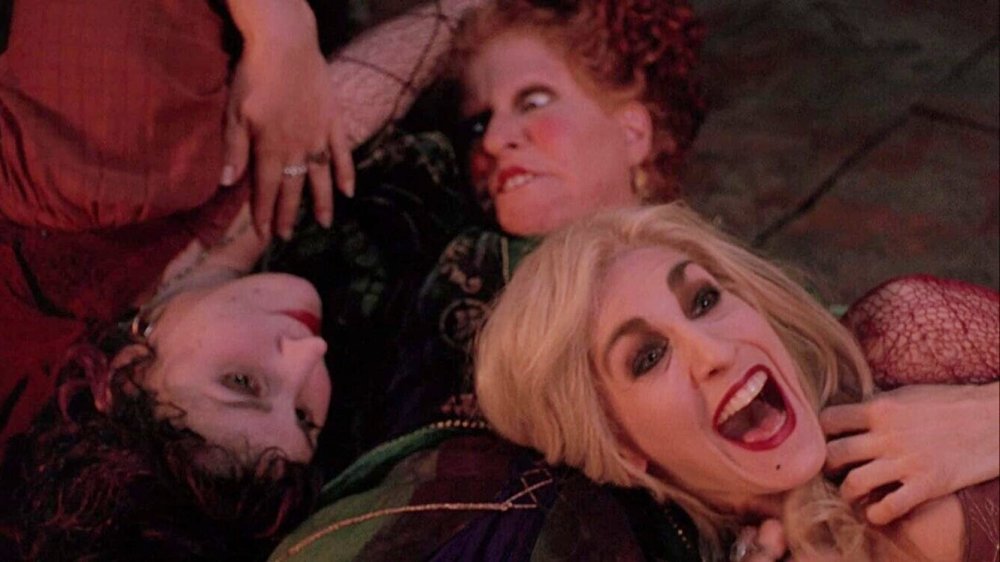 Buena Vista Pictures
Along with those encouraging remarks, there has recently been yet another indication that Parker, Midler, and Najimy are all still keen to revisit their witchy roles. In late September 2020, it was announced that the three will all take part in Midler's annual "Hulaween" fundraiser, which will benefit the New York Restoration Project, an environmental and social justice non-profit founded by Midler in 1995. This year's event will, of course, be virtual, but that doesn't make it any less exciting, as Parker's and Najimy's involvement is no mere lark. The event is titled "In Search of the Sanderson Sisters: A Hocus Pocus Hulaween Takeover" (via People).
That sure sounds like a good way to drum up excitement for the sequel, not to mention a great avenue for all three actresses to potentially confirm their involvement. Those interesting in purchasing a ticket to the virtual event can do so via NYRP's website. The fundraiser will take place on Friday, October 30 at 8 PM Eastern time, but take note: it's a one-time event, with no repeat broadcasts.
Hocus Pocus 2 doesn't yet have an official title or release date, but of course, we'll be keeping both ears to the ground for any official announcements.