What We Know About Hocus Pocus 2's Adorable New Cat Cobweb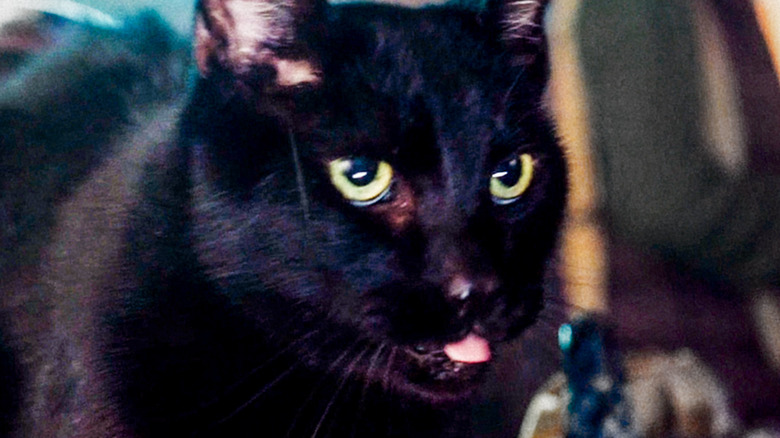 Disney
"Hocus Pocus 2" is set to premiere exclusively on Disney+ on September 30, and it's safe to say that the anticipation for this long-awaited sequel is quite high. The original "Hocus Pocus" released all the way back in 1993, and while it received a mixed-to-negative response from critics — garnering a score of just 39% on Rotten Tomatoes — it has since become a cult classic and nostalgic favorite of '90s kids. In fact, by 2017 "Hocus Pocus" had become a reliable Halloween staple, drawing in tons of viewers for its yearly showings on television and consistently topping DVD sales listings (per Vulture).
Obviously Disney hopes to mimic that success with the sequel and draw in subscribers to Disney+ during the Halloween season. "Hocus Pocus 2" once again sees the Sanderson sisters (portrayed by Bette Midler, Kathy Najimy, and Sarah Jessica Parker) rising from the dead to wreak havoc on present day Salem. However, it will also bring in a whole new cast of protagonists. Among them is a new feline companion named Cobweb, who will serve as something of a replacement character for Thackery Binx (Sean Murray and Jason Marsden) from the original. Still, there are a few key differences between the two furry familiars.
Cobweb won't be a talking cat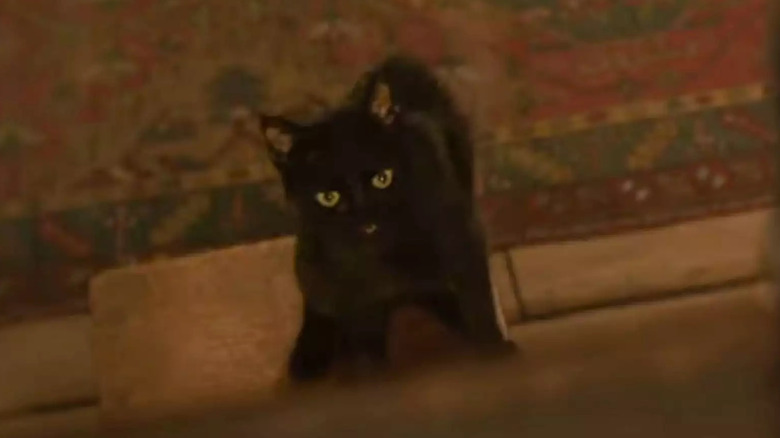 Disney+
During an Entertainment Weekly exclusive look into the adorable feline named Cobweb, who will appear in the upcoming "Hocus Pocus 2," director Anne Fletcher confirmed some interesting details about the animal companion. For one thing, Cobweb will not be a cursed talking cat like Thackery Binx was in the first film. In fact, the director vows that there will be no speaking roles for felines in the film at all. Fletcher did tease that Binx could appear in different ways than expected, which makes sense since voice actor Jason Marsden is not expected to return for the movie.
As for how Cobweb ties into "Hocus Pocus 2," the feline will be owned by new character Gilbert (Sam Richardson), who owns the Olde Salem Magic Shoppe, which was once the home of the evil Sanderson sisters. It's not really clear how much this cat character will be featured in the film, or if it's just a quick way for Fletcher to pay homage to the original movie, but it's definitely intriguing regardless. For a clear answer, fans will have to light the Black Flame Candle and summon "Hocus Pocus 2" when the long-awaited sequel drops on Disney+.