We Finally Know The Release Date For A Quiet Place Part II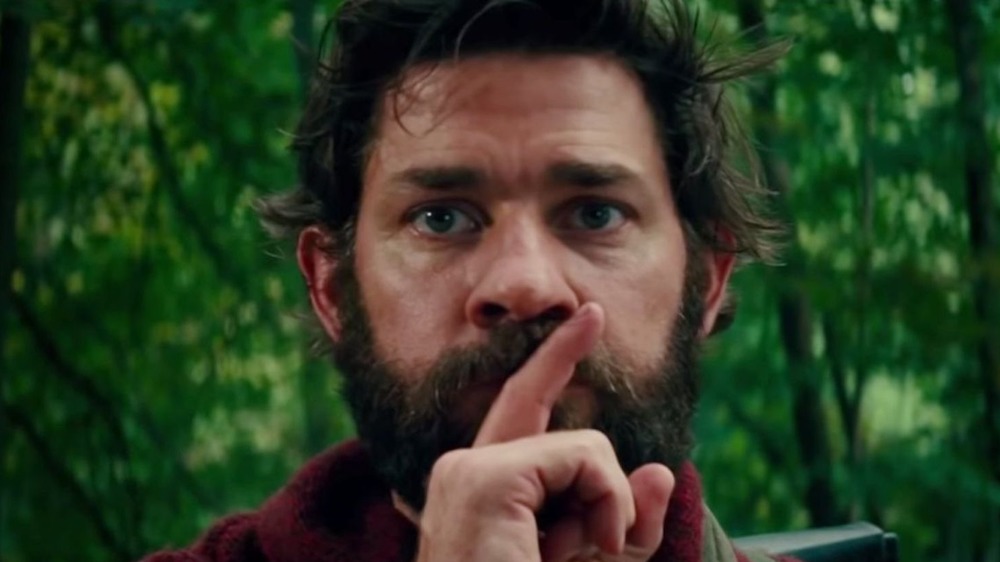 Paramount Pictures
Take your shoes off and grab a bag of sand, 'cause it's almost time to step gingerly back into the creature-infested, post-apocalyptic world of A Quiet Place. That statement should probably ready "it's finally time" though as the pandemic without end has led to an excruciatingly long wait for the theatrical premiere of A Quiet Place Part II. That wait is almost over as the film's writer-director John Krasinski has confirmed the long-delayed sequel to the surprise 2018 blockbuster will finally hit theaters on Memorial Day weekend of 2021 — which starts Friday, May 28 for those who don't have a calendar handy.
Krasinski indeed broke the glorious news himself via a Twitter post featuring a picture of the first film's famed red lights and the accompanying statement, "They always say good things come to those who wait. Well... I think we've waited long enough. A QUIET PLACE PART II MEMORIAL DAY." "Long enough" indeed as the film was originally tabbed for release in March 2020 but had its release date perpetually shuffled after the COVID-19 outbreak shuttered theaters across the globe indefinitely. With vaccines now slowly but surely making rounds and the world tentatively eyeing a return to at least semi-normal days, it seems Paramount Pictures is finally comfortable releasing the sound-feasting beasts of A Quiet Place Part II on the masses.
As most fans recall from the A Quiet Place Part II trailer, the new film picks up in the immediate aftermath of the 2018 original and finds the surviving members of the Abbott family forced to leave their idyllic farm life to seek refuge from the deadly alien hordes in the apocalyptic world at large — and also finding out human beings may be every bit as dangerous.
Fans are understandably eager to get their eyes on A Quite Place Part II
Paramount Pictures
John Krasinski has undoubtedly been eager to get the new movie into theaters, and the reactions to his announcement make clear fans of A Quiet Place are just as eager to find out what becomes of Evelyn (Emily Blunt), Reagan (Millicent Simmons), Marcus (Noah Jupe), and the Abbott's newborn baby boy in Part II. Not surprisingly, no sooner did Krasinski's post go live than waves of overwhelmingly positive comments arrived from adoring fans (some of whom really want that big MCU rumor to be true).
Many of those comments err on the side of simple with @kat24224 posting, "YESSSSSSSS can't wait," and @tastelesshaze following up in with a chipper, "WEEEEEEEEEEEEEEEE." Still dozens of other posters chimed in with chants of "finally,"  and "so excited." Other anxious fans got a bit more creative, with @Shaye_1997 offering their excitement while also noting just how long the wait for A Quiet Place Part II has felt via that famous GIF of Gloria Stewart from Titanic proclaiming, "It's been 84 years." Likewise, @LeeJeAe_ chimed in with a simple "Yasss" alongside a GIF of a cat repeatedly spinning a little ball around in a bowl with the caption, "Just waiting ... and waiting ... and waiting ..."
Long wait aside, this is not the first time a new release date has been announced for A Quiet Place Part II, so we'll just have to wait and see if this one actually holds. That being said, the new date is a marked improvement over the previously announced release of September 2021, so we should probably all rejoice that in these weirder than weird times at least one major movie's release date is being pushed up instead of back. As it is, Memorial Day weekend and A Quiet Place Part II cannot get here fast enough.