Cherry's Ciara Bravo Had Never Seen These Tom Holland Hits Before Working With Him - Exclusive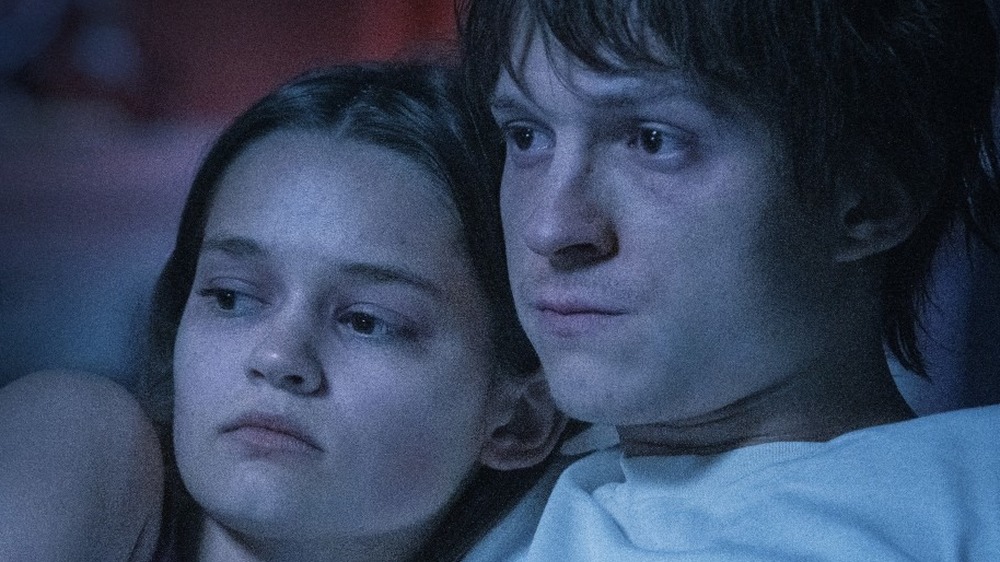 Apple TV+
Sometimes, people are just too busy with work and life to catch cultural landmarks like the Marvel Cinematic Universe, and usually, it's not a huge deal. But in the case of actor Ciara Bravo, she had to confront the issue when she was cast opposite Spider-Man and Avengers star Tom Holland in the new crime drama Cherry.
In an exclusive interview with Looper to talk all things Cherry — which opens in select theaters on Friday, February 26 before debuting globally on Apple TV+ next month — Bravo admitted she was a bit intimidated when she started work on the film. While Bravo knew how talented both Holland and directors Anthony and Joe Russo were, and felt jitters as she walked into the room with them, she considered her lack of Marvel movie knowledge at the time to be a blessing in disguise.
"How could you not be intimidated walking into a room with the three of them? Yeah, it was very intimidating. I hate to say this, but I felt kind of lucky in that I wasn't super familiar with any of their Marvel work," Bravo confessed to Looper. "Of course, now that we've all worked together, I've seen quite a bit. [Before that], I [felt] like one of the few people in the world [who hadn't seen those movies]. I was missing out on something truly great, obviously."
At least Bravo has a good excuse for not seeing the films like Captain America: Civil War, Avengers: Infinity War, Avengers: Endgame, and the standalone Spidey movies before working with Holland and the Russos. The actor has been working nonstop, with starring roles in shows like Big Time Rush and The Red Band Society, and, oddly enough, a guest role in the MCU action-adventure series Agents of S.H.I.E.L.D. (The latter, to the best of Bravo's knowledge, had nothing to do with her casting in Cherry.) 
All this considered, Bravo was happy to report that she was aware of some of Holland's other big-screen achievements, most notably as the son of Ewan McGregor and Naomi Watts' characters in a riveting, historically-based adventure drama. "I watched The Impossible," Bravo enthused. "He was great in that!"
As for the Russos, Bravo was a fan of their earlier work, and for a very relatable reason: Like the brothers, her early work was in the sitcom world.
"Going into it, I was just a massive fan of Community and Arrested Development [both of which the Russos directed episodes for] and I could work it out in my brain," Bravo said. "The first TV show I was ever on, Big Time Rush, shot directly across the way from Community. So, I was [thinking], 'All right, we both came from the same place.' It's a small world."
Not knowing Tom Holland and the Russos' MCU work turned into an advantage for Ciara Bravo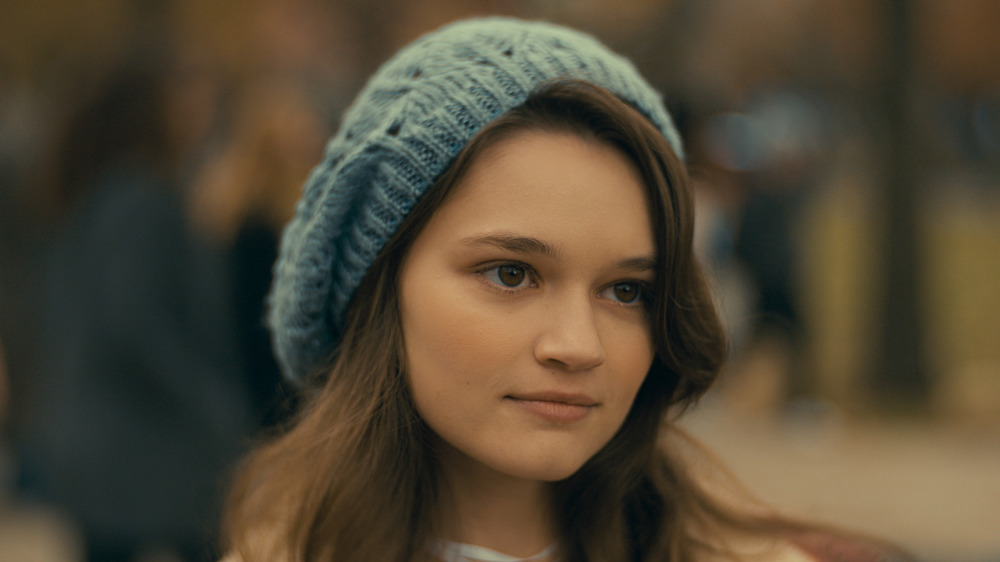 Apple TV+
Holland stars in the title role in Cherry, about a disenfranchised young man who turns to robbing banks in a desperate bid to feed his opioid addiction — an affliction brought about by the PTSD he suffered after serving with the U.S. Army in the Iraq War. Bravo stars as Cherry's wife, Emily.
Bravo elaborated on her earlier comment to Looper, sharing that while she felt odd not being familiar with Holland and the Russo's MCU work when she started the film, in an unexpected way, it made the work environment more freeing. 
"I think that took away a bit of the fear and a bit of the weight. I was able to enter [into the mindset] that we were on the same playing field and [think], 'We're all here to bring this movie to light and this project together, and we want to do the best for Cherry and Emily that we all can,'" Bravo explained. "But then on top of that, they were all so kind and warm and welcoming and I felt like an equal. They wanted to hear my ideas and my thoughts and wanted to collaborate and build this world together, which made working feel so much easier."
Adapted for the screen from author Nico Walker's semi-biographical novel published in 2018, Cherry opens in select theaters on Friday, February 26 and makes its debut on Apple TV+ on Friday, March 12.