Coming 2 America Cast Gushes About Working With Eddie Murphy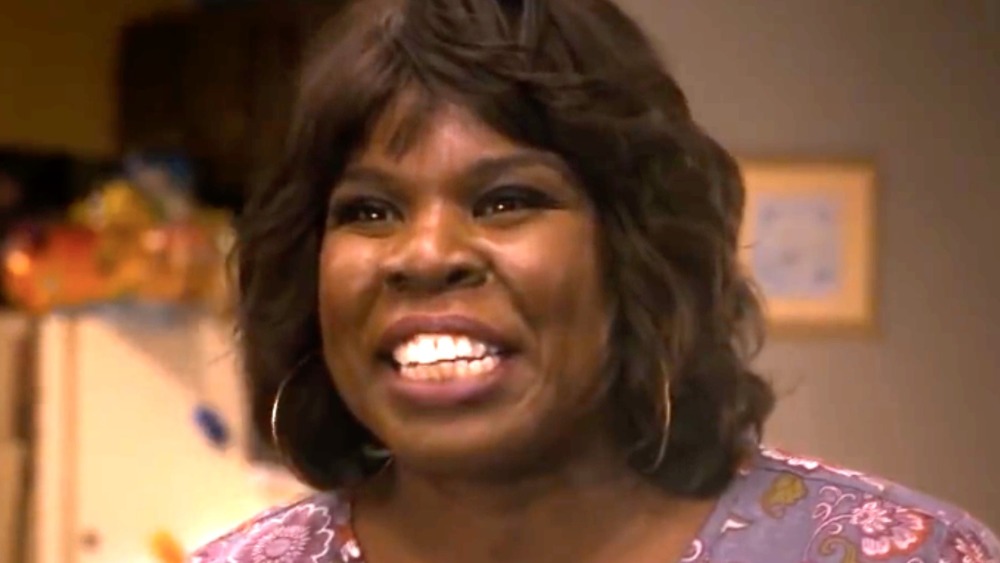 Amazon Studios
2019's Dolemite Is My Name was Eddie Murphy's first movie in three years, and instantly became one of the best biopics you can watch on Netflix. He proved he still had what it takes to get viewers rolling on the floor laughing, and somehow, it only feels right that his follow-up to such a great comeback film is a sequel to one of his most beloved movies ever — Coming 2 America. 
Long-delayed sequels to classic comedies are becoming all the rage these days, with the most recent example being when Keanu Reeves and Alex Winter reprised the roles they hadn't played in decades, with the far-out and much excellent 2020 film, Bill & Ted Face the Music. In times like these, people just want to laugh with characters they miss, which played a big reason in why director Craig Brewer chose to pursue a follow-up to 1988's Coming to America. 
The upcoming sequel sees Murphy return to the iconic role of Prince Akeem. In the original film, he traveled to the United States to find a woman who loved him without knowing he's royalty. For the sequel, he's traveling back stateside, to meet the son he never before realized he had. Audiences aren't the only ones excited to return to Zamunda: cast members new and old couldn't help but feel giddy by seeing the legendary actor wear the crown once more. 
Looper recently had the privilege of attending some virtual press junkets with the cast of Coming 2 America, which were moderated by Rotten Tomatoes editor, Jacqueline Coley. It was incredibly interesting to see a mix of actors — some of whom were in the original, and others who are brand new to this world — talk about their various experiences with filming the sequel. The one thing that remained consistent is how much respect all of these actors have for Eddie Murphy, as a consummate professional in the acting world.
Eddie Murphy's co-stars sang his praises at a recent press junket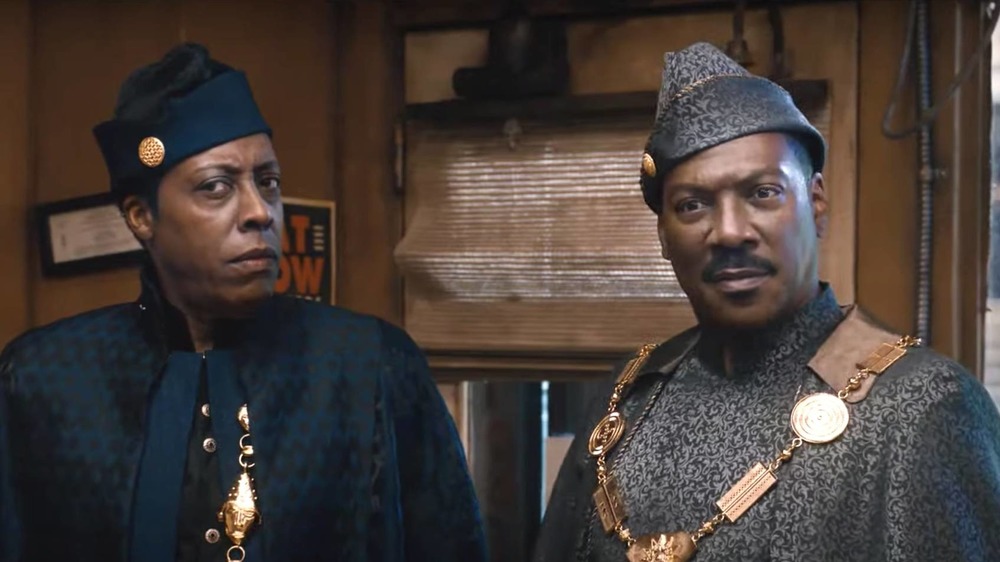 Amazon Studios
John Amos, who plays fast-food restaurant owner Cleo McDowell in both films, couldn't speak more highly of the actor, and when coming back over 30 years since the original, he knew they were in good hands: "Quite frankly, I [was] doubtful that [we'd] be able to repeat that success to that degree. But then again, with Eddie, we might even do better." He continued, calling Murphy "a master of comedy, drama, the whole nine yards. Those transitions that he makes between characters from film to film are just astounding."
Amos also related how acting with Murphy in a scene is so freeing. "[Murphy] seems to know intuitively exactly where you're going with your character, and he goes along with you. And those moments in the dialogue, [...] when he lets you know that you're being given the freedom to do with this dialogue and with this character what you'd like to do. And that in itself is a blessing."
Leslie Jones, who plays the mother of Akeem's secret child, hadn't worked with Murphy in a movie before, so being part of such an important comedy film's legacy was an emotional experience: "I'm going to tell you the first day of shooting, to me, was the one that put the goosebumps on me, when Eddie walked in dressed as Akeem. It was almost like the movie had just continued. Like he walked in like he just walked off another scene from the original movie." 
Murphy had fun with all the praise, joking: "That's how it always [is] when I walk in the room."
It sounds like the film will be a hilarious, emotional homecoming. You can stream Coming 2 America on Amazon Prime Video starting on March 5, 2021.