Coming 2 America Director On Why Now Is The Perfect Time For The Sequel - Exclusive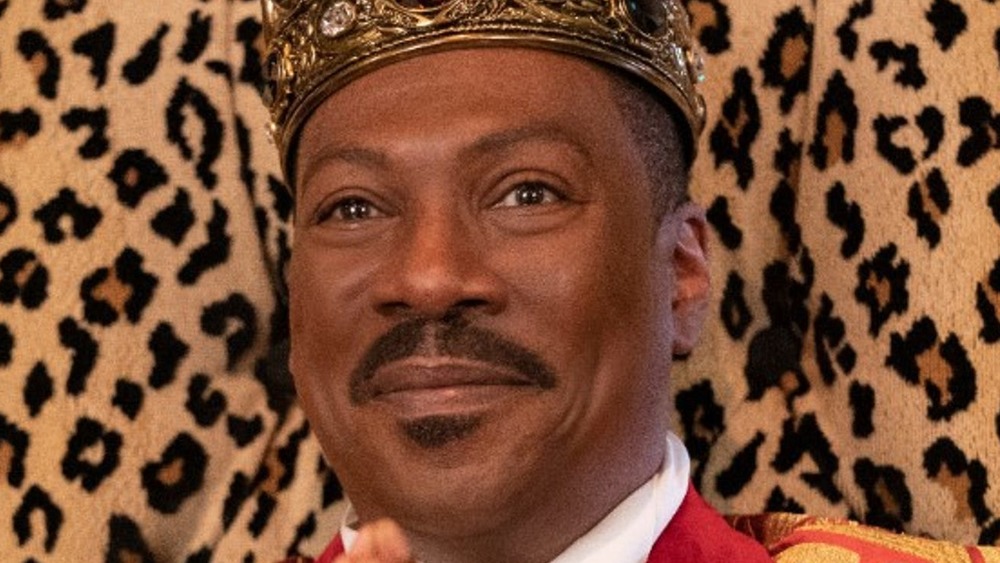 Amazon Studios
Eddie Murphy's Coming to America, which tells the story of an African prince who moves to New York in order to find true love, is a bonafide classic. It cleaned up at the box office during its initial theatrical run in the summer of 1988, and unlike many other '80s comedies, it still holds up surprisingly well. It's also one of the few movies with an all-Black cast to find international success, and only one of a couple that depicts Black royalty in a major Hollywood blockbuster. Simply put, Coming to America's legacy is undeniable.
And yet, it never got a sequel — until now.
In Coming 2 America, Prince Akeem (Eddie Murphy) returns to the United States in order to connect with his long-lost son Lavelle (Jermaine Fowler), who's next in line to become the ruler of Zamunda. But things aren't actually that easy. Zamunda's closest neighbor, Nextdooria, will do anything it can to usurp Akeem's power. Akeem himself has grown older and more conservative. His eldest daughter Princess Meeka (KiKi Layne) has spent her entire life getting ready to sit on the throne, while the son he never knew he had grew up in Queens and knows nothing about Zamunda or its customs.
It's a compelling set-up for a sequel, and one that allows Murphy and his collaborators to revisit classic Coming to America material while also pushing the IP in a new direction. Still, it's been 33 years since the original film debuted. Why now? Why is 2021 the right time to return to Zamunda?
Coming 2 America director Craig Brewer, who previously worked with Murphy on Dolemite Is My Name, has a few ideas.
"One reason, I think, came up just in this last year," Brewer tells Looper in an exclusive interview. He's referring, of course, to the COVID-19 pandemic, which has changed life in America dramatically — and not for the better. "I've had so many people that have come up to me and said that they need Coming 2 America," he continues. "They want to see some old friends. They want to laugh again."
But Coming 2 America was shot before the pandemic began (and was originally meant to be distributed by Paramount Pictures, before the company sold the rights to Amazon Studios). While it's a great time to release a long-awaited comedy, giving the world some relief from its current troubles wasn't the film's original goal. "As much as we would like to say that that's why we did the movie in the first place, it just took on, I think, a heavier connotation during these times," Brewer admits.
After all, neither Coming to America nor its sequel are overtly political. At their core, the movies are more concerned with family, and it wasn't until Eddie Murphy's own had grown that Coming 2 America really snapped into focus.
How Coming 2 America reflects Eddie Murphy's real-life growth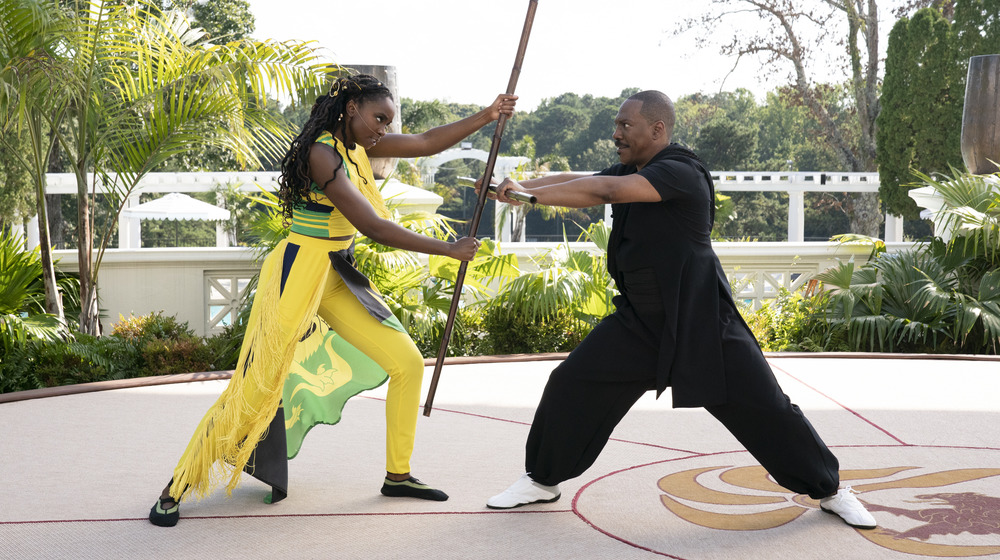 Amazon Studios
While Akeem is still kind and soft-spoken in the sequel, Coming 2 America makes it clear early on that he's changed quite a bit since we last saw him. He has a wife, three daughters, and much more responsibility. More notably, he's aged, and his youthful idealism has given way to compassionate practicality and compromise. In Coming to America, Akeem fought against his nation's regressive customs. In Coming 2 America, he embraces them, arguing that the old traditions are the best way forward for the country.
It's a transformation that many people go through as they get older. That includes Eddie Murphy himself. "One advantage of the movie now being 33 years later is that Eddie himself has changed," Brewer says. "Just like his character Akeem, the days of Eddie in Delirious and Raw, he's not in those days anymore. [He's a] father. He's a grandfather. There's a lot of comedy and accessibility to mine."
In fact, Brewer claims that waiting so long to make a Coming 2 America sequel was necessary in order to create a storyline that differentiates the movie from its predecessor. A follow-up released a few years after Coming to America would've retread much of the same ground. With the time gap, the characters have had time to grow, leading to new conflicts.
"We can go, 'Oh, well, what's happened to Akeem and Lisa, once they entered that fantasy bubble at the end of Coming to America?'" Brewer says. "Is something going to pop this bubble? And actually, does it need to be popped? Have they gotten too comfortable? Are they conforming too much and [do] they need to start listening to their kids a little bit more?"
Of course, at the end of the day, Brewer may have an ulterior motive. "There are a lot of reasons for Coming 2 America, but mainly we're just here for Randy Watson and Sexual Chocolate," he says, referring to the fictional band for which Murphy's other character Randy Watson is the singer. "I think we just want a movie to happen so we can then see [more] Randy Watson."
Coming 2 America debuts on Amazon Prime on March 5, 2021.