The Underrated Adam Sandler Comedy You Can Stream On Hulu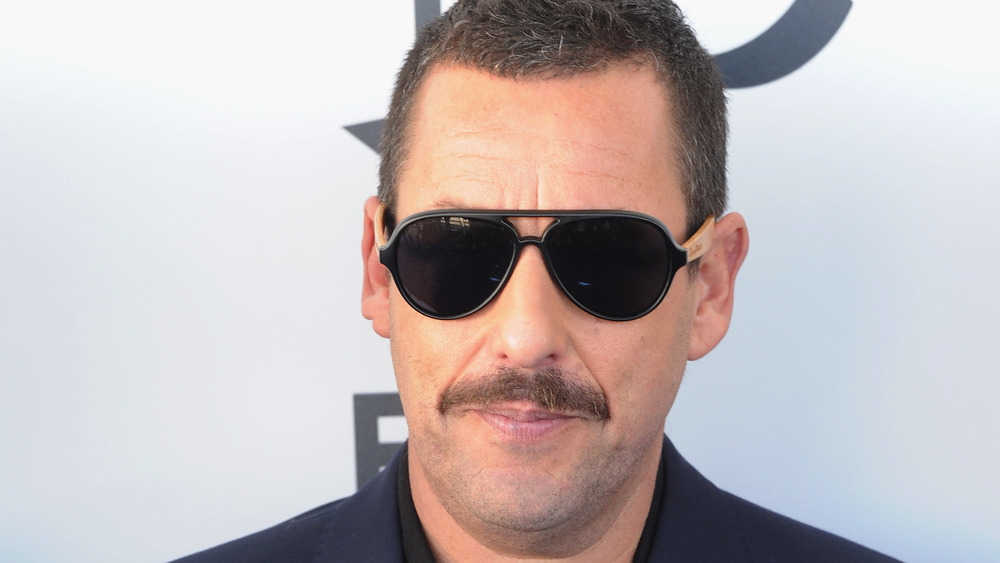 Albert L. Ortega/Getty Images
Adam Sandler gave us some of the best comedies of the mid to late '90s, including the unforgettable Billy Madison, Happy Gilmore, and The Wedding Singer. He's remained wildly prolific through the decades since, and recently even garnered awards attention for his uncharacteristic turn in the crime dramedy Uncut Gems. But the legend hit a slump of low-quality movies in the mid to late aughts.
His 2006 dramedy Click received mixed reviews across the pop culture world, and scored a 66 percent audience rating and 34 percent critic's rating on Rotten Tomatoes (compare that to 85 and 66 percent, respectively for Happy Gilmore, for example). Sandler's 2007 comedy I Now Pronounce You Chuck and Larry fared substantially worse than Click with Rotten Tomatoes critics. Moreover, several films between then and 2014's Blended were effectively skewered by critics and audiences alike — e.g., You Don't Mess With the Zohan (2008) and Jack and Jill (2011).
However, just before the aughts slump came some of Sandler's most underrated gems. Among them is the film Anger Management, a 2003 comedy co-starring Oscar-winning actors Jack Nicholson (As Good as It Gets, The Shining) and Marisa Tomei (My Cousin Vinny). The movie is an absolute riot, with Nicholson playing batsh*t crazy like only he can and Sandler flexing both his own brand of crazy and a rarely seen quiet restraint.
The movie wasn't a box office or critical darling — Rotten Tomatoes, for one, doesn't give a great rating — and it didn't achieve the long-term shelf-life recognition of other Sandler films. However, it garnered acclaim elsewhere, with the publication Empire serving up at least one favorable review, and Metacritic users rating it highly. Those folks are in the right on this one. Anger Management certainly deserves to be rated high on anyone's Best of Adam Sandler list. If you've got Hulu, you can stream it now and see if you agree.
What is Anger Management about?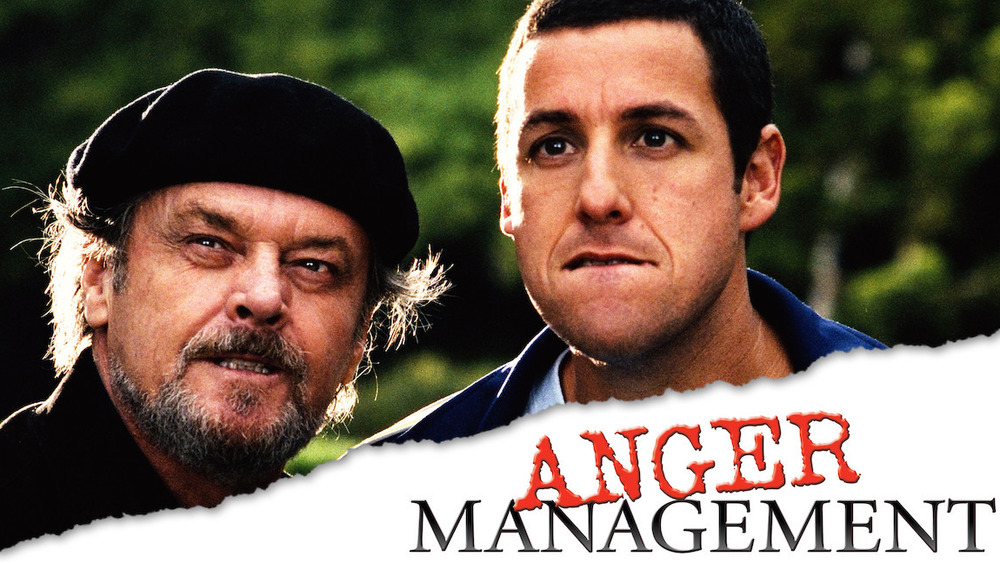 Columbia Pictures
In Anger Management, Sandler plays Dave Buznik, a usually mild-mannered and often meek businessman, who, after a bizarre incident on a plane, is unfairly sentenced by a court to an anger management program. The program is run by a renowned yet extremely eccentric and intense therapist named Dr. Buddy Rydell (Nicholson), who happened to have sat next to Dave on the very plane ride that got him in trouble.
Buddy's off-beat, boundary-lacking methods for his so-called treatment put Dave through the emotional wringer. As he goes through the program, Buddy's presence in Dave's life strains his relationship with his longtime girlfriend Linda (Tomei) and affects the way he interacts with people who have long been under his skin — e.g., his co-worker who relentlessly pursues Linda and his childhood bully.
Hi-jinks, fights, break-ups, and make-ups abound as Dave learns unexpected lessons and befriends fellow anger management therapy members while trying to survive Buddy's "program." A twist or two elevate the comedy to a level of creative cleverness above Sandler's earlier works and pack a fantastic, extra emotional and comical punch into the plot.
Come for the Nicholson-Sandler team-up, stay for the ensemble scenes and lines
In many of Adam Sandler's movies, though he has a mentor, sidekicks, and other supporting characters who provide laughs, he's often the sole center of the comedy, and the prime relationship is a romantic one between his character and whatever gorgeous, awesome female he conceived of for that film. That's not the case in Anger Management. Nicholson is an essential, equal (if not even dominant) source of the film's comedy, and the relationship between Dave and Buddy gets the most screen time.
This dynamic makes the movie so unique and special. Nicholson is superb — he amuses, terrifies, and confuses the audience just as much as Buddy does Dave. He and Sandler have effective chemistry, and it's a joy to watch two legends — albeit legends in very different ways — go toe-to-toe.
As good and centric as Nicholson and Sandler are to the film, the surrounding ensemble is equally great. The supporting characters are involved in some of the best lines and scenes of the film, like the group therapy session where Dave learns about the (far crazier than his) reasons the other members need anger management help. To this day, I still use Buddy's suggested mantra for calming yourself down in a fit of anger and frustration — "goosfraba."
Watch the film, see the scene I'm talking about, and thank us after for your new mantra, renewed appreciation for Sandler, and a gloriously entertaining hour and 45 minutes.