Upcoming Adam Sandler Movies You Need To Know About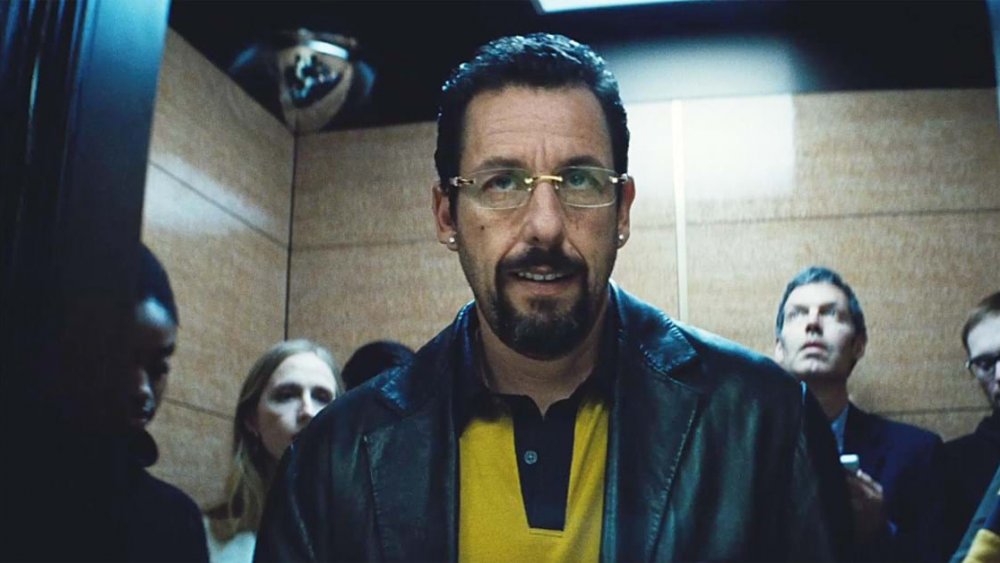 To the surprise of many in Hollywood (okay, most of Hollywood), career funnyman Adam Sandler recently found himself at the forefront of virtually every awards season conversation. He did so after delivering a transformative performance as a skeezy Manhattan jeweler with an epic gambling problem in the Safdie Brothers' pulse-pounding drama Uncut Gems. While Sandler was ultimately (and unjustly) snubbed by the Academy, he did take home a coveted Independent Spirit Award for his work, and promptly delivered one of the greatest acceptance speeches in the history of the form. 
After earning raves for his dramatic turn in Uncut Gems, one might think Adam Sandler apt to dive back into indie underworld and break bad in another harrowing, critically-acclaimed drama. That's not really Sandler's M.O., though. The actor has dabbled in indie drama frequently over the years (see 2001's Punch-Drunk Love, 2007's Reign Over Me, and 2017's The Meyerwitz Stories), but he's always followed those lower-key projects with a fresh smattering of giddily anti-cinematic fare fueled by his signature man-child comedic shenanigans. 
As Adam Sandler has just padded his already sizable bank account by inking a lucrative new deal to keep producing such unapologetically low-brow fare for streaming giant Netflix (through his Happy Madison production shingle), you can be certain the next few years will find Sandler keeping to the lighter side of cinema. With that in mind, here's a look at a couple of upcoming Adam Sandler movies you need to know about.
Adam Sandler will bring some haunted holiday cheer to Hubie Halloween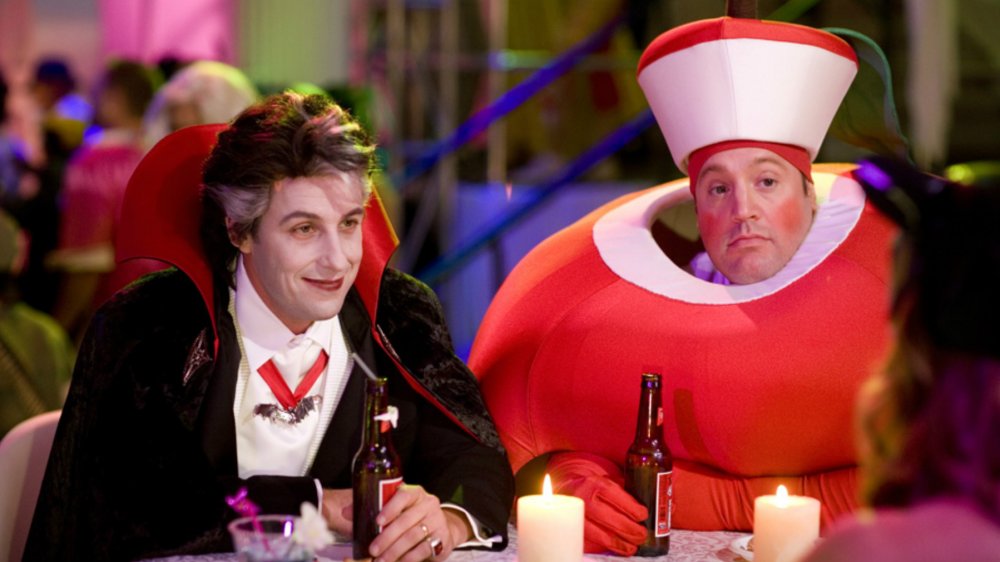 To the surprise of none, Adam Sandler is indeed going right back to comedy for his Uncut Gems followup. It should be even less surprising that said followup is also a Netflix venture, as Sandler continues to score big in streaming-land. The new film is titled Hubie Halloween, and it will see Adam Sandler portraying a native of Salem, Massachusetts (home of the infamous Salem Witch Trials) who, for one reason or other, has become a bit of a punching bag for the rest of the men, women, and children in town. Still, Hubie remains steadfastly devoted to his beloved Salem, and in particular its epic, annual Halloween celebration. When a mysterious entity begins to go bump in the night and threaten Salem's big time haunted holiday fun, it's up to Hubie to step in and save the day.
Yes, that plot line just sounds like a vintage Adam Sandler affair. As it happens, Hubie Halloween is very much a Sandler confection, with the star producing and also co-writing the film's screenplay with frequent co-writer Tim Herlihy. There's little doubt Hubie Halloween will also feel distinctly like a Sandler movie as well, with Steven Brill (Little Nicky, Mr. Deeds, The Do-Over, and Sandy Wexler) helming the project, and Sandler regulars Steve Buscemi, Kevin James, and Rob Schneider set to join the star on camera.
Hubie Halloween will find a few new faces joining the Sandler fray as well, with Ray Liotta (Goodfellas) and Noah Schnapp (Stranger Things) claiming roles in the film. Here's hoping Sandler and Co. give that esteemed list of supporting players something interesting to do in Hubie Halloween — which will probably hit Netflix around Halloween time 2020.
Adam Sandler will again play big, bad dad Dracula in the family-friendly Hotel Transylvania 4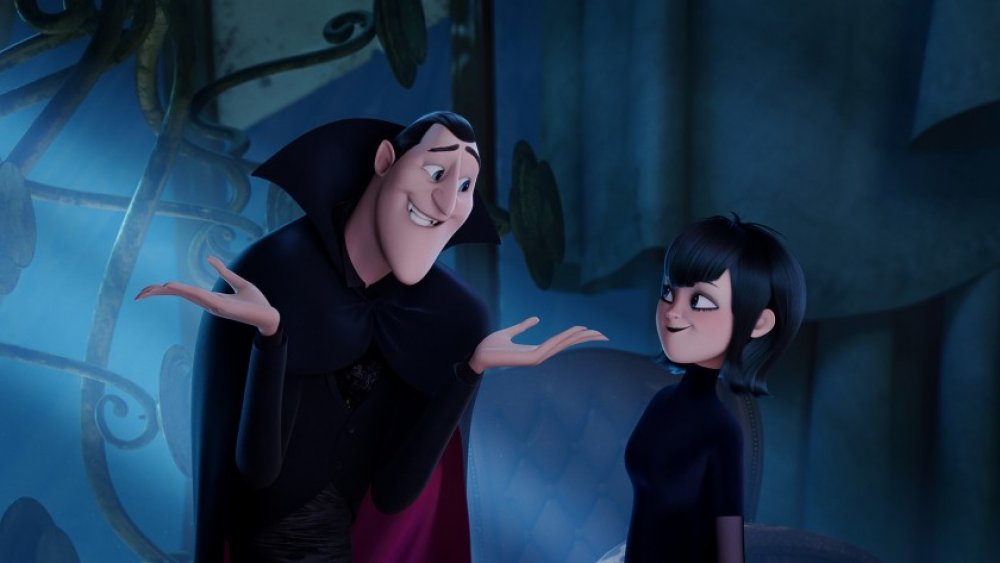 Given Adam Sandler's wild popularity throughout the 1990s and much of the 2000s, it's almost surprising that the actor-slash-writer-slash-producer doesn't have a handful of legit film franchises to his credit. In fact, Sandler has only gone the franchise route once, with the animated Hotel Transylvania series. To date, the Hotel Transylvania franchise — which casts the nefarious Count Dracula as a hospitality entrepreneur for the monster set and a wildly overprotective father — has delivered three feature films unto the masses. While those films have largely been met with middling reviews, they've also cashed in at the box office to the tune of nearly $1.5 billion in worldwide ticket sales. 
From a business standpoint, numbers like that are hard to argue with, which means we are indeed prepping to see Sandler's kind-hearted Count make his return to the big screen. The new film is currently in the pre-production stage with a slated release date of December 2021, but will no doubt see the return of series voice cast regulars Andy Samberg, Selena Gomez, Kevin James, Molly Shannon, David Spade, and Keegan-Michael Key. It will likely also see the return of franchise helmer Genndy Tartakovsky. 
As for what adventures Tartakovsky has in store for the Count and his monstrous crew for the new sequel, well, the plot of Hotel Transylvania 4 is currently being kept tightly under mummy wraps, so we really couldn't venture to guess. But there's a safe bet that it'll involve a handful of winking in-jokes about monsters, a few crass cracks about bodily functions, and a heartfelt message about staying true to yourself while also staying true to your roots. And as far as Adam Sandler movies go, you really could do a lot worse.