The 6 Best And 6 Worst Adam Sandler Movies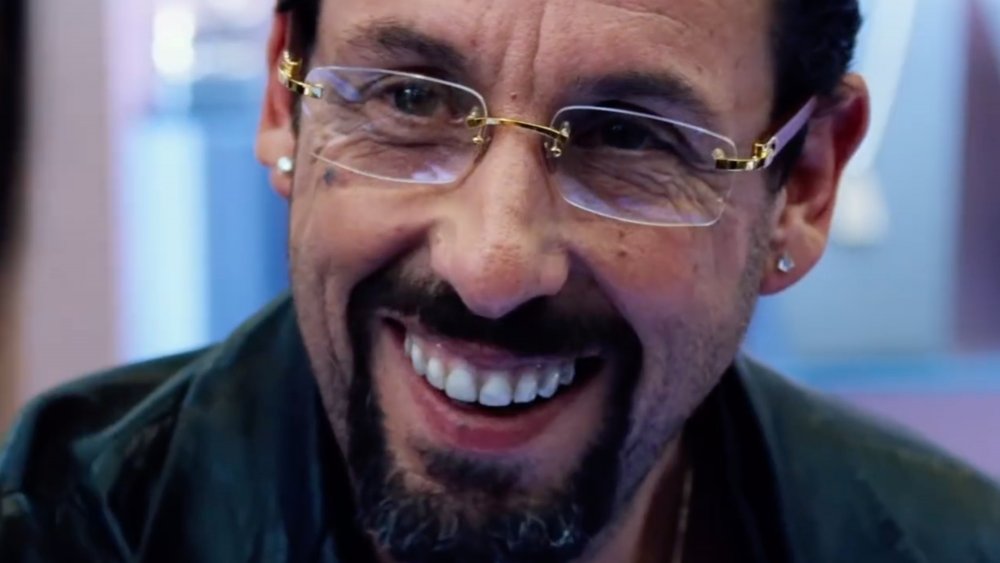 It's fair to say that Adam Sandler is a man who continuously and abrasively divides us all. Whether you're a die-hard fan who staunchly defends every last movie he graces with his (usually very loud) presence, a cinema purest who cringes at the thought of his next Netflix film, or the film-lover who finds themselves caught in the middle of these two poles, there's no denying that Sandler remains ludicrously successful. On top of that, the man has had a career that's not only endured but has also been full of unexpected surprises. 
As a cinematic brand, Sandler has (perhaps unfairly) been tarnished with a reputation for making and starring in only the lowest and crudest form of comedy. While that might occasionally be true, it's also worth noting that the comedian is certainly prolific and has barely stopped working since his breakout in the early '90s. Which is to say that the man's been cooking a lot of omelettes. It's to be expected that he'd break a few eggs along the way. It's easy to take such shots at a performer, but it's worth noting that most of Sandler's biggest detractors have failed to acknowledge that he's also made and starred in some genuinely wonderful movies, most of which more than balance out some of the least enjoyable films of his career.
And with that in mind, let's hit the balance of all of that by looking at the six best and six worst movies of Sandler's career. 
Best: Punch-Drunk Love proves Adam Sandler has serious acting chops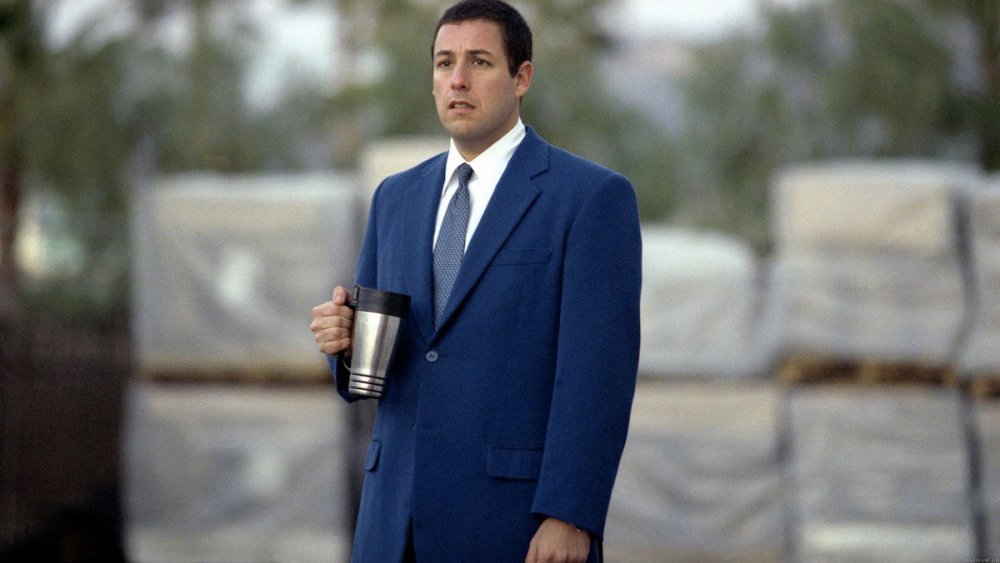 Anyone who still proudly declares themselves a die-hard fan of Sandler's will likely not rank Paul Thomas Anderson's oddball indie drama as one of their favorites of the actor's career. But to those who fell off the Sandler bandwagon long ago, the film provides a cursory reminder that this guy's talent really shines in the right hands. Following the strange tale of an anxious salesman forced to navigate a new romance while being extorted by some heavies who operate a phone-sex line, the romantic black comedy doesn't steer away from what Sandler does best, but instead, it utilizes his natural talents to great effect. Sandler's comedic prowess for wanton outbursts of rage are relocated from slapstick into something more tangible and human.
The A.V. Club put it perfectly in their review of the film when they said that part of Punch-Drunk Love's appeal is in "how little Sandler's character deviates from his prototypical violence-prone manchild," making his "outbursts seem more scary than funny" within the fresh frame of a pitch black comedy. The result is a movie that's as tender as it can be deeply uncomfortable. Arriving at a time when some audiences were growing tired of Sandler's one-note shtick (just after the merciless failure of Little Nicky), Punch-Drunk Love offers a reminder that even a one-trick pony can still feel fresh, versatile, and valuable with the right person guiding them.
Worst: Just Go With It is a laugh-free vacation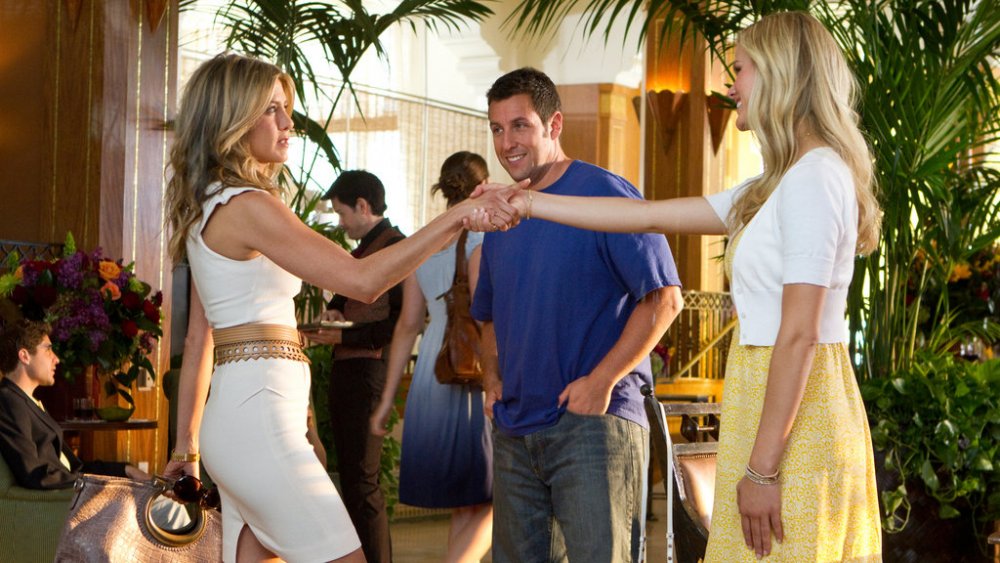 In 2014, Sandler confirmed to Jimmy Kimmel that his films are basically flimsy excuses for paid vacations and said, "I've done that since 50 First Dates. ... I've been doing it ever since." And Just Go With It is perhaps one of his most brazen paid vacations disguised as a movie, in which an inane plotline is tacked on to a film that conveniently relocates the whole cast to Hawaii. The conceit isn't just for Sandler to enjoy a nice holiday. It also gives him ample excuses within the film to throw his female characters into bikinis at every opportunity while he continues to parade around in his obligatory uniform of oversized shirts and cargo shorts.
Sandler plays a plastic surgeon who inexplicably tricks women into bed with him by wearing a fake wedding ring (what could be more irresistible?). He then meets the woman of his dreams (Brooklyn Decker) who sensibly runs a mile from this supposedly married man, and he's forced to rope in his his loyal assistant (Jennifer Aniston) to pretend she's his ex-wife so he can win this babe back. There's a lot wrong with the movie, starting with the outrageous suggestion that Aniston is somehow a dowdy foil worthy of such humiliation. Tack on some serious slaps of sexist, homophobic, and racist humor and a woefully predictable ending, and good god, it's a mess. But hey, at least Hawaii looks nice?
Best: The Wedding Singer is super sweet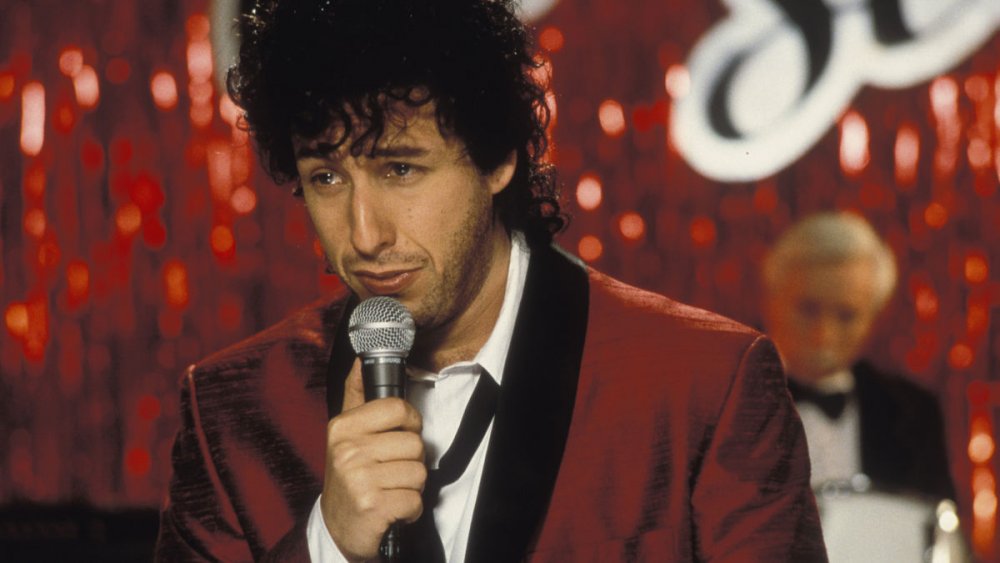 To some audiences, Adam Sandler's brand of comedy has become increasingly synonymous with lowbrow and often cruel attempts at chuckles, including his asinine attempts at romantic comedies. It's something that makes The Wedding Singer shine even brighter among the mire of his prolific yet often disappointing body of work. The '80s-set rom-com is compassionate and kind, presenting a softened flipside to Sandler's angry everyman shtick. He plays Robbie, a dude struggling to find love while performing music to celebrate other people's romantic fulfillment. Full of pathos and joy, the film perfectly pairs Sandler with Drew Barrymore as two characters engaged to the wrong people who slowly and affectionately find their way to each other as romantic equals.
Crucially, the film is one of the first (and potentially last) of Sandler's career thus far to include a strong female perspective. It's something which co-writer Tim Herlihy credits to Barrymore's involvement, telling Esquire, "Drew elevated things for us." The result is one of the sweetest rom-coms of the '90s, featuring charming characters against a backdrop of droll '80s parodies. With genuinely hilarious appearances from a supporting cast including Steve Buscemi, Christine Taylor, Alexis Arquette, and even Billy-effing-Idol, The Wedding Singer remains a whimsical and nostalgic treat.
Worst: I Now Pronounce You Chuck and Larry is incredibly offensive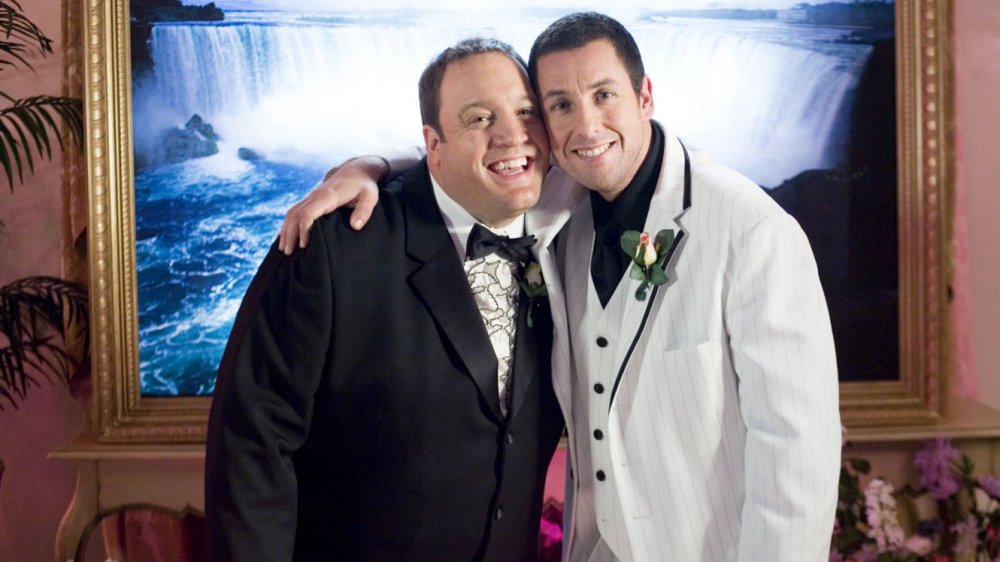 While no doubt an absolute laugh riot to those whose familiarity with the LGBTQ+ community starts and ends with the flaming homosexual stereotypes of various '90s sitcoms, I Now Pronounce You Chuck and Larry is woefully misguided. The core plotline sees Sandler and Kevin James (an actor with only one good movie to his name) as a pair of super-hetero firefighters who pretend to be a gay couple in order to receive domestic benefits, and the film continuously frames homosexuality as some abstract, gross, and downright hilarious deviancy which continues to prompt eyerolls so deep you can see your own skull. I Now Pronounce You Chuck and Larry was outdated in 2007, and it's continued to age badly with every passing year.
Once described by Decider as "the movie equivalent of a hate crime with fart jokes," I Now Pronounce You Chuck and Larry dumps heavily on gay lifestyles. But it's also abominable to anyone who isn't a white, heterosexual dude, highlighted by a grating sequence in which regular Sandler collaborator Rob Schneider shows up as an Asian minister in full yellowface. As is so often the case with Sandler's movies, there's a weak attempt to soften the movie with a final, progressive, and sentimental statement that, hey, being gay is probably alright. But after the barrage of joyously delivered gay slurs dropped throughout the film, it feels insincere, tacked on, and lacking the self-awareness necessary to do the point justice.
Best: Funny People features a self-aware Sandler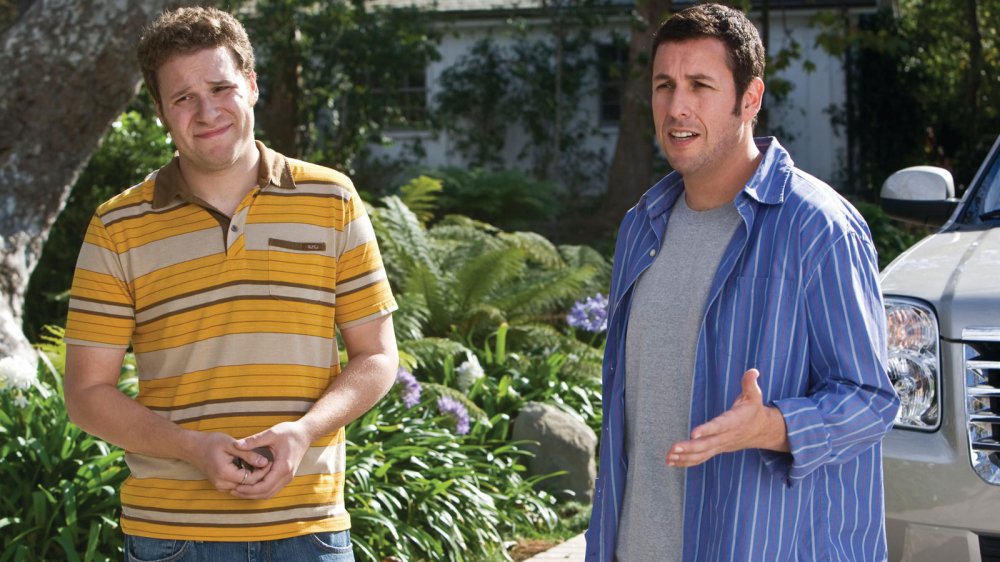 Judd Apatow's underrated melancholic comedy Funny People comes across, at times, as being deeply personal. It's not for nothing, as Apatow and Sandler have been friends since before either of them found fame, with Sandler once telling Film Monthly that while there are aspects to his character that are different from his own life, there are also "some things that hit close to home," an idea apparently galvanized by the continued friendship with his former roommate. 
In Funny People, Sandler plays the strangely familiar character of George Simmons, an aging comedian who finds fame and fortune by starring in a string of reviled family movies and who's forced to reevaluate his life after discovering he has an inoperable and terminal health condition. Starring alongside a strong cast including Seth Rogen, Jonah Hill, and Jason Schwartzman, Sandler plays around with a specific aspect of his public persona and openly lays bare the ugliness that many of his detractors see in his work and comedic skill-set.
It's a complex and intimate performance unlike anything Sandler has delivered in his career so far. And it showcases that the star is capable of self-awareness and introspection, even if so many of his own films so consistently lack in such things. With a plotline that oddly mirrors The Great Gatsby, Funny People might be one of Apatow's more sophisticated films, even if it does run a little too long at a whopping two and a half hours. Regardless, it might be the one film from Sandler's messy filmography that actually reveals the most about him as a comedian.
Worst: Jack and Jill is one of the worst movies of the past decade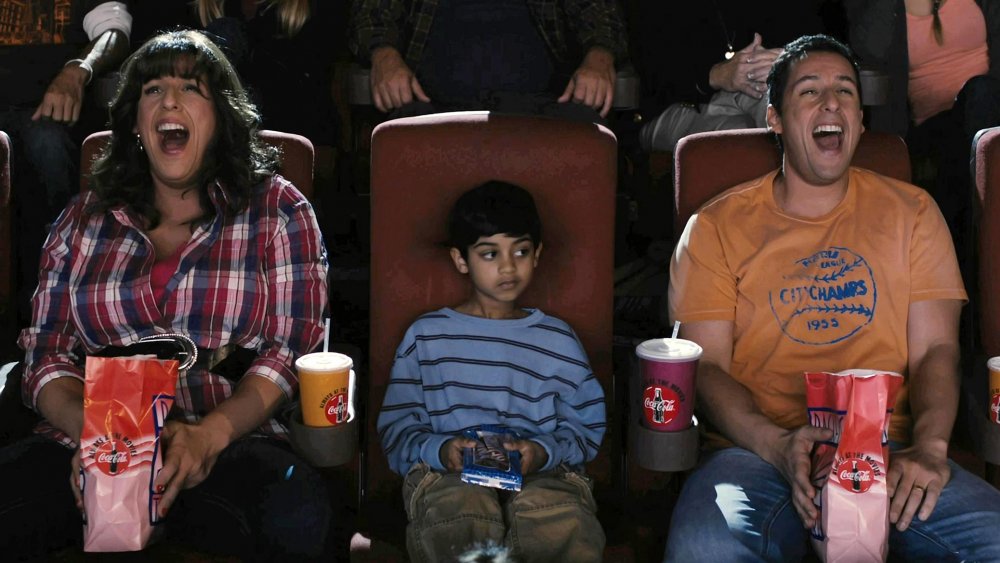 Notorious for being one of the worst movies of the past decade (maybe even ever) and a definite contender for being the worst movie of Sandler's career, Jack and Jill is an absolute stinker on multiple levels. Mercilessly cruel and full of half-witted jokes at the expense of Mexican immigrants, women, and homeless people, Jack and Jill is nothing short of nasty and almost completely void of anything resembling laughter. The plot — in which Sandler plays a good ol' family man and ad executive who gets stuck with his overbearing, grotesque sister (also Sandler) following a Thanksgiving visit — is truly incidental. Between the story and gross-out jokes, Jack and Jill serves its true purpose — as a completely joyless 90 minute commercial for everything from Royal Caribbean Cruises to Dunkin' Donuts.
Somehow, poor old Al Pacino even gets roped into the misery of it all. He plays a version of himself with such impossibly poor judgement that he becomes besotted with Jill, a woman whose core purpose on this mortal coil appears to revolve almost exclusively around eating and defecating. Calling the movie "a disgrace" in their original review, Vulture summarized the various offenses Jack and Jill has wrought upon humanity and said, "The Anti-Defamation League should picket the movie for crimes against Jewish women. The Friars Club should picket it for crimes against comedy." And how.
Best: The Meyerowitz Stories is humorous and heartfelt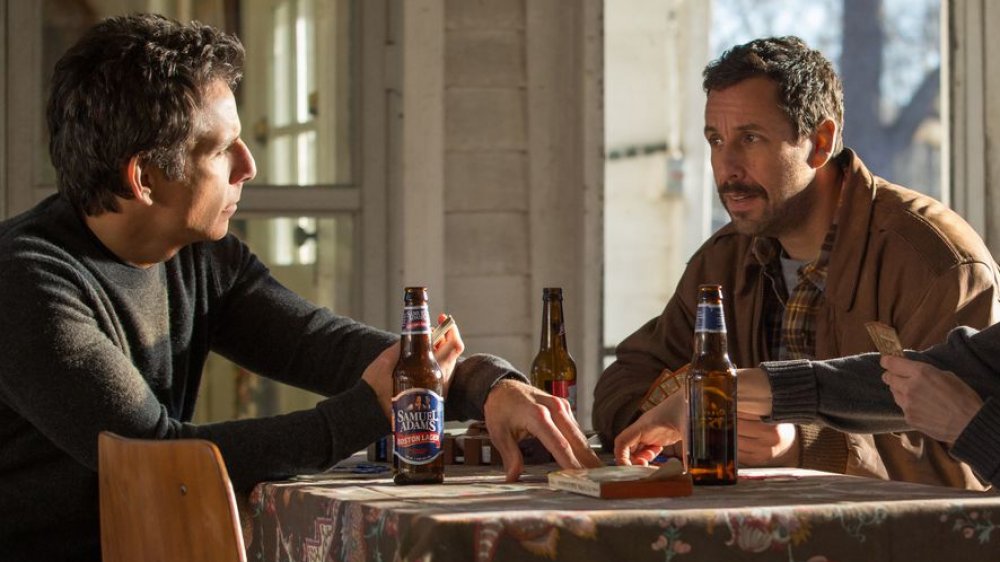 Taking clear cues from the success of Sandler's performances in Punch-Drunk Love and Funny People, filmmaker Noah Baumbach brings out the absolute best of Sandler's dramatic and comedic talents in The Meyerowitz Stories, an ensemble piece focused on the mishaps and struggles of an extended Jewish family in New York. All the usual Sandler hallmarks can be found in his performance — the maladjusted rage, the arrested development, the hidden sadness — but Baumbach provides a fresh, stabilizing platform from which to showcase and celebrate the actor's range and capabilities.
It helps that Sandler is also surrounded by similarly wonderful actors delivering some of the best performances of their recent, respective careers. Dustin Hoffman, Ben Stiller, and Emma Thompson all serve powerful portrayals in a film with comedy beats rooted in the tragedy, resentment, and rage that can quietly flood the roots of every family tree. It's a tender and endearing movie with a great deal of heart and a tremendous amount of perfectly played comedy (including a memorably hilarious cameo by Adam Driver). It also serves a reminder that Sandler's characters, when fleshed out and delivered properly, can actually appear human rather than a screaming flesh-ball of juvenile and puerile rage.
Worst: That's My Boy revolves around a disturbing gag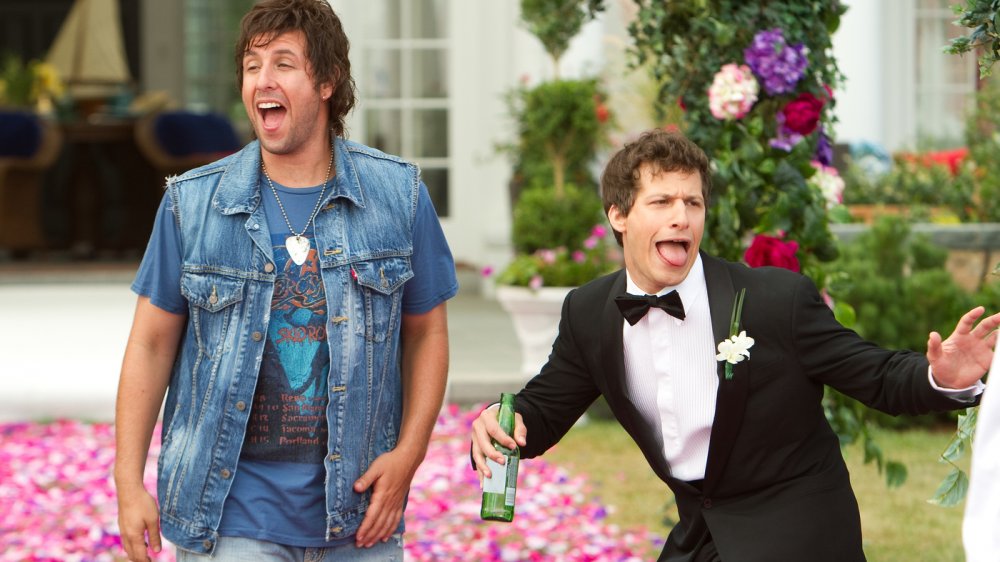 That's My Boy is an atomic-grade misfire of a movie in which Sandler depicts Donny, a guy who revels in an obscene amount of celebrity based on one misdeed of his youth: getting a "hot" school teacher pregnant after a bout of statutory rape. The movie really, really wants you to think this super uncomfortable age gap is all pretty cool and not hideous or gross in the slightest, which is what makes the ensuing movie all the more difficult to tolerate. When we catch up with Donny as an adult, he's a beer-swilling, sex-obsessed schlub whose beer gut, mullet, and disquieting sexual history apparently act as human catnip for total babes in various forms of undress. Todd (a woefully underused Andy Samberg) — the son born from that illicit childhood coupling — is getting married and is understandably devastated that his puerile, absentee father has suddenly decided that now is the perfect time for them to bond.
It's another film from Sandler's oeuvre that abandons any real comedic effort in favor of cheap, low blows against marginalized people. And when that's not an option, Sandler simply scrapes the bottom of the barrel for masturbation and incest jokes, all of which are delivered with the subtlety and success of a Wile E. Coyote homemade stick of dynamite. The whole thing is so unfunny that it's practically unwatchable. But Sandler can't be fully saddled with the blame for this one. He's simply doing the best he can in a bad wig and an even worse script from David Caspe.
Best: Sandler gives his best performance in Uncut Gems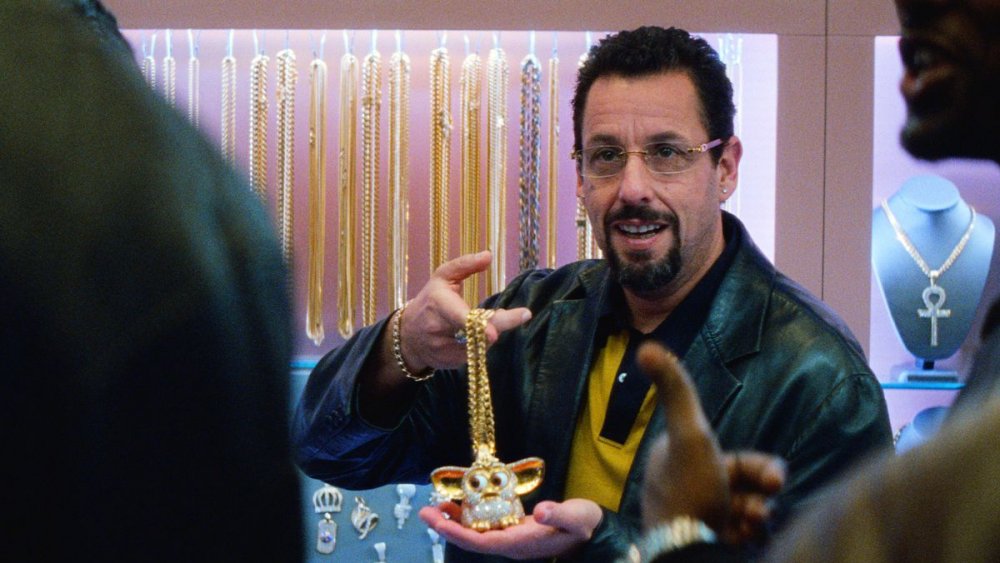 Sandler may have missed out on a (well-deserved) Oscar nomination in 2020 for the Safdie Brothers' anxiety-inducing masterpiece (and jokingly threatened to drop a deliberate stinker of a move in return), but his role as obnoxious adrenaline-hound Howard Ratner is by far one of the greatest achievements of his career. One of the best movies of 2019, Uncut Gems follows the high-stakes exploits of a gambling addict (Sandler) who sells an assortment of diamond-encrusted garbage to very high-profile people. He also happens to owe a great deal of debt to some very bad people and treats everyone in his life like absolute trash. As a result, watching Howard haphazardly navigate these more delicate and dangerous aspects of his life is like watching Godzilla attempt ballet, and Sandler steps up to every challenge of the role with astounding confidence and emotional range.
The level of breathless, shredded nerves that Uncut Gems serves up is a testament to both the caustic filmmaking prowess of directors Josh and Benny Safdie, as well as the magnetic allure of Sandler at his most loathsome and erratic. Sandler's previous dramatic roles highlighted that there's definite talent and poignancy behind his maniacal man-child persona. But with Uncut Gems, he's asserted himself as an actor with greater hidden depths and untapped potential that occasionally get tossed asunder in favor of his lazier, more mainstream efforts. Having entered his 50s, it might also indicate that he's finally started to grow up. Better late than never. 
Worst: Grown Ups 2 is anything but mature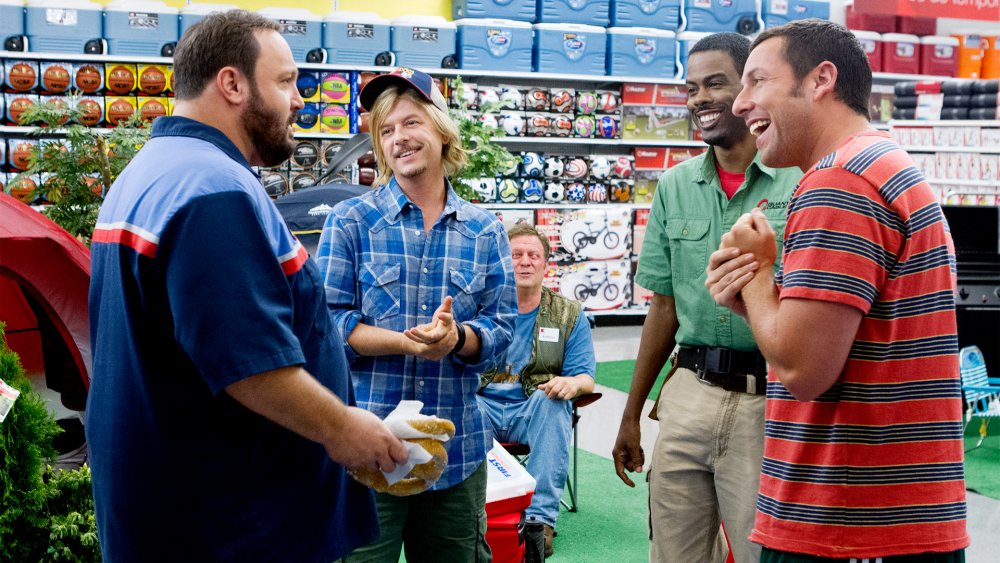 While some Sandler fans might still wholeheartedly adore the juvenile japes of Grown Ups, on the other side of the fanbase are audience members who likely threw up their arms and wondered, "Can cinema get any worse than this?" Enter Grown Ups 2, one of Sandler's ugliest movies and also one of his laziest. With a threadbare plot that's barely even worth surmising, the jokes flow through Grown Ups 2 with all the momentum of a dead rat in a sewage pipe. It's almost as though Sandler has torn up a bunch of random comedy prompts from his childhood, thrown them into a bucket, and picked them out at random while enjoying some brewskis with co-stars Chris Rock, Kevin James, and Chris Spade over a tattered copy of the script.
Between the pee, poop, and fart jokes, there's also a scene where Jon Lovitz plays a yoga instructor who instructs women to bend over while he slaps their backsides, and there are plenty of cheap shots thrown at anyone who can be considered different to the four belching man-boys at the center of it all. People who are gay, overweight, or foreign become the repeated butt of Grown Ups 2's singular joke, while anyone who isn't conventionally attractive is also presented for unbridled ridicule. Which is a weird flex for a film starring four grown men in cargo shorts who aren't exactly sending straight women or gay men into an amorous frenzy anytime soon, but sure.
Best: Happy Gilmore is one of Sandler's funniest films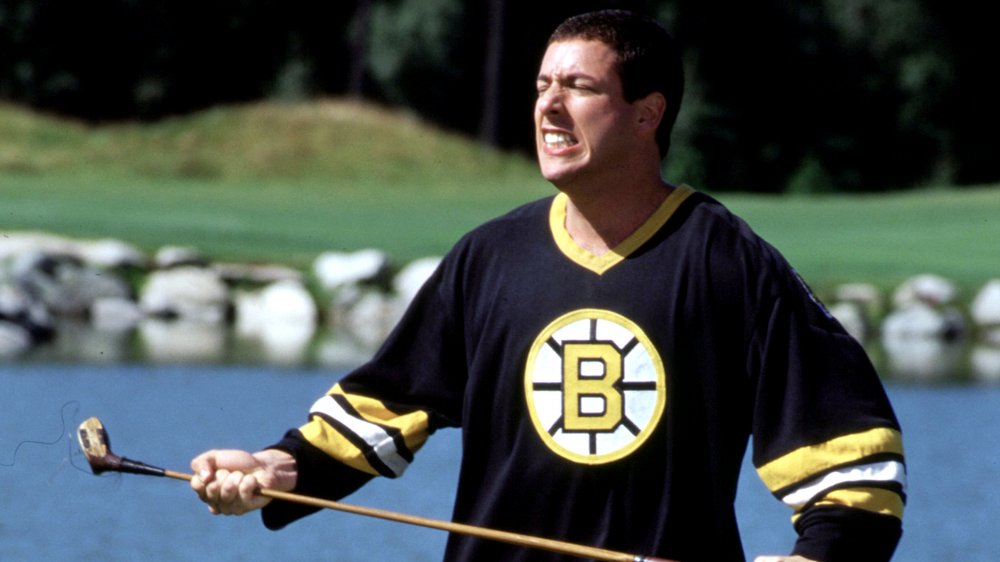 Happy Gilmore is one of the first films that really allowed Adam Sandler to sharpen and shape his identity on screen, and it remains one of his purest and funniest movies as a result. Part of the joy of the movie can be found in its simplicity. A failed hockey player with some serious anger issues takes his skills to a golf tournament in a bid to save his grandmother's house. Sandler's exuberance for delirium and chaotic comedic timing continues to make Happy Gilmore an acerbic, hilarious morsel of a movie over 20 years later. Although the humor can be juvenile, it rarely feels cheap, and Sandler's exploration of a working class kid raging at the world in a bid to do right by his family feels completely understandable, and at times, even justified (particularly within the affluent, elitist world of the golfing community).
It's interesting to note that when Happy Gilmore was released, it was almost universally panned by critics, with Variety calling Sandler a "grating onscreen personality with zero acting range" and the film itself a "painfully unfunny 90 minutes" featuring only "three minutes of funny material." However, Happy Gilmore has aged surprisingly well and is far better than those critics may have originally realized — especially in comparison with some of Sandler's recent and lazier efforts which certainly do warrant such criticisms. When Happy Gilmore hits that proverbial golf ball of a funny, it really smashes it. And man, is it satisfying.
Worst: Adam Sandler hit new lows with The Ridiculous 6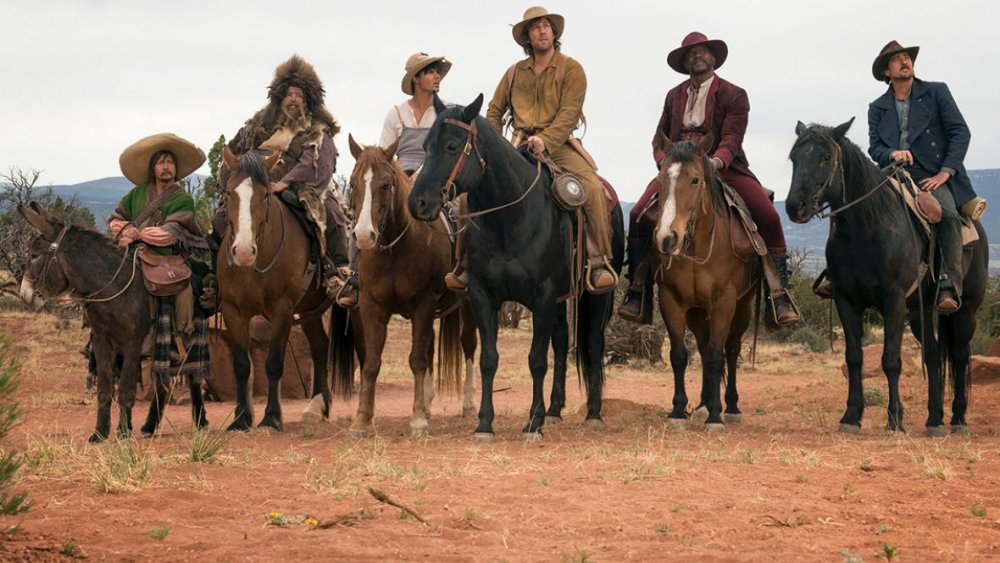 Adam Sandler's most controversial movie so far (and that's really saying something at this point), Netflix's The Ridiculous 6 drew immediate ire before it was even released when several Native American actors took offence to the racially charged jokes of the film and walked off the set in protest. Sandler vowed that the incident was "a misunderstanding" that would be "cleared up" once critics and audiences saw the "pro-Indian" film. Sadly for Sandler, that didn't exactly happen. Not only did the film attract further criticism across the board for it's abysmal attempts at satire and "casual mean-spirited jabs at every culture imaginable," it also faced universal derision for being "a pitiful excuse for a comedy."
Which is fair game when you take into account Rob Schneider's hideous Hispanic caricature, a scene where a donkey, um, pleasures Taylor Lautner (Team Jacob forever!), another where Steve Buscemi applies ointment to the same animal's rectum, or the endless waste pile of Native American women names ranging from "Beaver Breath" and "Smoking Fox" to "Wears No Bra." The Ridiculous 6 basically takes big swings at some very risky jokes and winds up flat on the floor, covered in it's own filth.