Meet Sam Wilson's Sister In New Falcon And The Winter Soldier Photo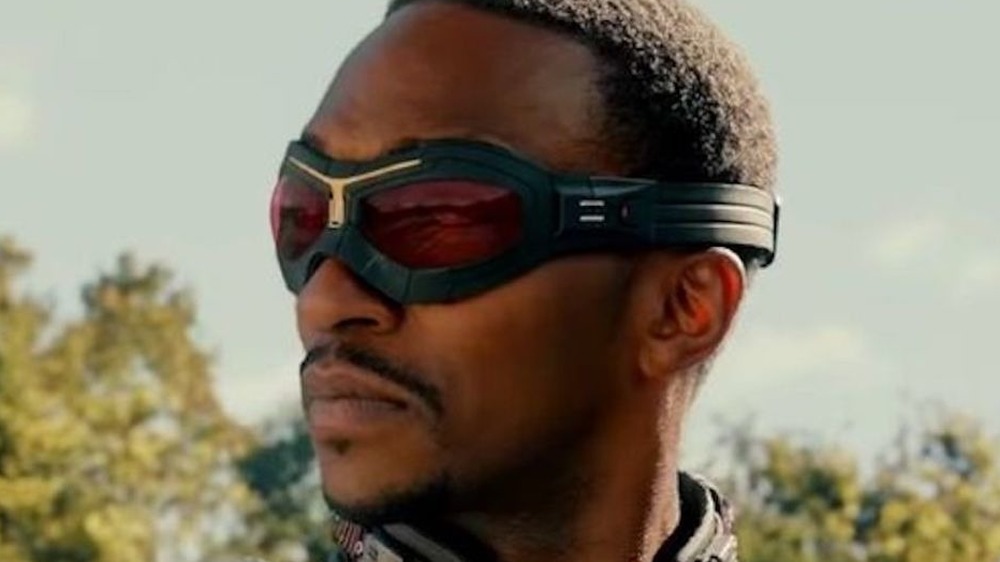 Disney+/Marvel Studios
As Marvel Studios' Disney+ sensation Wandavision barrels headlong toward what promises to be a wilder-than-wild finale, MCU fanatics are already gearing up for the streamer's next super-powered delight. In actuality, Marvel fandom is gearing up for several more streaming offerings in the months ahead, but the first post-Wandavision series will indeed be The Falcon and the Winter Soldier. The show will hit Disney+ on March 19, 2021, and from the looks of things, Marvel's streaming scene is set to trade the head games of Wandavision for a more straight-shot action series, with Anthony Mackie and Sabastian Stan's titular characters teaming for a globe-trotting mission to take down a very familiar foe in Daniel Brühl's Baron Zemo.
While other familiar MCU faces will likely pop up in, the new series will mark the first appearance of Sam Wilson's oft-mentioned kid sister Sarah Wilson (or Sarah Casper depending on where she is when she enters the fray). Though we don't yet know how big a role Sarah will play in the series, we do know she'll be played by Adepero Oduye. And it just so happens Marvel Studios has finally given eager fans a first look at Oduye in the role via an official behind-the-scenes shot.
That shot may be a bit less revealing than some fans hoped, however, as it merely shows Anthony Mackie and Oduye talking through a scene with The Falcon and the Winter Soldier director Kari Skogland (The Handmaid's Tale). Still, it's worth noting the picture shows the siblings very much in plain clothes, and likely signals how much Sam's sister will anchor him to reality — even as his high-flying alter ego takes him on adventures beyond belief.
Sam's sister Sarah in Falcon and the Winter Soldier should be quite familiar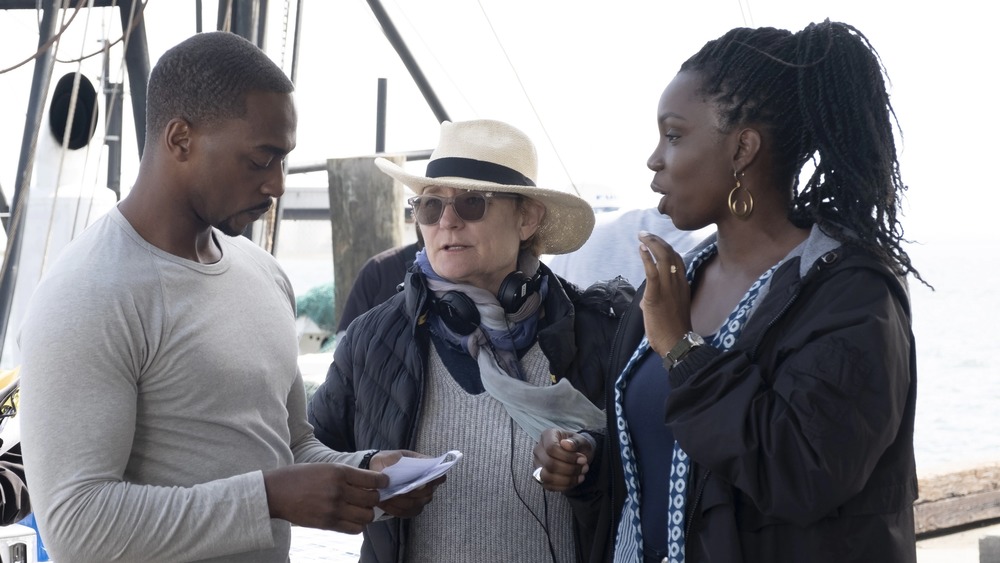 Chuck Zlotnick/Marvel Studios
While you may not know the actor portraying Sarah in The Falcon and the Winter Soldier by name, it's still likely you've seen Adepero Oduye on the big screen before. That's especially true for moviegoers with low-budget leanings, as Oduye has been making waves on the indie circuit for a few years now. The actor actually made her big screen debut with a supporting appearance in the gritty 2004 drama On the Outs, and just a couple of years later turned up opposite Ryan Gosling as a crack-addicted reveler in the critically adored Half Nelson.
2011 was Oduye's breakout year with her performance as a conflicted Brooklyn teen struggling with identity issues in Dee Rees' Pariah, a role that landed the actor a Best Female Lead nomination at 2012's Film Independent Spirit Awards. Since then, Adepero Oduye has become a mainstay on the indie scene, delivering memorable performances in 12 Years a Slave (2013), The Big Short (2015), The Dinner (2017), and Steve McQueen's shamefully overlooked 2018 heist flick Widows. Oduye is hardly a stranger to the streaming realm either, by the way, having played a key role in Ava Duvernay's politically charged 2019 Netflix miniseries When They See Us.
So just in case there was any doubt, Adepero Oduye has some serious acting chops that she'll bring to bear on The Falcon and the Winter Soldier, and her presence alone in the series should elevate it above standard superhero fare. Here's hoping The Falcon and the Winter Soldier's creative team gives Sarah enough to do in Sam and Bucky's orbit to make Oduye's decidedly high-profile MCU appearance worth her while.