Why Fern From Nomadland Looks So Familiar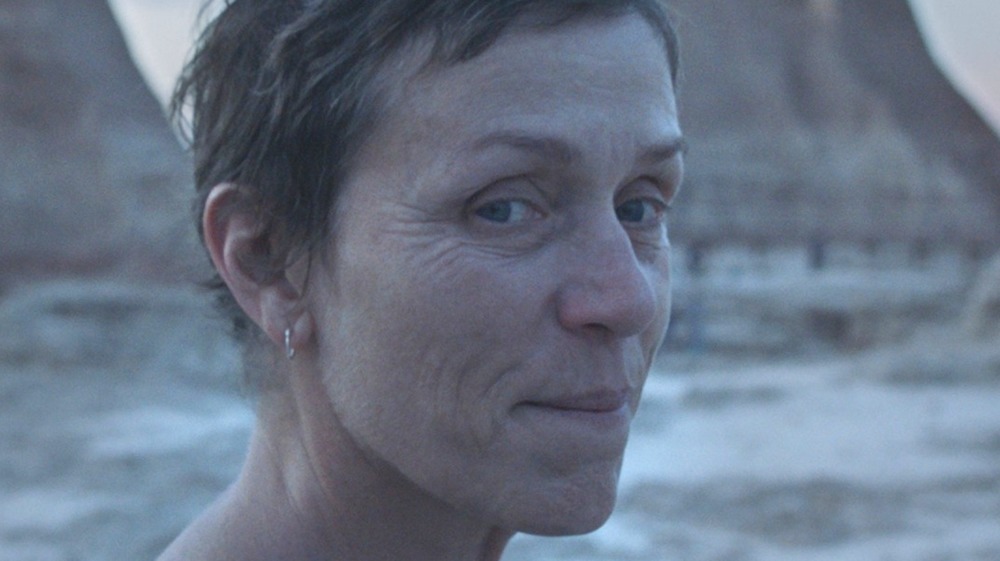 Searchlight Pictures
Journalist Jessica Bruder wrote Nomadland: Surviving America in the Twenty-First Century in order to draw attention to the growing number of older Americans who began traipsing across the nation after the economic crash of the late 2000s. Their purpose: find seasonal jobs, stay a while, and then move on, seeing as much as they possibly can while making ends meet. Bruder's nonfiction work has since been adapted into the much more simply titled Nomadland.
Directed by Chloé Zhao, the film focuses on one of these older Americans: Fern, a woman out of a job when the manufacturing plant she's worked in for so long shuts down. To make matters worse, her husband passes away, leaving her with next to nothing. Her decision to become a nomad, then, is an easy one — a way for her to move on both physically and emotionally. If Fern actress Frances McDormand seems familiar to you, here's where you may have seen her before.
Frances McDormand's marriage was messed up in Mississippi Burning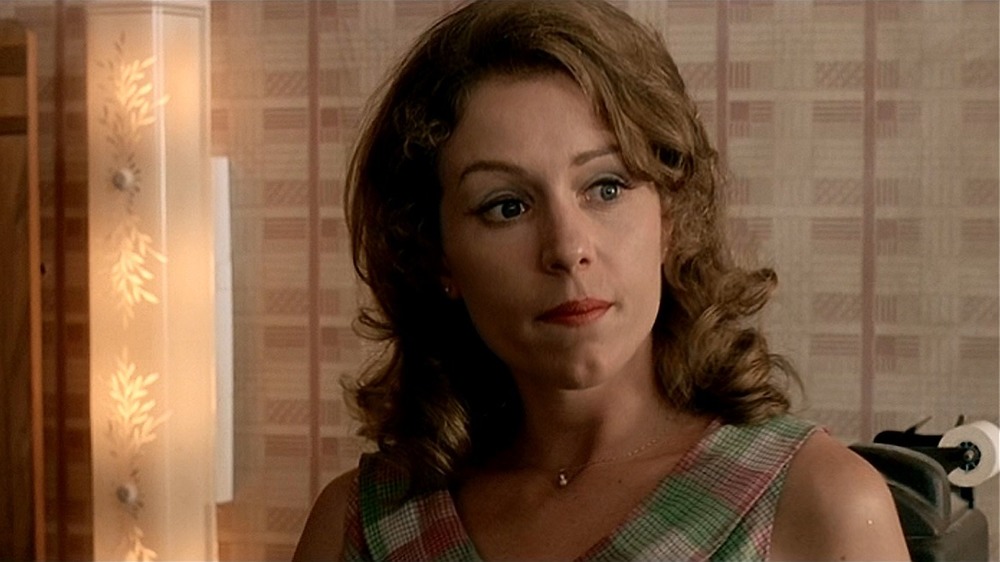 Orion Pictures
Alan Parker's Mississippi Burning drew fire for the liberties it took in depicting the real-life events it's somewhat based on: the 1964 murder investigation of civil rights activists James Chaney, Andrew Goodman, and Michael Schwerner. In spite of the controversy, however, no one could deny the strength of the film itself — especially not the Academy. It received seven total Oscar nominations (of which it only won Best Cinematography), including Best Supporting Actress for Frances McDormand.
She plays Mrs. Pell, wife of Deputy Sheriff Clinton Pell (Brad Dourif). She's integral to the investigation as it moves forward, providing FBI agents Alan Ward (Willem Dafoe) and Rupert Anderson (Gene Hackman) with vital information they've otherwise been unable to acquire. Unfortunately for her, Clinton isn't a fan of her actions and takes out his anger on her. The domestic abuse she suffers doesn't go unnoticed, and — without spoiling anything specific — by the end of the film, she's a much different person than she was in the beginning. It's a credit to McDormand that the character's transformation is so believable.
Frances McDormand solved small-town crime in Fargo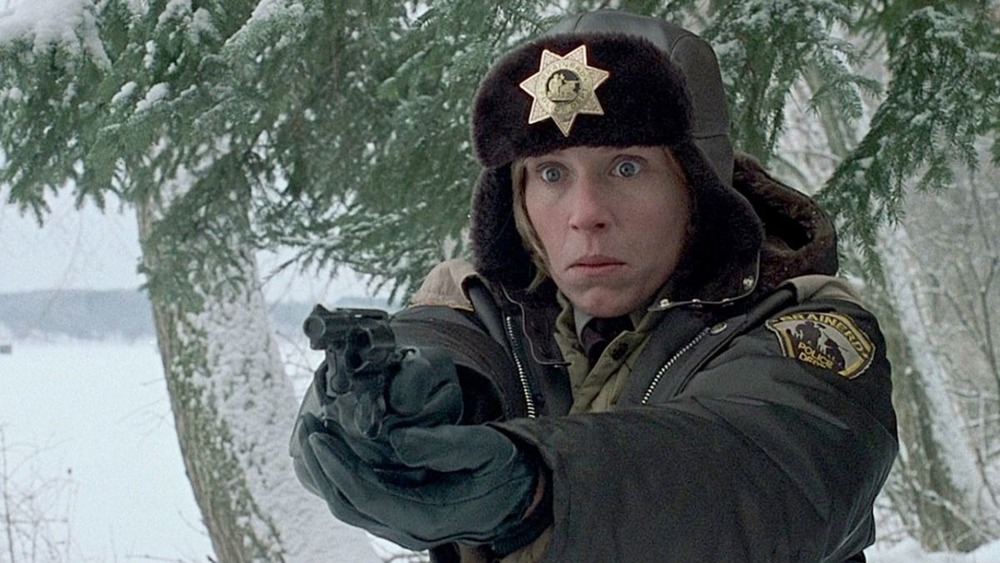 Gramercy Pictures
Frances McDormand has been married to Joel Coen, half of the famous Coen brothers directing duo (the other half being Ethan), since 1984 and has starred in a number of his productions. Of those, Fargo is probably the most well-known — and the one that nabbed McDormand her first Academy Award for Best Actress. The film also won Best Original Screenplay, capturing the essence of Midwestern attitudes and accents and distilling it for all the world to see.
McDormand's Marge Gunderson — an upbeat police chief from the sleepy town of Brainerd, Minnesota — embodies that essence perhaps more than any other character in the film. She seems like she'd be a pleasure to meet and grab a drink with, but make no mistake: She's quite serious about her work. Her pregnancy is proof enough of that, as it doesn't stop her from investigating the murders that occur near the beginning of the film. Those murders turn out to be part of a much larger web of crime, and Marge is just the woman to unravel it all.
Frances McDormand played an overly doting mother in Almost Famous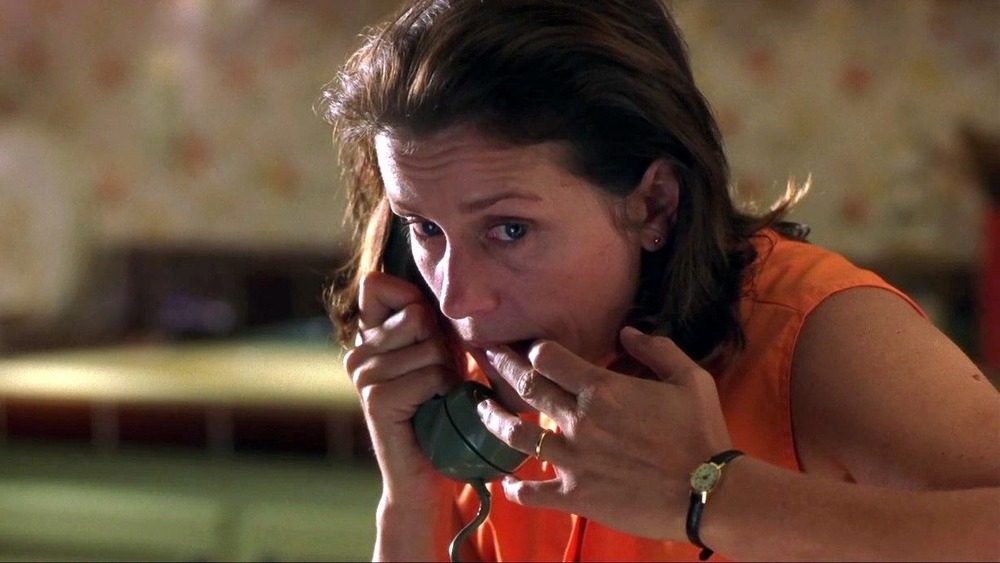 DreamWorks Pictures/Sony Pictures
Partially based on the young (mis)adventures of director Cameron Crowe (via The Uncool), Almost Famous is the story of 15-year-old William Miller's (Patrick Fugit) journey to become a music journalist for Rolling Stone. Normally, you might be able to do that by just sending your résumé and a few relevant writing samples, but William wants to go a few steps further. He wants to finesse his way into touring with Stillwater, chronicling the band members' lives on and off the stage. Only, there's one problem: his mother, Elaine (McDormand).
Elaine's mothering is so smothering that William's sister Anita (Zooey Deschanel) sets off on her own at age 18. Elaine doesn't tolerate rock music in her household and is the kind of woman who says things like "Adolescence is a marketing tool" and "Don't take drugs!" In her mind, her children (or child, once Anita absconds) should grow up valuing what she values. Yet for all her overshooting, it's Elaine who keeps William grounded once he leaves to fulfill his dreams — as grounded as a teenager traveling with a rock band can be, anyway. The role earned Frances McDormand another nomination for Best Supporting Actress at the Academy Awards.
Frances McDormand was a retired schoolteacher in Olive Kitteridge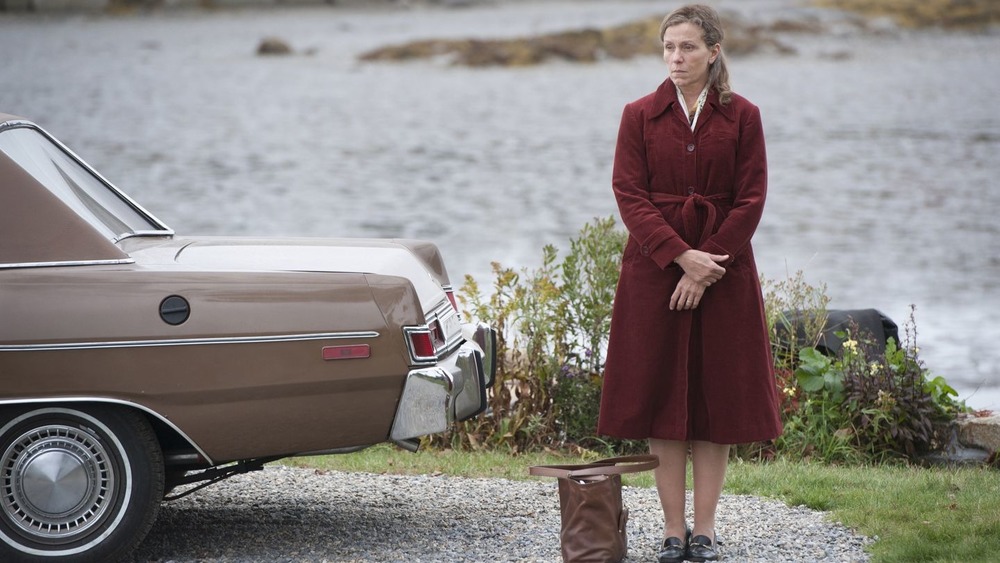 HBO
Based on Elizabeth Strout's novel of the same name, HBO miniseries Olive Kitteridge stars Frances McDormand in the title role. Split into four parts and taking place over the course of 25 years, viewers bear witness as the retired schoolteacher's relationships with the people around her, from her husband Henry (Richard Jenkins) to alcoholic pianist Angela O'Meara (Martha Wainwright), change and change again. The fact that those 25 years flow so seamlessly into one another despite the miniseries' four-hour runtime (give or take) is what makes it so special.
Even so, Olive Kitteridge wouldn't be all that interesting without McDormand acting as the glue that binds everything all together. Not that hers is the only notable performance in the miniseries, but as the title would imply, it all revolves around her character, so she's pretty important to the whole thing. And indeed, McDormand honors the character Strout created, portraying everything from her depression to her misanthropy with aplomb. She earned a Golden Globe nomination and won a Primetime Emmy for the role.
Frances McDormand made her grief public in Three Billboards Outside Ebbing, Missouri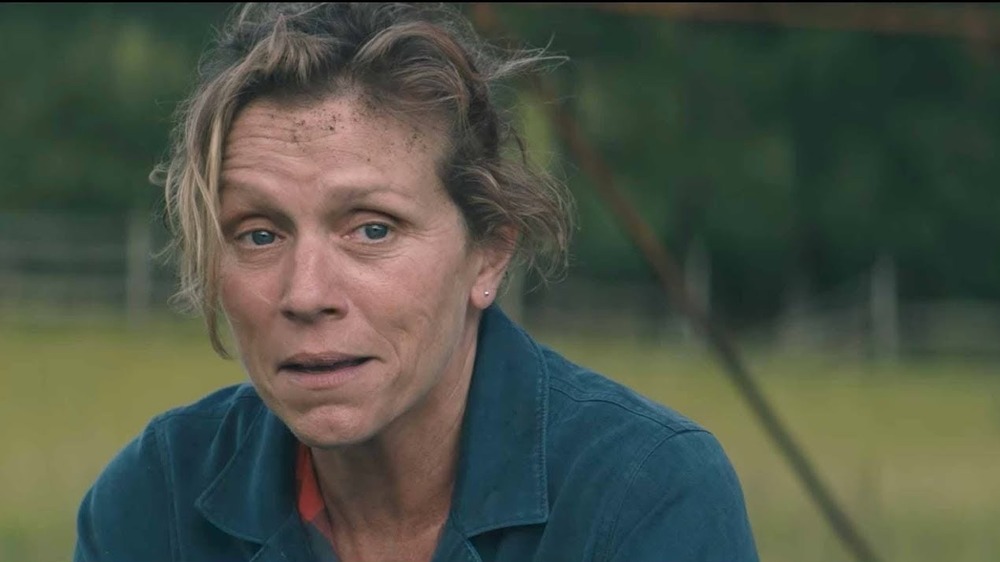 Searchlight Pictures
Let's just get this out of the way, since it's to be expected at this point: Frances McDormand won an Oscar for Best Actress for Three Billboards Outside Ebbing, Missouri, as well as just about every other award under the sun. She plays Mildred Hayes, whose daughter, Angela (Kathryn Newton), was sexually assaulted and murdered over half a year before the events of the film. Ebbing's police department is apparently on the case (i.e., it's slacking big-time), but Mildred is losing patience and decides to take action.
Going to the police themselves and complaining wouldn't do much, so she blows things out of proportion for her late daughter's sake, renting out three billboards that say, in order: "RAPED WHILE DYING," "AND STILL NO ARRESTS?", "HOW COME, CHIEF WILLOUGHBY?" Thus begins a long, polarizing game between Mildred and the police, and all players are out to win. Just like Marge Gunderson, though, Mildred is not going to back down just because of the incompetence of those around and against her.
If you or someone you know has been the victim of sexual assault, you can call the National Sexual Assault Hotline at 1-800-656-HOPE (4673) or visit RAINN.org for additional resources.