Why Frances McDormand Was Assigned A Babysitter For Nomadland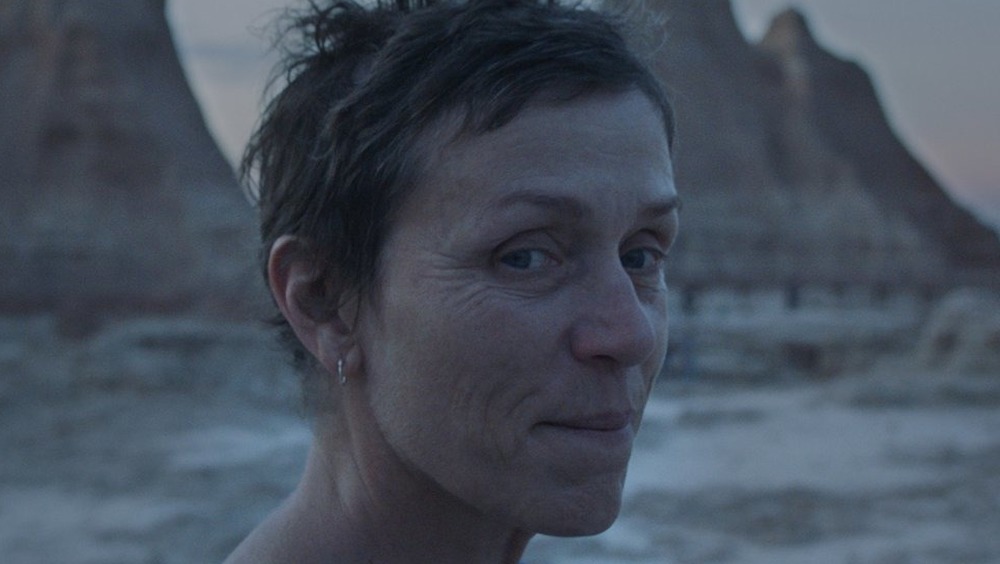 Searchlight Pictures
Eternals director Chloé Zhao's Nomadland is undoubtedly one of 2021's most unique and informative films. The story follows Fern (Frances McDormand), a widow who has grown disillusioned with middle-class living in the wake of the Great Recession. This leads her to become a nomad, abandoning the life she once knew and traveling wherever the road takes her. The feature debuted at the 2020 Venice Film Festival, and has since gone on to receive unanimous acclaim — currently holding firm at a 95% certified fresh score on Rotten Tomatoes.
Aside from analyzing the sociopolitical implications of the United States' economic crash in the late 2000s, Nomadland provides enlightening insights into the nomad lifestyle. For those unfamiliar, this way of living is based on survival and simplicity, taking no permanent residence and rolling with the punches, no matter the obstacle. It's certainly not for the faint of heart, and requires a great deal of knowledge to thrive in such an environment, especially as one ages. As Oscar-winner (and forgotten Transformers cast member) Frances McDormand came to learn, even acting like a nomad is no easy task. In fact, it required the studio to hire a babysitter of sorts for her on set.
A good night's rest is key to the nomad lifestyle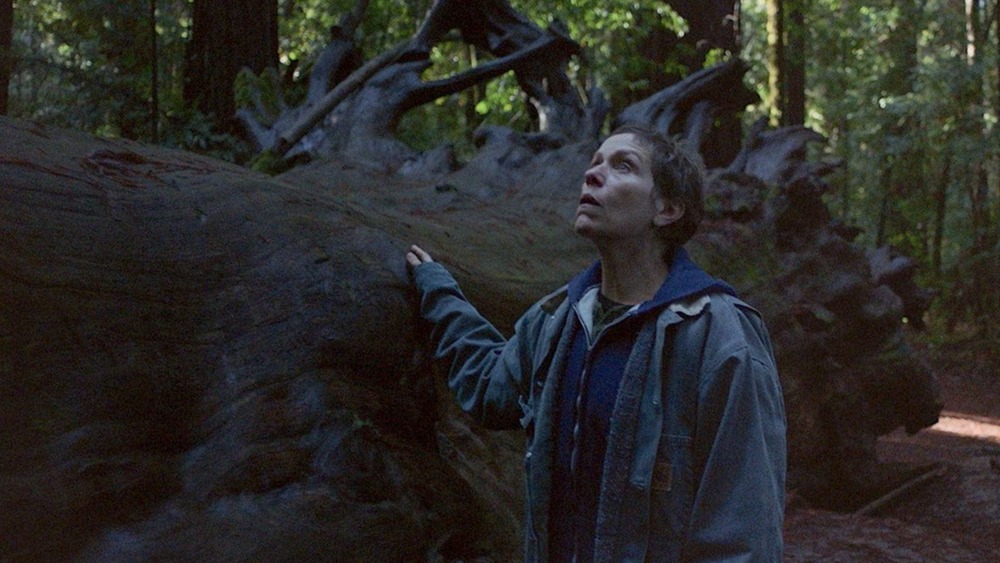 Searchlight Pictures
For Nomadland, Frances McDormand had to drastically alter her lifestyle to give the most authentic performance possible. She spent months on end living out of a van in the American West, with Zhao and the rest of the crew doing the same, getting to know real-life nomads Linda May, Swankie, and Bob Wells. Acclimating to such an unorthodox lifestyle is no easy feat, especially for the Three Billboards Outside Ebbing, Missouri actress, who was 61 years old at the time of filming. In light of McDormand's age and commitment to the role, she was assigned a caretaker to keep an eye on her and ensure that she didn't exhaust herself.
In an interview for the 2020 BFI London Film Festival, McDormand cites this aspect of shooting the film as the most challenging to her. "For me it was all about stamina," she says, mentioning that keeping up with the more youthful members of the production didn't come as easily as she envisioned. She then recalls, "At one point I said to Chloé, 'It's much better if I pretend to be exhausted than actually am exhausted.' So I went to bed earlier, and I was assigned a babysitter, Miss Emma Hanaway." McDormand explained that Hanaway's main job was to make sure she went to bed and woke up on time.
Frances McDormand put in some admirable work for Nomadland, as evidenced by the countless award nominations she has received, including a Golden Globe for Best Actress. All in all, it's a beautiful film about the grand American tradition of restless exploration and the value of a good night's sleep.