Why Agamemnon From Troy Looks So Familiar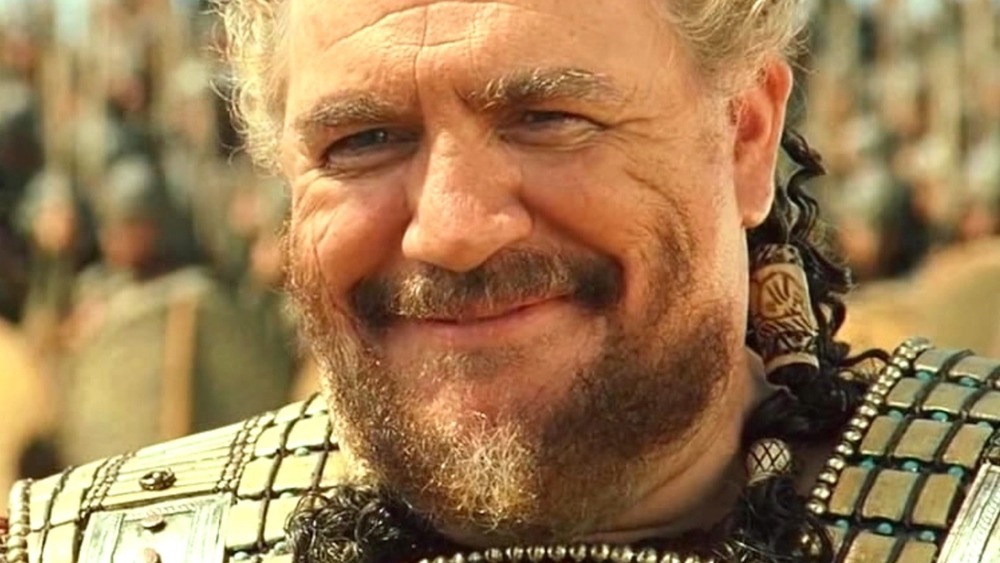 Warner Bros. Pictures
Prior to its release in the spring of 2004, expectations were understandably high for Wolfgang Peterson's sword-and-sandals epic Troy. The film had, after all, procured a mammoth production budget of $175 million, the talents of bona fide A-lister Brad Pitt, and a bevy of stars-on-the-rise in Eric Bana, Diane Kruger, and Orlando Bloom — not to mention screen legends Peter O'Toole and Julie Christie. Troy was also adapted from Homer's epic poem The Iliad by an up-and-coming screenwriter named David Benioff (nearly a decade before he took the helm of HBO's Game of Thrones). With that pedigree (and a 163-minute run time, to boot), Troy arrived in theaters with the label "classic Hollywood epic" stamped all over it.
While the film did suitably epic box office numbers, netting nearly $500 million in worldwide ticket sales, critics and audiences proved fairly divided by the film, with Troy currently boasting 54% and 73% critic and audience ratings, respectively, on Rotten Tomatoes. In the years since, the film continues to be just as divisive, though even Troy haters have to admit there's a lot to like about the movie. First and foremost, Troy fronted some truly spectacular battle scenes and an absolutely brilliant performance from Eric Bana, who steals the show in a fiercely internalized turn as noble Trojan warrior and prince Hector.
Bana wasn't the only supporting player to deliver scene-stealing work in Troy, though, as the veteran actor who portrayed the commander of the Greek army, Agamemnon, provided one of the film's more deliciously over-the-top performances. It's a safe bet you recognized that actor's face while watching Troy, because it's been in and around the Hollywood spotlight for the better part of a few decades now. Here's why Agamemnon from Troy looks so familiar.   
Brian Cox is the foul-mouthed head of house on HBO's Succession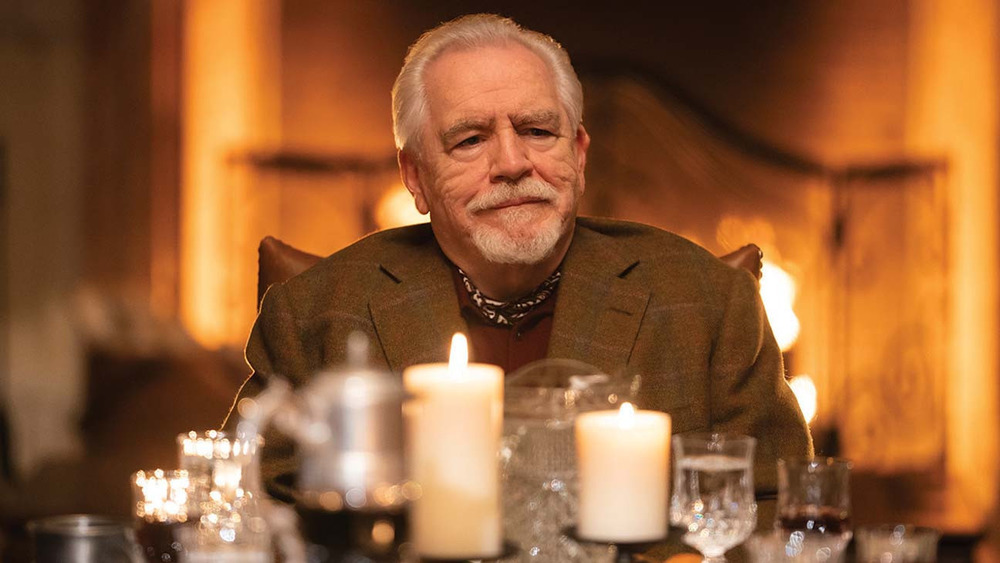 HBO
That actor's name is Brian Cox. And given his proclivity and proficiency for playing supporting characters (as evinced by the 227 screen credits he's amassed on IMDb), one might be tempted to label the man a "character actor." While Cox has certainly developed a reputation for positively owning the screen in smaller roles, that's largely because he possesses the scene-devouring charisma of a leading man. There's little question that the creators of HBO's Emmy-winning big business drama Succession were keying on that charisma when they cast him as the hard-nosed (and maybe a touch hard-headed) head of house for the warring family at the center of the story.
For those who've yet to catch up to Succession, the series is centered around the Roy family, with Cox's boisterous Logan calling the shots not just within the family unit but as the head of the billion-dollar multimedia conglomerate he founded. With Logan getting up in age, he's understandably in search of the Roy most worthy of filling his shoes even as the company is primed to either go under or go bigger than ever. As any Succession-head can tell you now two seasons into the series, that search is hardly going to plan for any of the Roys, with each of their narratives progressing in equally tragic and hilarious fashion.
As it is, Succession may be the best-scripted drama currently on television, cable or otherwise. It's also among the best-acted shows, with Cox delivering truly towering work in a series where virtually every member of the cast (including Kieran Culkin, Jeremy Strong, Sarah Snook, and Matthew McFadyen) is.
The Autopsy of Jane Doe saw Brian Cox taunted by a very evil spirit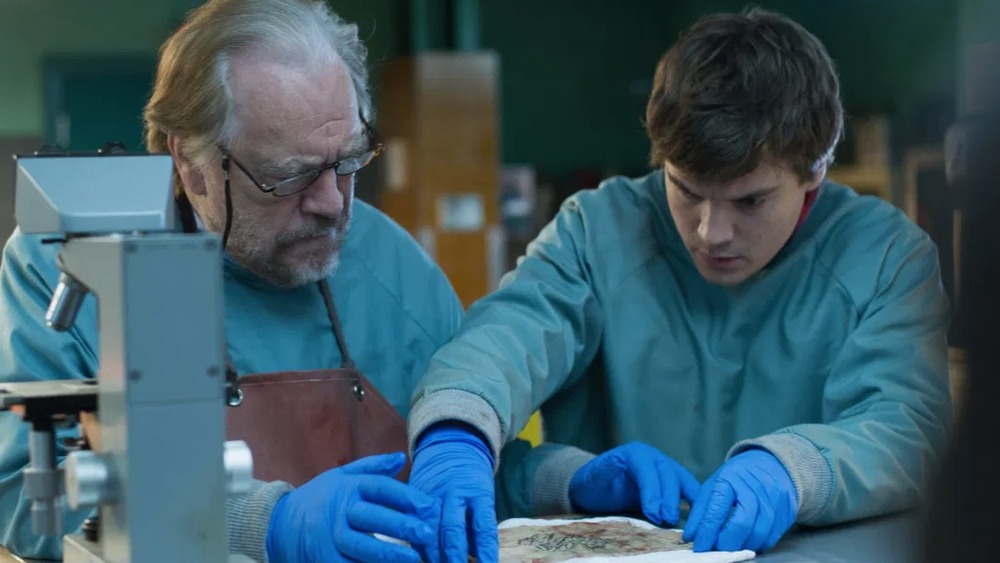 IFC Films
Though prestige has mostly been the name of the game for Brian Cox, the actor has never shied away from genre work. In fact, he's featured prominently in some of the more revered sci-fi and horror flicks of the past couple of decades, including The Ring (2002), Trick 'r Treat (2007), and Rise of the Planet of the Apes (2011), each of which paired Cox with an up-and-coming filmmaker in Gore Verbinski (The Pirates of the Carribean), Michael Dougherty (Krampus, Godzilla: King of the Monsters), and Rupert Wyatt (Captive State), respectively. Cox has made it a habit to book gigs with such up-and-comers over the years and did so again in 2016, when he signed on to front a supernatural chiller from Norwegian writer-director André Øvredal.
If that name sounds familiar to you, it's likely because you're a fan of Øvredal's brilliant found-footage thriller Trollhunter (2010). After the breakout success of that film, Øvredal brought his talents stateside, making his English-language debut with the instant cult-classic creeper The Autopsy of Jane Doe. That film found Cox playing Dad to Emile Hirsch (Once Upon a Time in Hollywood) as the father-and-son coroner team seek to discover both the cause of death and the identity of an unidentified young woman whose body ends up in their morgue. Equal parts investigative thriller, haunted house horror, and searing family drama, The Autopsy of Jane Doe will chill your bones as easily as it breaks your heart. And that's in no small part due to the grounded humanism Cox brings to the mix in one of his more egregiously underrated performances.
Brian Cox played the man who made Wolverine in X2: X-Men United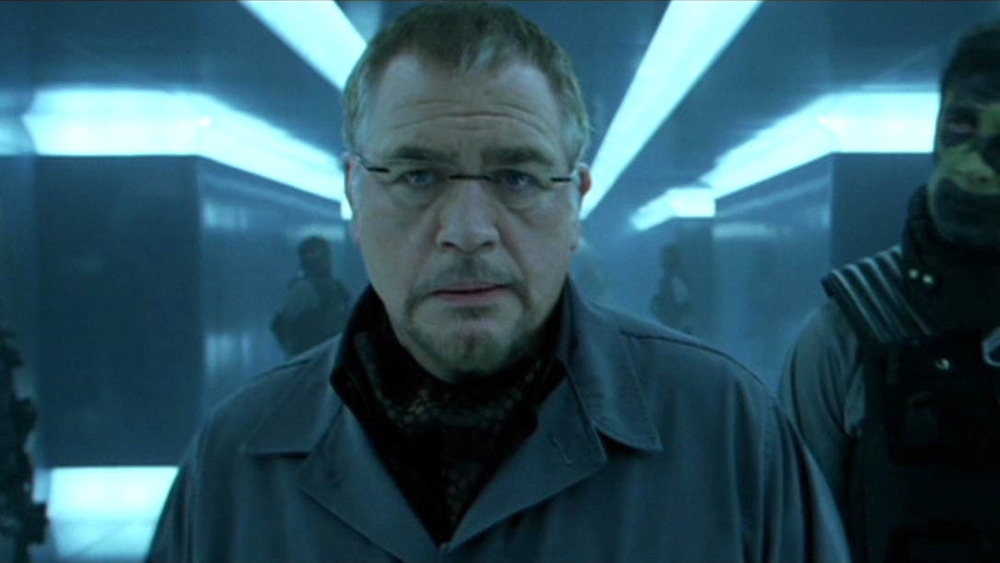 Fox Studios
When we mentioned Brian Cox's involvement in prominent sci-fi flicks from the past couple of decades, you may have keyed on a notable omission, and that omission is none other than 2003's fantastic X-Men sequel X2: X-Men United. And yes, nearly two decades after its release, X2 is still considered by most X-Men aficionados to be among the best of the mutant-friendly franchise's big-screen offerings.
If you've never seen X2, or simply need a refresher on the almost 20-year-old blockbuster, the film opens a couple of months after Professor X (Patrick Stewart), Wolverine (Hugh Jackman), and the rest of the merry gang of mutants defeated Magneto (Ian McKellen) and essentially saved the whole of New York City from being mutantized in X-Men (2000). It also finds a new mutant (Alan Cummings' Nightcrawler) infiltrating the White House and almost assassinating the president (Mindhunter's Cotter Smith), an act which leads the president to give the green light to a military scientist named William Stryker to lead an attack on Xavier's private school for mutants to capture or kill everyone there — though Stryker has far more devious plans in mind.
That was indeed Brian Cox portraying Stryker in X2: X-Men United. Yes, that means he essentially played the man who made the Wolverine in the X-Men cinematic universe. And yes, like so many of his supporting roles before and after, Brian Cox chews the scenery in X2 to the point that he nearly outshines franchise stalwarts Stewart and Jackman. So good is Cox in the role that one has to wonder (age gap aside) why he wasn't asked to reprise the role in the supremely underwhelming X-Men Origins: Wolverine.
Rushmore found Brian Cox in funny mode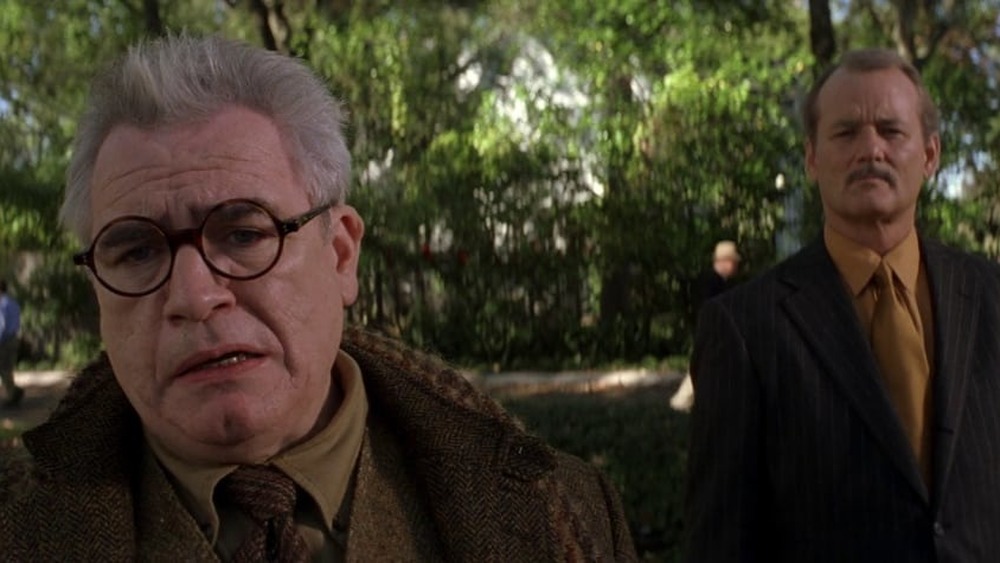 Touchstone Pictures/Buena Vista Pictures
Though Brian Cox has had skin in the acting game since the 1960s, prior to the mid-'90s, he was largely unknown to U.S. audiences. While some savvy cineastes no doubt recall the actor's work as young William Wallace's stodgy Uncle Argyle in Mel Gibson's Best Picture-winning Braveheart, it's safe to say far more viewers took note of the actor for his work in a much smaller-scaled production: Wes Anderson's breakout indie dramedy Rushmore – a film which found Cox trading barbs with both the great Bill Murray and a precocious young actor by the name of Jason Schwartzman.
By now, you really should've seen Rushmore, as it's a landmark flick for both the 1990s indie scene and the career of Wes Anderson himself, whose flair for symmetrical cinematography, quippy dialogue, and quirky characters was front and center for every single frame of the film (just his second feature after 1996's Bottle Rocket). Whereas Bottle Rocket found Anderson refining his cinematic approach, Rushmore found the young director fully in command of his form, delivering a film as hilarious, heartrending, and immaculately polished as any he's made since.
It also found him pulling career-defining performances from both Murray and Schwartzman, who've each collaborated with Anderson numerous times since. Anderson worked his magic with Cox as well, who portrayed the beleaguered headmaster of the titular academy with such callously refined candor that he frequently upstages the work of his co-stars. And just like Murray and Schwartzman (and a never-better Olivia Williams), it's flat-out impossible to imagine Rushmore working as well as it does without the contributions of Brian Cox.
Brain Cox was the O.G. Hannibal Lecter in Manhunter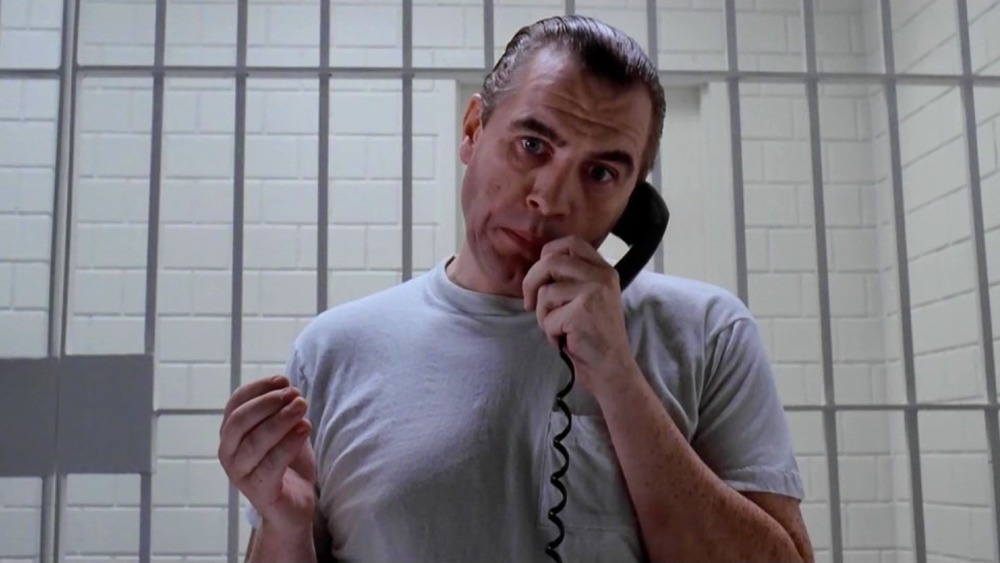 De Laurentiis Entertainment Group
In case you hadn't picked up on the fact, Brian Cox has been a legitimate chameleon in his decades-long career. While most stateside movie lovers didn't start getting acquainted with his work until the 1990s, Cox landed at least one role in the 1980s which likely did put him on the radar of many. Said role came in Michael Mann's stylish 1986 big-screen adaptation of Thomas Harris' famed novel Red Dragon, which most Harris fans would note marked the first appearance of one of literature and cinema's most iconic villains, the human flesh-loving serial killer known as Dr. Hannibal Lecter.
As that iconic character features prominently in Harris' book, and particularly in its follow-up The Silence of the Lambs, Dr. Lecter indeed turns up in Manhunter and did so with Brian Cox playing the part, meaning he actually originated the role Anthony Hopkins would later become legend for. We're not here to say this actor or that actor was better in the role, however, though Hopkins' stature as Lecter is what it is for good reason. Suffice it to say, Cox was also dynamite as the fiercely intelligent manipulator who led Will Graham (a terribly miscast William Peterson) down a path of near-insanity. Likewise, Cox clearly relishes the chance to go big in unnerving fashion as Lecter, looming large over the Manhunter narrative although he claims but a few minutes of screen time. And hey, even if he does play the part with a touch less refinement and panache than Hopkins, Cox's work holds up just as well, making Manhunter a must-see affair for any Hannibal completist.