Will We Ever See A Mamma Mia 3?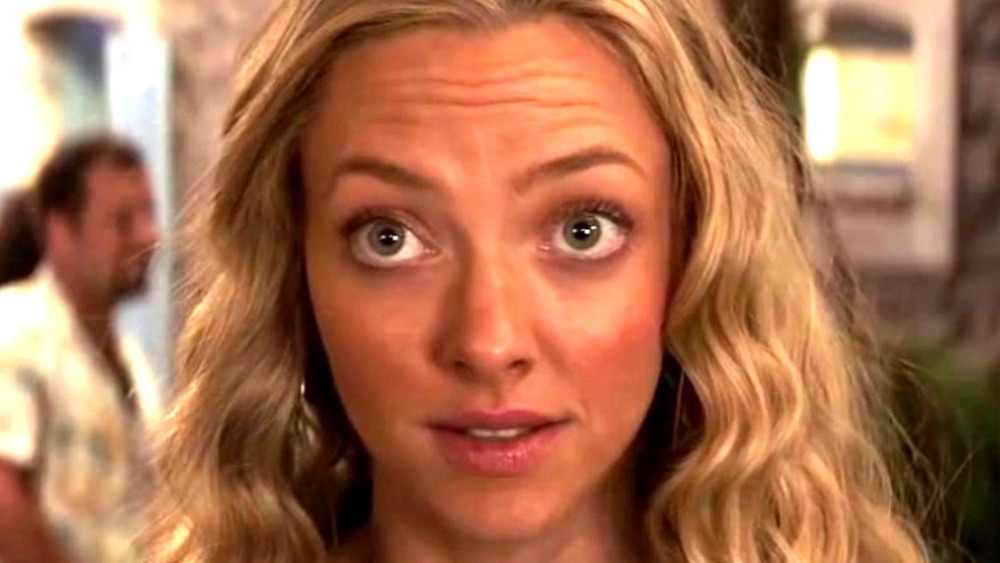 Universal Pictures
The last couple decades haven't exactly given us a wealth of movie musicals, but if you're a fan of the genre, then 2008's Mamma Mia! and its sequel, 2018's Mamma Mia! Here We Go Again, must have seemed like gifts from the pop music gods. 
The first film was based on the stage musical of the same name, which was in turn based heavily on the songs of the iconic Swedish pop group ABBA. Those incredible tunes helped to tell the story of Sophie (Mank star Amanda Seyfried), a young woman who is about to be married at the quaint but rundown Greek hotel owned by her mother Donna (Meryl Streep). She'd like her father to also attend, but there's a problem: Her father could be any one of three men. In an attempt to discover who her dear old Dad could be, Sophie invites Donna's former flames Sam (Pierce Brosnan), Harry (Colin Firth), and Bill (Stellan Skarsgård) to the wedding without telling her mother, who also reunites with her former bandmates Rosie (Julie Walters) and Tanya (Christine Baranski) for the occasion.
That film ends with the question of Sophie's paternity left purposefully unresolved, as the three guys agree that they could all be father figures to her in their own ways (awwwww). The second flick jumps between two timelines. In the present day, Sophie is busy revitalizing the recently deceased Donna's hotel, while coming into conflict with her husband over an overseas job offer. In the past, a young Donna (Lily James) deals with her three suitors and the rise of her band, Donna and the Dynamos. The movie ends with Sophie giving birth to a child of her own, followed by a giant party at the newly renovated Hotel Bella Donna.
Both Mamma Mia! flicks are pure feel-good delights, and both were smash hits with audiences, combining to rake in nearly a billion dollars worldwide, according to The Numbers. Fans are probably wondering if we'll ever see a third installment, and while nothing is set in stone, we have encouraging news on that front.
Judy Craymer wants to make Mamma Mia! a trilogy
Jeff Spicer/Getty Images
Both Mamma Mia! flicks were produced by the team of Judy Craymer and Gary Goetzman, and in June 2020, Craymer sat down with Daily Mail to discuss, among other things, a potential three-quel. As it turns out, the producer had intended to put some serious thought into the project over the summer, but she had a slight monkey wrench thrown into her plan by the COVID-19 pandemic.
"I was meant to have been getting on with [coming up with ideas for Mamma Mia! 3], in my head, during these months. But then I got hit with Covid fog," Craymer said, clarifying that while she had not contracted the virus, the whole situation had simply made it tough for her to focus. "I think one day there will be another film, because there's meant to be a trilogy, you see," she said. "I know [studio] Universal [Pictures] would like me to do it."
Of course, there's the matter of mining ABBA's discography for appropriate songs for a third film, which may present a couple of problems. Several of the quartet's most iconic tunes — including "Waterloo," "Dancing Queen," and "Super Trouper" — were already used in both previous movies, and many more were used in either one or the other. Fortunately for Craymer (not to mention for fans), the band members themselves may be ready to offer a partial solution.
Mamma Mia 3 could include new songs by ABBA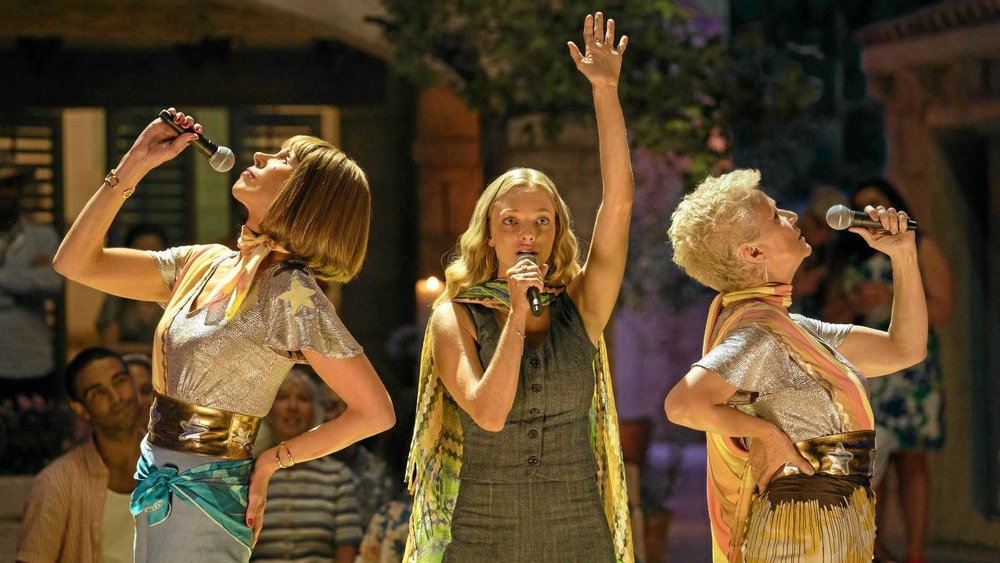 Universal Pictures
ABBA members Björn Ulvaeus and Benny Andersson were involved with scoring and producing the soundtrack albums for the first two films, which just may have given them the bug to work with their bandmates Agnetha Fältskog and Anni-Frid Lyngstad once again. 
At the time of Craymer's interview, the band had announced that they were working on some new material — and in July 2020, Deadline reported that the band will be dropping five new songs in 2021. The plan is to include these new tunes on the set list of a virtual tour with holographic versions of the band's younger selves performing them in addition to all of their classic hits. If there is indeed to be a third Mamma Mia! movie, it's easy to see the new material — the band's first in over three decades — anchoring the soundtrack.
We even know the titles of two of these tunes: "I Still Have Faith In You" and "Don't Shut Me Down," both of which it's easy to imagine Sophie belting out during narratively significant moments with her Donna and the Dynamos tribute band (we're just spitballing here). It's tougher to picture a third flick outdoing some of those brilliant musical moments from the first two, but if there's anything that can get fans ultra-pumped for a new round of Mamma Mia! it's probably some sweet new ABBA songs. 
We'll be on the lookout for any news or announcements about Mamma Mia! 3, and we'll keep you informed.