The Underrated Timothee Chalamet Period Drama Heating Up On Netflix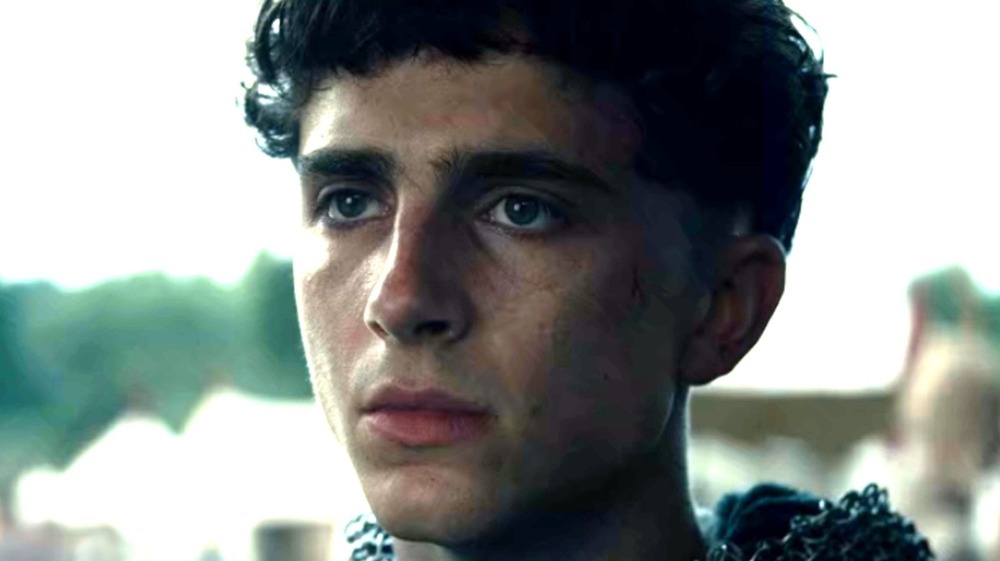 Netflix
With audiences falling head over heels for Timothée Chalamet, after his swoon-worthy appearances in Call Me By Your Name and Little Women, it's surprising that Netflix's The King didn't get more attention when the period drama debuted on the streaming service in 2019. 
The film stars Chalamet as King Henry V, who rises to the throne following the death of his father, Henry IV. Henry, who also goes by 'Hal,' faces difficult decisions as he continues to fight the war his father left behind, while also attempting to forge a new era for England. David Michôd's epic is a grimy, paranoid vision of what Henry V's life was like, depicted in a genuinely visceral way — which, clearly, connects well with viewers, seeing how it currently has an audience score of 83% on Rotten Tomatoes. Critics also had high praise for The King, with Empire's John Nugent saying "As far as depictions of medieval warfare go, it's near-faultless." 
Maybe the reason behind The King's somewhat muted arrival, back in 2019, was because it was a Netflix original, so it didn't get the fanfare and attention that it might have if it had been a typical theatrical release (back in the pre-COVID era). These days, though, with many audiences being stuck at home amidst the ongoing pandemic, the film has started to garner more attention — and rightfully so. The King holds an enticing level of star power that demands to be seen, with Timothée Chalamet even sparring with the future Caped Crusader himself, Robert Pattinson. It's an impressive cast overall, with Joel Edgerton supporting the young ruler as Sir John Falstaff, and a brilliantly duplicitous Sean Harris as Sir William Gascoigne.
Timothée Chalamet vs. Robert Pattinson, and a detailed character study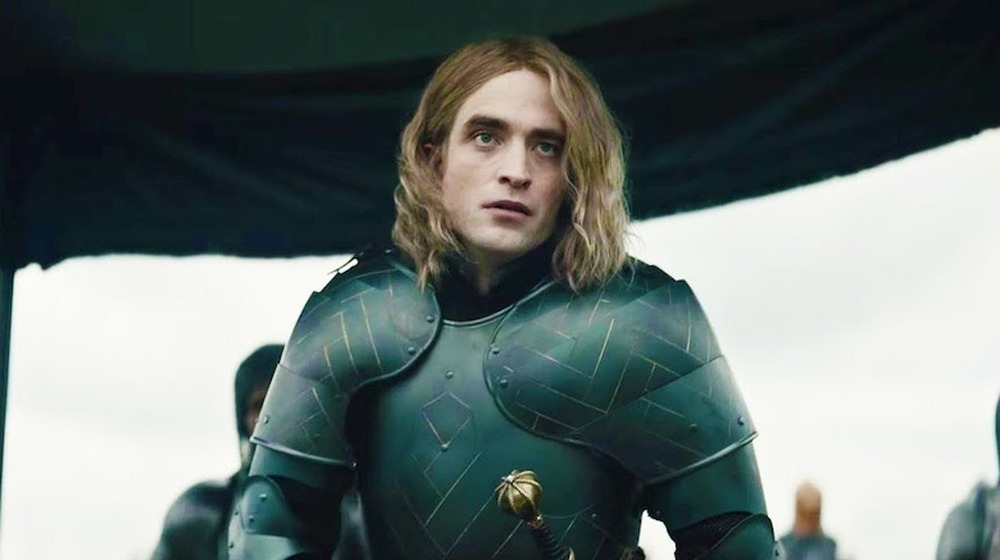 Netflix
The exploration behind Henry V is a fascinating deep-dive, which weirdly strikes a chord with other coming of age tales. How does a young person cope with the burden of responsibility after it's thrust upon them? Should you cast aside your own morals for the needs of the many? It's the dilemma that David Michôd and Joel Edgerton's script delves into, after the death of Henry V's father. Film critic Tomris Laffly of RogerEbert.com praised the film, saying it "comes with philosophical heft and visual authority to match."
The young pacifist ruler quickly has to abandon his life of partying and drinking to lead his country into a war he does not believe in – which ultimately pits him against Robert Pattinson's nihilistic Louis the Dauphin. Sure, his accent might throw you off for a while — but his charismatic performance is a captivating juxtaposition against the broody seriousness of Chalamet's Henry. He's a dash of chaotic fun in the middle of all the seriousness, not at all like Bruce Wayne. 
Thankfully, The King doesn't revel in over-the-top action, and when the war inevitably escalates, it doesn't dilute the focus on Chalamet's performance. It also doesn't turn the upcoming Dune star into a vicious action hero or epic duellist — instead, it shows that war is horrifying and grim. Remember the Battle of the Bastards in Game of Thrones? The King's depiction of the bloody (and muddy) Battle of Agincourt strikes a similar chord.
So if you've got a Netflix subscription and a spare 140 minutes, give The King a go — it's a fascinating tale.