Why Timothée Chalamet Was Drawn To Netflix's The King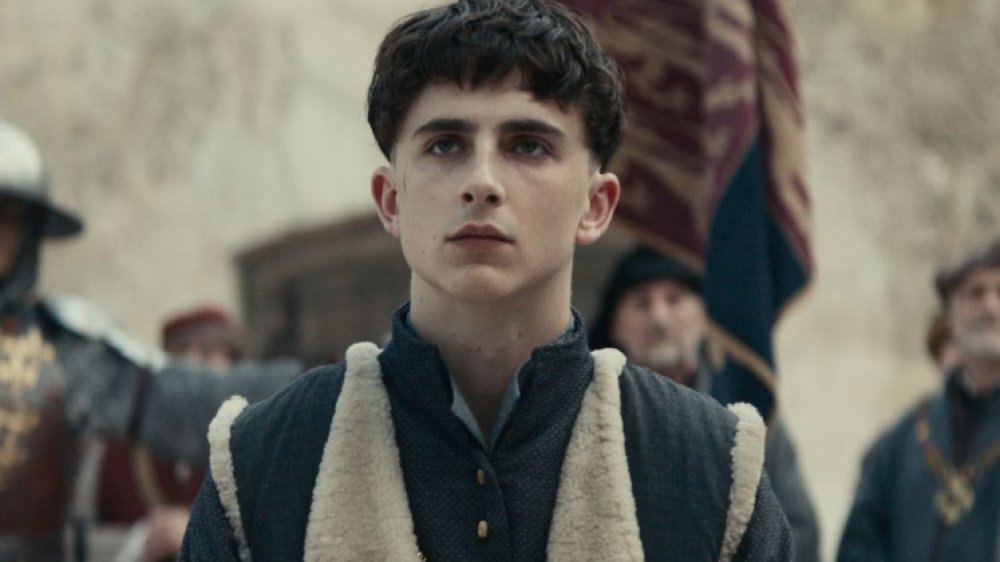 Timothée Chalamet might be indie film royalty, but here's why he's wearing a literal crown in his latest project.
When approaching The King, his loose adaptation of Shakespeare's classic history plays Henry IV and Henry V, director David Michôd made a few key decisions. The first was to have the Netflix flick dispense with Shakespeare's iambic pentameter and classic lines. Even though you might remember quotes like "uneasy is the head that wears the crown" or "once more into the breach" from your high school English classes, you won't find them in The King. By giving Henry's story more historical context than the Bard's version and keeping the language modern, Michôd and his creative team, which includes star Joel Edgerton, made a strong decision. As Michôd told Entertainment Weekly, "There are some killer lines in the plays, but we had a rule: you either do it all and you do it with purity, or you do none of it." 
Another thing Michôd knew? He wanted to work with Chalamet, who has established himself as a serious prestige power player during his short yet illustrious film career. Luckily for Michôd, Chalamet was immediately attracted to the project. 
During a sit down with EW and the director, Chalamet said that when it came to his next project, he was looking for "anything that would've been not evident." The King was that. 
"This was mainly the opportunity to work with David [Michôd] and to work on material that had historical weight but felt like there was gonna be a new take on it in some way," shared Chalamet. "I just want to work on anything good and that's the truth. That could be TV, that could be musicals, that could be miniseries, that could be movies."
As for what specifically drew him to The King, Chalamet revealed, "There's something particular about this movie that I'm proud of which is that it's about what it's about, and what that is is someone with good intent — or at least acting with good intent and honor — thrust into a circumstance that, even with decisive action to go in the opposite direction of his father, is weak in comparison to the pre-existing institutions of power. That has contemporary allegories what with leaders we have today who should have no business leading countries, but also for young people. You can draw a parallel to the climate crisis we have in the world now where they are thrust into a circumstance that is way beyond what is management, not to be cynical but affectable."
Chalamet also admitted that the role pushed him as an actor, providing plenty of hurdles to overcome that ultimately made him a better artist: "It was very challenging. When you're 12 years old, you want to be an actor almost to a cartoonish degree with the swords and the horses and the fight training and playing a king and learning an accent. On the other hand, working with Ben Mendelsohn, Sean Harris, handling a role that would've made no sense to have fireworks involved, I found myself learning subconsciously more than I can even word... within the context of the movie and also the framework of the story and the politics and the government, what that weight is."
How the indie king got his crown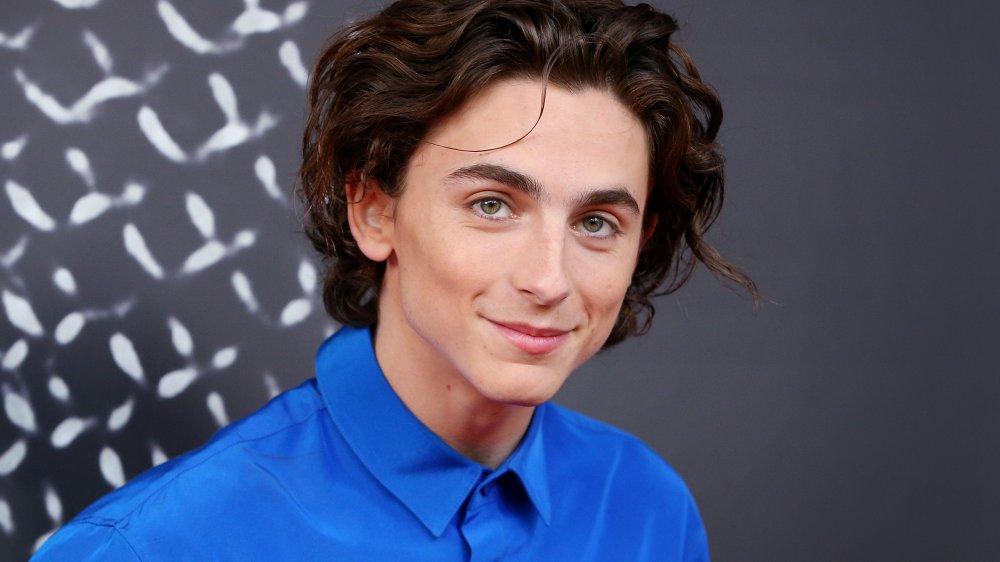 Lisa Maree Williams/Getty Images
Born in 1995, Chalamet has made quite a career for himself ever since he made his acting debut in Showtime's critically acclaimed series Homeland in 2012. Two years later, the actor marked his first-ever film appearance with Jason Reitman's Men, Women & Children, and after a role in Christopher Nolan's Interstellar, Chalamet broke out in 2017 thanks to two Academy Award-nominated films. Chalamet took on a supporting role in Greta Gerwig's directorial debut, Lady Bird, alongside Saiorse Ronan, as well as a leading role with Armie Hammer in Luca Guadagnino's deeply emotional Call Me By Your Name.
Those two films put Chalamet on the map, and the latter even led to an Academy Award nomination for Best Actor (making him the third-youngest nominee in the category's history), which opened up a whole new world of opportunity for the young actor. After roles in films like 2018's Beautiful Boy (opposite Steve Carell), Chalamet has quite the upcoming slate. Besides The King, Chalamet's most highly anticipated 2019 project, Little Women, re-teams him with Gerwig and Ronan for an adaptation of Louisa May Alcott's classic novel. The movie, which will be released on Christmas Day, also stars Laura Dern, Emma Watson, Midsommar's Florence Pugh, Sharp Objects' Eliza Scanlen, and Meryl Streep.
Chalamet is clearly a star on the rise, and thanks to his leading role in The King, the accomplished young actor has been given a chance to grow as an artist while building his already strong reputation. 
The King is playing in select theaters now, and will be available on Netflix on November 1.