F9 Super Bowl TV Spot Is Totally Awesome
"No matter how fast you are, no one outruns their past."
Few people know this fact of life more than Dominic Toretto (Vin Diesel), whose past will catch up with him in a major way in the ninth Fast & Furious film – a brand-new TV spot for which was just released ahead of Super Bowl LV on Sunday, February 7. 
The upcoming movie, simply and aptly titled F9, picks up after the events of 2017's The Fate of the Furious, and finds Dom and his wife Letty (Michelle Rodriguez) living a much quieter life with their young son Brian. They've left the world of street-racing behind, and though they and their chosen family of racers are as tight-knit as ever before, the couple starts to itch for a return to all things fast and furious. F9's Super Bowl 2021 TV spot highlights this, with Dom asking Letty, "You miss the old life?" When she responds to his question with one of her own — "Do you?" — Dom admits that not a day goes by without him longing to street-race again. 
Dom and Letty are going to go back to their old ways — because it would be a Fast film if they didn't — and this time around, they'll have to contend with someone from Dom's old old life: his not-so-little younger brother Jakob (John Cena). Not only is Jakob now a deadly assassin, but he's also partnered up with one of the worst people in Dom's world: cyberterrorist and super-criminal Cipher (Charlize Theron). 
Everyone's hyped for F9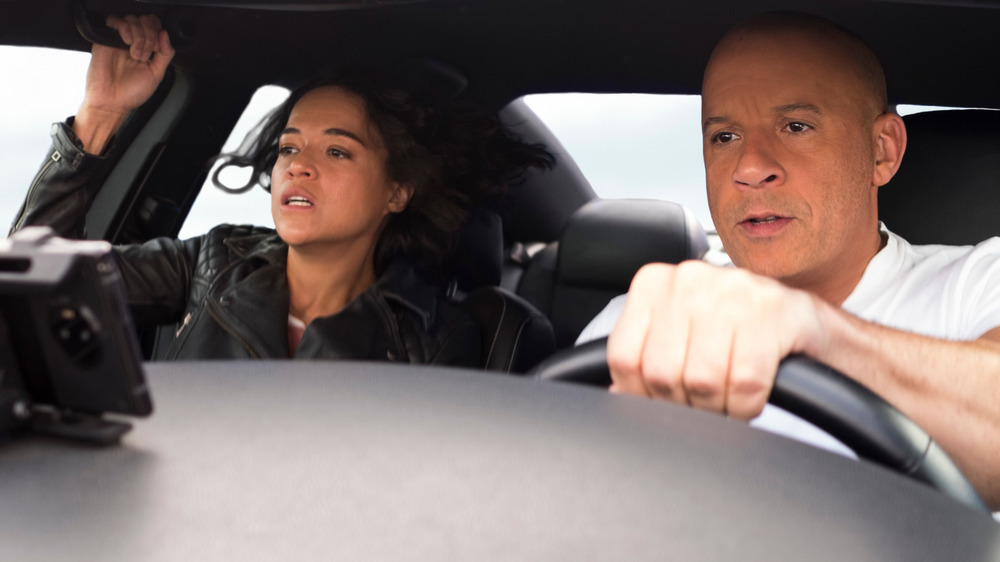 Universal Pictures
Fast & Furious franchise fans have been waiting for the release of F9 for quite some time now — as far back as 2014, when studio Universal Pictures announced that several more films would roll out following Furious 7, which hit theaters in 2015. Audiences got The Fate of the Furious in 2017, but it's been nearly four years since that flick debuted, and Fast devotees are hungry for more high-octane action unique to the film series. F9 was originally supposed to be released in April 2019, but was delayed to April 2020 to make room for Dwayne Johnson and Jason Statham's spin-off movie Hobbs & Shaw. A few more release date switch-ups later, and F9 is now set for a May 28, 2021 debut. The wait is nearly over, and fans can hardly contain their excitement. 
"So excited for this movie. Cant wait any longer," one YouTube user wrote in the comments section of the F9 Super Bowl TV spot. Another added, "FINALLY!!! Awesome. I can't wait to sit in the theater again. I've waited so long for this."
And it isn't just the simple reality that another Fast & Furious movie is coming out this year that has people amped up. It's what the movie will entail that's really driving excitement up. 
For one, Fast & Furious franchise alum Sung Kang is making a much-talked-about return as Han Lue (aka Han Seoul-Oh), who was thought to have died in an automobile crash-slash-explosion in The Fast and the Furious: Tokyo Drift. Of course, John Cena playing Vin Diesel's on-screen brother — who's an assassin, no less — is another element of epic-ness. Plus, people are digging the fact that Helen Mirren will be in F9 – portraying Magdalene "Queenie" Shaw, whom she played first in an uncredited part in The Fate of the Furious and later in Hobbs & Shaw. The cherry on top of it all seems to be the return of director (and co-writer) Justin Lin, whose filmmaking flair should take F9 into the stratosphere (not literally though).
F9 is currently set to arrive in theaters on May 28, 2021 — though the film's Super Bowl spot was bookended with a "coming soon" slate, so that date may change. However, as one fan succinctly put it, "I know it'll be worth it!! I can't wait!! #FastFamily."