Why Colonel Morgan From Jack Reacher: Never Go Back Looks So Familiar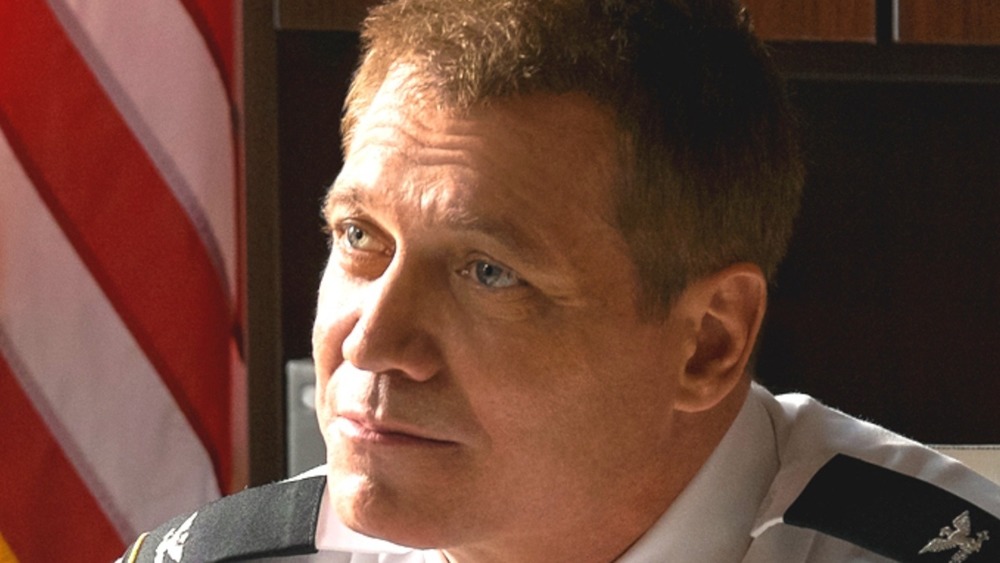 Paramount Pictures
Released in the waning days of 2012, the Tom Cruise starring actioner Jack Reacher went on to became one of the more unexpected hits of the year. It also proved a crowd-pleasing return to form for Cruise which clearly boasted the potential for a full blown franchise on par with the actor's Mission: Impossible gig. The same could not be said for the film's franchise-killing sequel Jack Reacher: Never Go Back (2016), however, which left critics and audiences alike wishing Cruise and company had heeded that title's warning.
Tepid critical response and modest box office returns (at least by Tom Cruise standards) aside, viewers really didn't find much to adore in the woefully formulaic sequel, which found Cruise's titular drifter, military investigator, and ass kicking tough guy framed for murder, on the run, and desperate to pull the curtain back on the far-raging government conspiracy that landed him there. As far as narratives go, Never Go Back really never ventures far from territory explored more effectively in its predecessor, though it does feature a couple of beautifully orchestrated set pieces that almost make it worth seeing.
As it happens, the film also fronts a handful of better-than-solid supporting turns worthy of a far better film. None of those Never Go Back supporting turns stood taller than that of the actor who portrayed one of the film's ill-fated conspirators, Colonel Sam Morgan. His name is Holt McCallany. He's a talented actor with commanding screen presence and three decades of lauded character work behind him, not to mention a slate of intriguing projects ahead. And yes, you've likely seen his chiseled features and piercing blue eyes many times before. Here's why Colonel Morgan from Jack Reacher: Never Go Back looks so familiar.  
Holt McCallany kept things tense in David Twohy's Pitch Black follow-up, Below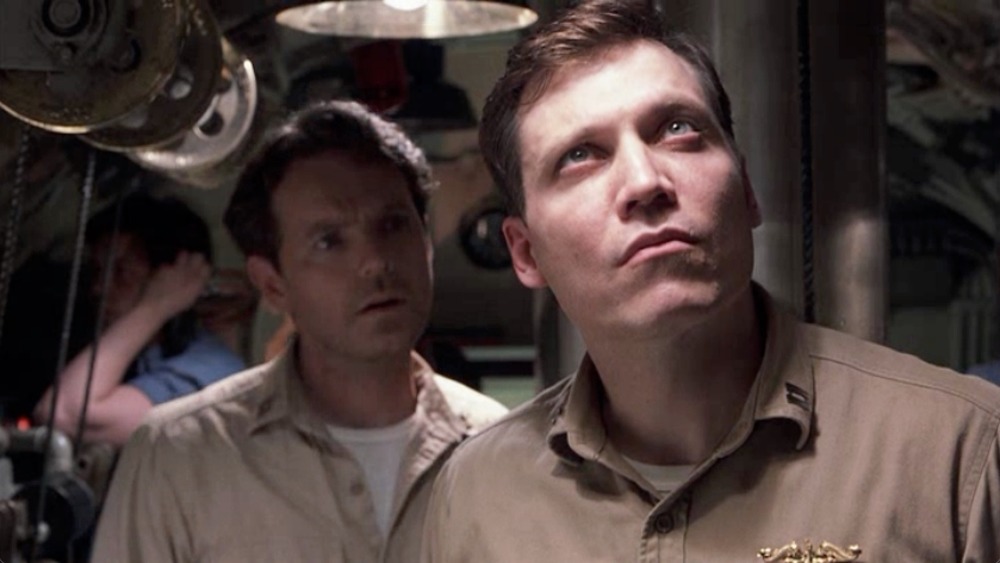 Dimension Films/Protozoa Pictures
Throughout his decades-long big screen career, there really isn't much Holt McCallany hasn't done, having appeared in movies that've taken him to outer space, the Wild West, and bullet-ridden war zones alike. Heck, he even got beaten to a bloody pulp by Batman (Ben Affleck) himself in the early moments of Justice League (the Whedon cut). More often than not, however, McCallany has appeared in decidedly supporting fashion, serving as sounding board or antagonist towards the star of one film or another. While that remained true in 2002's Below, director David Twohy — fresh off the unexpected cult success of the Vin Diesel sci-fi vehicle Pitch Black — put McCallany more front and center than any filmmaker had before. In turn, McCallany delivered one of his most intriguing performances to date.
Unfortunately, not many people actually saw McCallany at work in Below, as the film barely received a theatrical release before lingering long in video hell. It has, however, earned its stripes as a cult classic in recent years, which is reassuring — because Below (co-written by the great Darren Aronofsky), is a first-rate, intensely claustrophobic psychological thriller, that finds the crew of a WWII submarine cut off from the world above and experiencing unexplainable events. It also features yeoman's work from screen stalwarts Bruce Greenwood (The Sweet Hereafter), Olivia Williams (Rushmore), Jason Flemyng (Pennyworth), and even a fresh-faced Zach Galafinakas (The Hangover). 
As mentioned, McCallany is in top form here, as the doomed, and increasingly paranoid Lt. Paul Loomis, and for those of you who want to see the man in action in a tragically overlooked genre gem, Below could not come more highly recommended.
You might remember Holt McCallany as Ricky from Heroes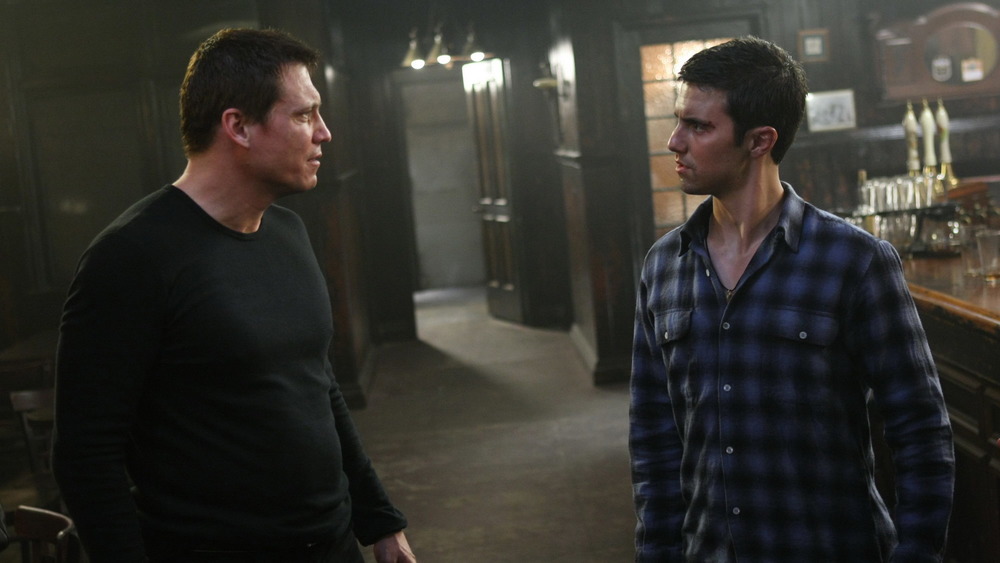 NBC Universal
While Holt McCallany's imposing physique has made him a formidable and frequent big screen presence over the years, the actor has just as often utilized it on the small screen. He has done so on some of the best television shows of the past couple of decades, too. Like so many soon-to-be stars before him, Holt McCallany earned one of his earliest TV credits for an episode of Law & Order, which aired way back in 1994. A year later, McCallany scored a major gig on TNT's lauded Western mini-series Rough Riders, which detailed Theodore Roosevelt's (Tom Berenger) exploits with the titular unit during the Spanish-American War.
In 2005, McCallany finally earned a coveted short-term spot, on a very high profile property, when he appeared in season 2 of NBC's groundbreaking superhero saga Heroes. 
That series, of course, made a major splash when it premiered in 2007, becoming a cultural touchstone in the television realm and making overnight stars of its entire cast (Zachary Quinto, Hayden Panettiere, and Milo Ventimiglia, among them). Though season 2 of Heroes didn't prove quite as universally loved, it still delivered the goods in terms of blockbuster ambition and small scale emotion, particularly in one storyline which found Ventimiglia's troubled, multi-powered telepath, Peter Petrelli, seeking refuge in Cork, Ireland, only to find even more trouble with local underworld thugs. Holt McCallany portrayed their ruthless leader Ricky, and delivered a memorable performance as the Irish tough, who notably met up with Peter before meeting an unfortunate end just a couple of episodes later.  
Blue Bloods found Holt McCallany playing a romantic interest to series star Bridget Moynahan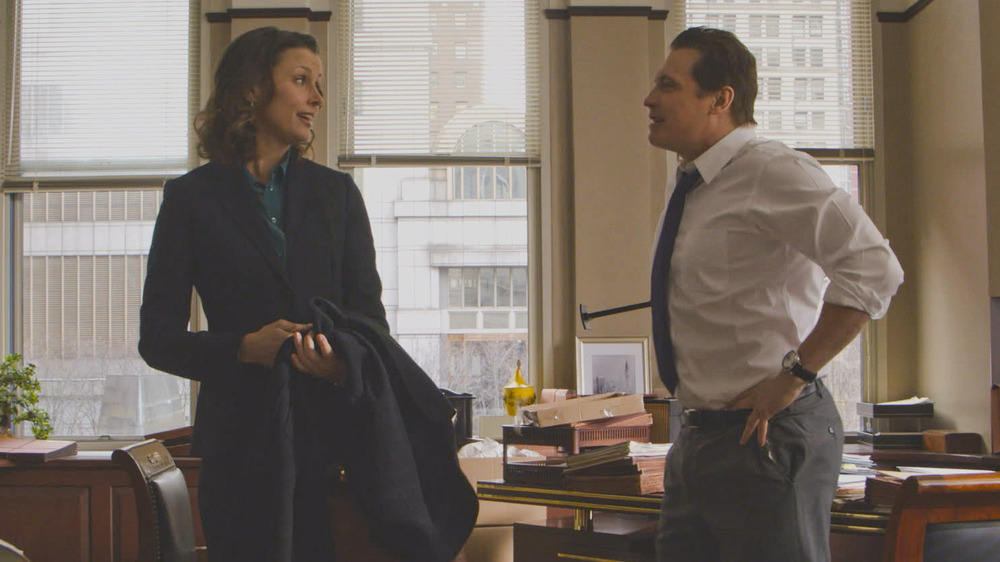 CBS Television
In the 2010s, Holt McCallany kept the small screen train rolling, with a multi-episode arc on CBS's revered family cop drama Blue Bloods. And while many might've expected the brawny actor to be portraying another tough-talking detective or street-wise tough guy on the series, McCallany's Blue Bloods stint instead found him playing the part of romantic interest. Perhaps even more surprising is just how well the actor carried the role, with his ambitious defense attorney Robert McCoy becoming an instant fan favorite. 
McCoy turned up in season 4 of Blue Bloods, working the opposite side of a case prosecuted by Erin Reagan (series star Bridget Moynahan). Though romantic sparks didn't instantly fly, the pair eventually hit it off, and had a brief but meaningful relationship that continued all the way into Blue Bloods' fifth season. Blue Bloods fans likely recall that relationship got tricky when McCoy was appointed interim District Attorney, a title that made him Erin Reagan's new boss. You probably also remember the coupling came to an abrupt end when Erin discovered Robert was abusing his power, by burying a case for a friend. In turn, McCallany's days on Blue Bloods came to an equally abrupt end.
Holt McCallany has worked often with David Fincher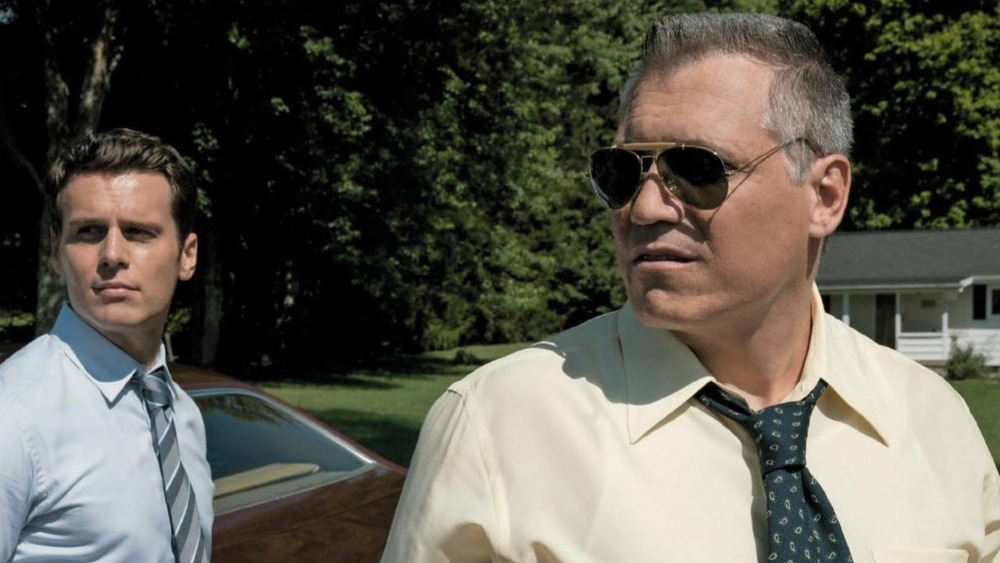 Netflix
As great as Holt McCallany is in his too-brief Jack Reacher: Never Go Back appearance, and even though he has also appeared in films from Hollywood icons like Clint Eastwood and Michael Mann, it's far more likely you recognize him from his collaborations with the great David Fincher. The pair first worked together on Fincher's much-maligned (but way better than you remember) sci-fi sequel Alien³. Even as McCallany had a minor role in the film, he clearly made an impression on the director, who later cast him opposite heavyweights Edward Norton, Brad Pitt, and Jared Leto in his mind-bending 1999 cult classic Fight Club. If you're having trouble placing him in that flick, he's the misguided Project Mayhem minion who leads the insane "His name is Robert Paulson" chant late in the action.
You should have less trouble placing McCallany in his most recent Fincher collaboration, because the lauded filmmaker put the actor front and center for Netflix's harrowing serial-killer drama Mindhunter. 
Detailing the early days of the FBI's psychological profiling program, Mindhunter pits McCallany's old-school Agent Bill Tench opposite Jonathan Groff's ambitious upstart Holden Ford, and Anna Torv's fiercely intelligent psycho-analyst Dr. Wendy Carr, as they lay the groundwork for profiling as we know it by exploring the minds of some of history's worst criminals. Just FYI — if you haven't yet seen Mindhunter for yourself, know that it's every bit as brilliant and utterly unnerving as you've heard. And yes, it features the finest work of Holt McCallany's career to date.