Tori Spelling's Tribute To Dustin Diamond Has People Talking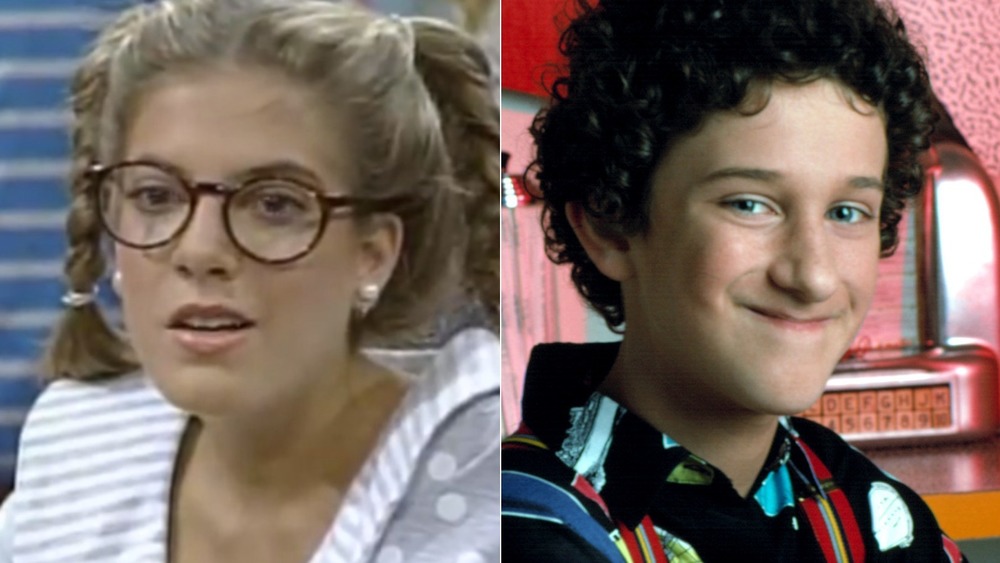 NBCUniversal
The tragic death of Dustin Diamond, best known for his role as Samuel "Screech" Powers on Saved by the Bell, has rocked the entertainment industry. Diamond was only 44 years old he died of stage 4 lung cancer on February 1, 2021. 
Diamond's career after Saved by the Bell wasn't quite as illustrious as some of his co-stars', and he was extremely disappointed when he wasn't a part of the show's 2020 return. Though sex tapes, brushes with the law, and tell-all books have somewhat tarnished the actor's public image over the years, 44 is a tragically young age to go, and many of Diamond's Saved by the Bell co-stars have reacted to his death with grief. 
Tori Spelling, who played Screech's romantic interest Violet Bickerstaff on the show, has added her voice to the choir of condolences with a heartwarming message to her fallen colleague. Here's why Spelling's tribute to Diamond has people talking. 
Tori Spelling has nothing but fond memories of Dustin Diamond
Spelling's heartwarming and carefully composed Instagram tribute to Diamond was a black-and-white photo of Violet and Screech holding hands, complete with a message that celebrated their time working together. "My 1st onscreen love Dustin Diamond got his Angel wings today," Spelling wrote on February 1, 2021. "Before there was David and Donna there was Screech and Violet. Dustin was my first on-screen kiss. He welcomed me with open arms onto the set of Saved By the Bell." (For those not in the know, the "David and Donna" Spelling mentions are her and Brian Austin Green's characters, David Silver and Donna Martin, from the hit '90s teen drama Beverly Hills, 90210.)
Spelling also had nothing but praise to give to Diamond as a colleague and a human being, and she expressed regret about the fact that they didn't keep in touch over the years. 
"As one can imagine being the newbie on a hit show was overwhelming for a 14-year-old girl. He not only showed me around but made sure I was always ok. Such a young gentleman. He was kind, smart, and always making everyone laugh. He was a great scene partner. He was a really good guy," wrote Spelling. "I'm sad after the show we never had much contact aside from occasionally running into each other at events. I'm glad he's out of pain. He's an icon to me professionally and personally. RIP Samuel love, your Violet."
People are loving Tori Spelling's tribute to Dustin Diamond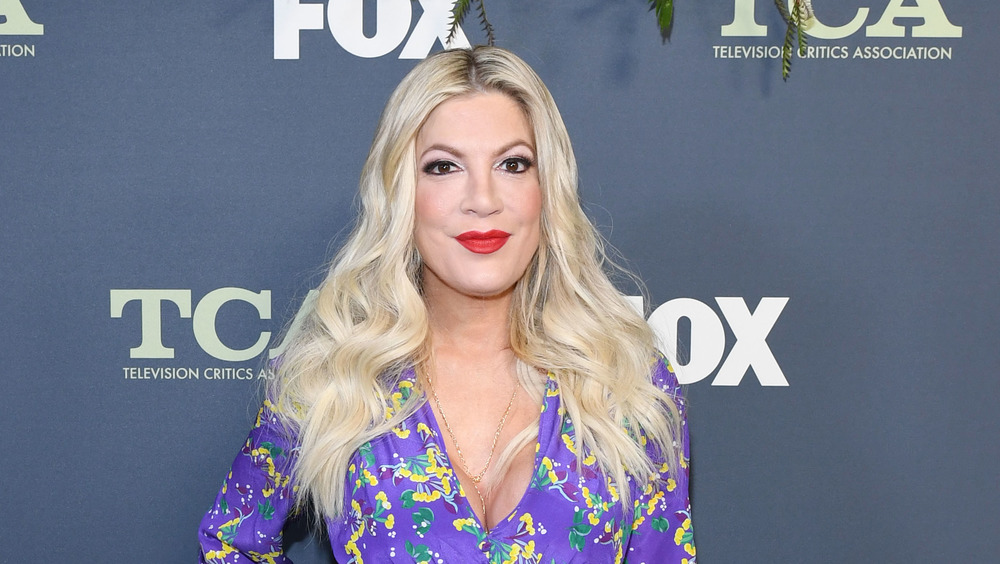 Amy Sussman/Getty Images
Spelling's tribute to Diamond has touched plenty of people, who both appreciate her words and fondly remember the interactions of their characters. 
"Awww they were the cutest," Instagram user @justmomkjh commented Spelling's post. "I wish Dustin could see how loved he was. [It] seems he had a tough time in his adult life, even in the end he passed so quickly. I think he was hurt not being invited back for the reboot of the show. It's very sad. You wrote a beautiful tribute." 
User @Jensparks46 agreed, and admitted to shedding a tear after reading Spelling's text: "I was so sad to hear of his passing. You worded this beautifully and I teared up with the ending. It was always fun watching you two together." An Instagram user with the handle @nolaangie stated outright that Spelling's tribute overshadows everyone else's, writing, "This is the sweetest tribute I've seen so far."
Though Dustin Diamond is gone, it's clear that his co-workers in general and Spelling in particular have great memories of the time they spent with him. Likewise, Saved by the Bell fans think fondly of him and his on-screen chemistry with Spelling. As Instagram user @gbifan commented, "Violet was perfect for Screech."
More Saved by the Bell stars pay tribute to Dustin Diamond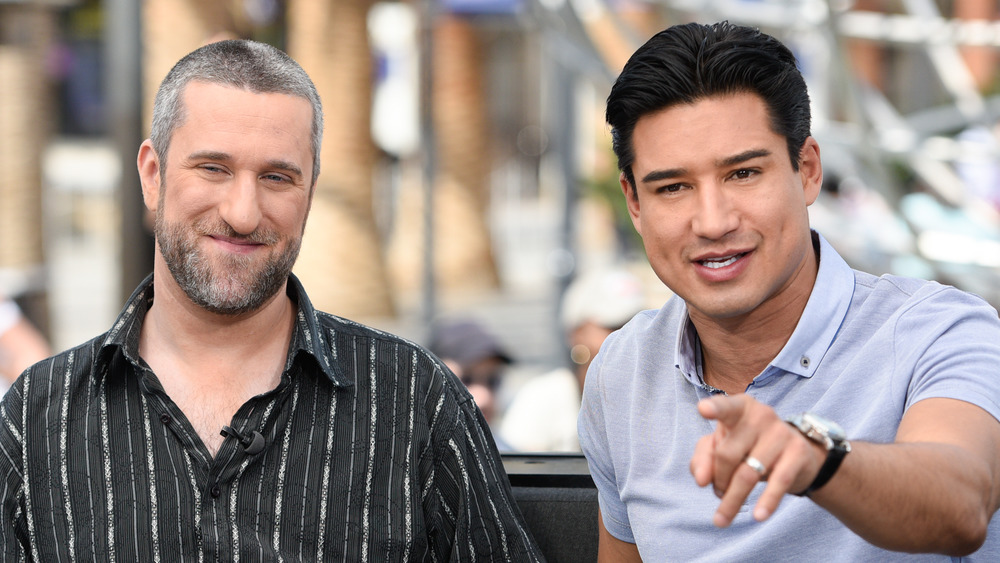 Noel Vasquez/Getty Images
Of course, Spelling wasn't the only Saved by the Bell alum who took to social media to honor Diamond in the wake of his death. 
Mario Lopez, who played the super-cool jock Albert Clifford "A.C." Slater on the sitcom show and who currently stars on the Peacock-streaming Saved by the Bell revival, shared on Twitter a photo of himself with Diamond at a recent event. He wrote in the caption, "Dustin, you will be missed my man. The fragility of this life is something never to be taken for granted. Prayers for your family will continue on..."
Jessie Spano actress Elizabeth Berkley headed to Instagram to post a sweet carousel of images of Diamond in his Saved by the Bell Days, accompanied by a message that reads, "I'm grateful to have gotten to create with Dustin when we were at the beginning of our dreams coming true. I will hold onto those sweet memories and the laughs we shared. He was a truly gifted talent. Rest In Peace." She added the hands-praying emoji, plus a white heart and sparkles emoji to complete the tribute.
Tiffani Thiessen, the actress who brought to life the popular cheerleader and sports superstar Kelly Kapowski, wrote on Instagram, "I am deeply saddened by the news of my old co-star @realdustindiamond passing. Life is extremely fragile and it's something we should never take for granted. God speed Dustin." She also shared the tribute, which ended with a broken heart emoji, on her Twitter page.
On Twitter, Mark-Paul Gosselaar – Saved by the Bell's golden boy Zack Morris, who actually appeared in Good Morning, Miss Bliss, the first project in which Diamond's Screech also starred — expressed his grief over his former co-star's death. "Deeply saddened to hear of the passing of Dustin Diamond, a true comedic genius. My sincere condolences to his family and friends. Looking back at our time working together, I will miss those raw, brilliant sparks that only he was able to produce. A pie in your face, my comrade," wrote Gosselaar.