The Funniest Screech Moments From Saved By The Bell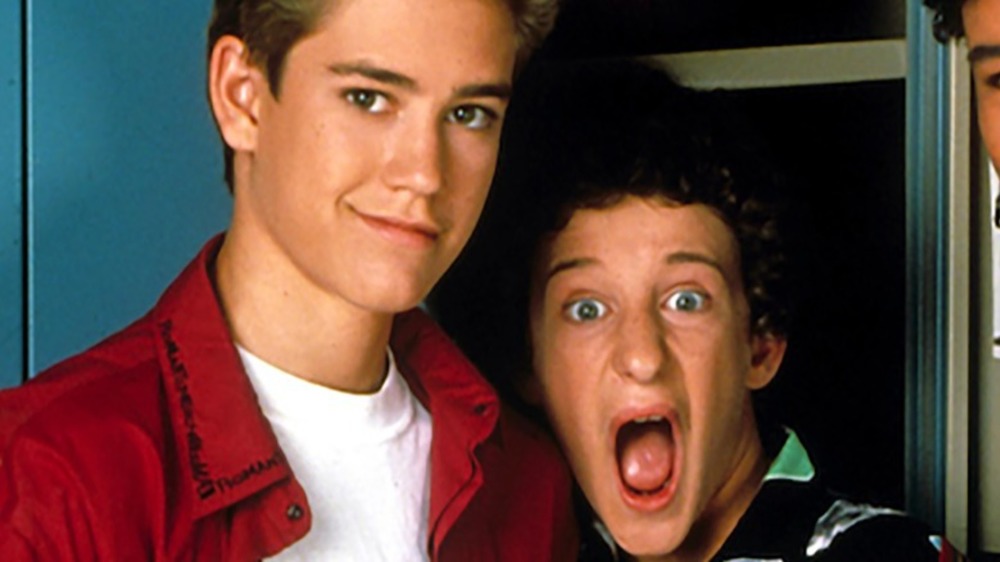 NBCUniversal
For a generation of kids that came of age in the early '90s, Samuel "Screech" Powers was TV's original cool nerd — even though his friends never fully recognized his coolness while they were at Bayside. In the wake of actor Dustin Diamond's death at the age of 44 from stage 4 small cell carcinoma on Monday, February 1, it seems only fitting to look back on Screech's funniest moments from Saved by the Bell.
After his time in the Saved by the Bell franchise ended, Diamond struggled personally and professionally. He released a tell-all book, Behind the Bell, that led to a much derided Lifetime movie, and he faced a number of legal troubles, among other things, but in May 2016, he sat down with his former co-star Mario Lopez for an interview on Extra, where he shared, "I want to put the tomfoolery and malarkey behind me ... for that clean slate. Time for a change."
Following his sit-down with Lopez, Diamond largely remained out of the spotlight, but he did speak out about not being invited to make a cameo in Peacock's Saved by the Bell reboot during a February 2020 interview with TMZ. "And how do you have Saved by the Bell without Screech, right? We should all be a part of this," he said.
The reboot's showrunner, Tracey Wigfield, later revealed that she was open to the idea of a Screech appearance in season 2 (via Us Weekly), but sadly that's no longer possible. Despite the fact that Diamond will never appear in the reboot, the character of Screech will live on as a funny, scene-stealing nerd with a heart of gold as the comedic scenes on this list prove.
Screech beats out Jessie and Slater to win the Miss Bayside pageant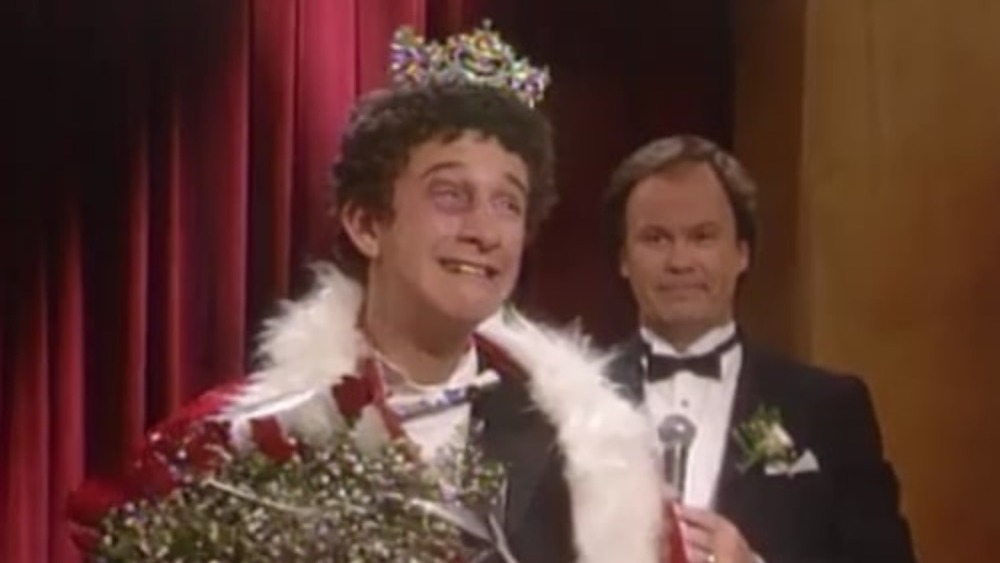 NBCUniversal
In the season 2 episode "Miss Bayside," Zack and Slater make one of their classic bets, and this time it's about who will win the school's beauty pageant. The guys take advantage of Jessie's campaign for the male students to be allowed in on the fun to enter Screech and Slater into the competition, with Zack betting that Screech will take the crown, which seems absurd right up until the moment it happens.
As Screech is being crowned, Diamond totally hams it up on stage, proving that he could make the audience laugh with nothing more than a regal wave and a teary grin. Meanwhile, an incredulous Jessie and Slater look on in horror as Screech beats them both. As a result, the scene is easily one of Saved by the Bell's funniest and most memorable moments, and that's thanks in large part to the genuine joy Diamond infuses into Screech's unexpected moment in the spotlight.
An FBI agent mistakes Screech for an alien with hilarious results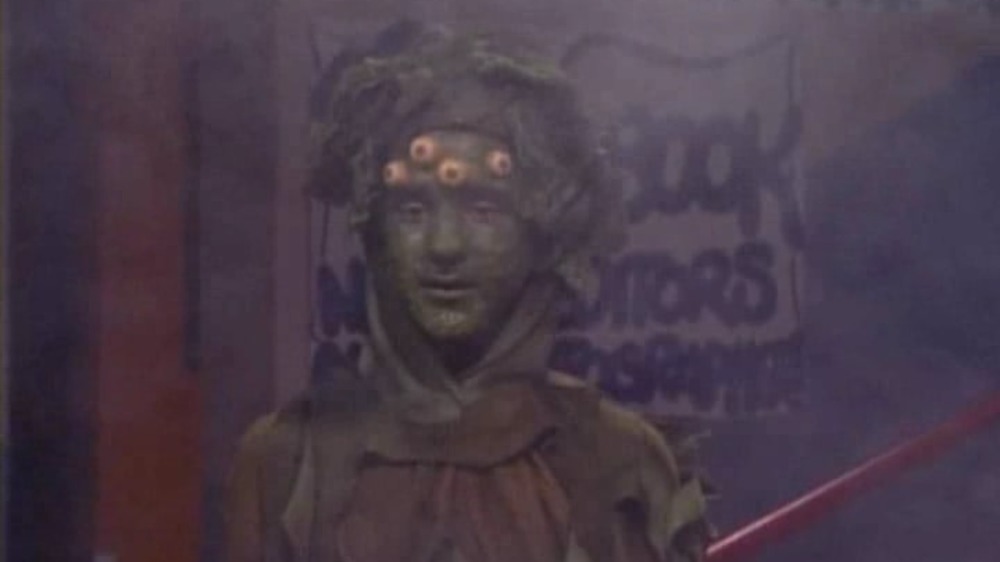 NBCUniversal
Screech was always a bit... unusual, so he was the obvious choice when the gang needed someone to dress up as an alien to make some quick cash to replace the school's camera. Unfortunately, Screech plays his role too well, and when the tabloid reporter visiting Bayside reveals he's actually from the FBI, the gang's plan almost ends with their pal being dissected in Washington.
The plot is wonderfully outlandish in a way only Saved by the Bell could pull off, but it wouldn't have worked had Screech failed to fully commit to his alter ego, the alien Zorch. "I'm tired of pretending I'm one of you ugly humans for all these years," Screech says just when the audience thinks the gig is up. "I'm not Screech, I'm Zorch."
Screech is so convincing that you'll be forgiven if you found yourself wondering if he was telling the truth right up until the moment he fled the overzealous FBI agent.
Screech is totally oblivious when Kelly develops a crush on him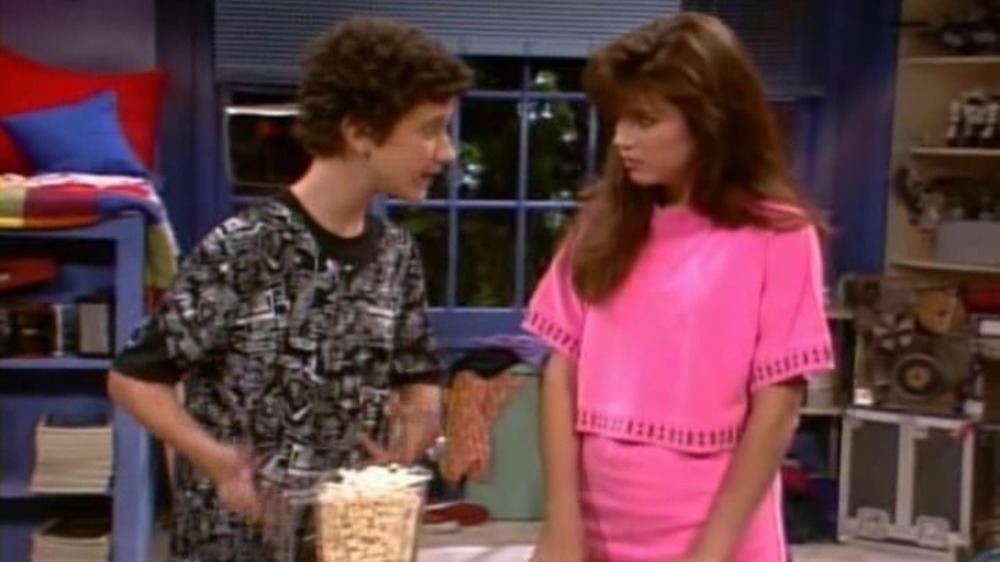 NBCUniversal
Saved by the Bell made Screech the butt of the joke more often than not, but in the season 2 episode "Beauty and the Screech," Kelly genuinely falls for him when he agrees to tutor her. Unfortunately, the sweet geek has no idea that his friend is developing feelings for him until it's too late.
This leads to a number of iconic moments including the first appearance of Screech's robot Kevin, Kelly and Screech sharing a milkshake at the Max, and Screech declaring himself Kelly's "Yoda." Diamond shines throughout the episode as he's finally allowed to let his character's genuine kindness and smarts be on full display, but Screech's natural humor is still a key component to the story's success.
In fact, Kelly's crush leads to "Screechmania" taking over the school, and to the gang having a collective vision of a future where nerds rule Bayside. In their daydream, Screech is a nerd James Bond with "a license to love" — ridiculous? Yes. Funny? Also yes.
Screech invents a new dance to cheer up Lisa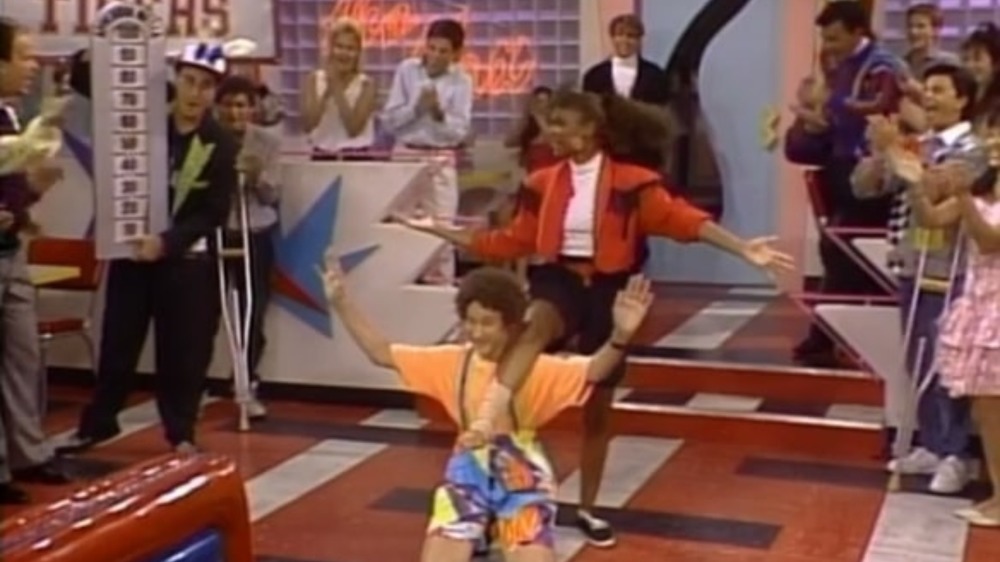 NBCUniversal
Lisa and Screech were one Saved by the Bell couple that just wasn't meant to be. But even though he knew Lisa would never feel the same way about him as he did about her, Screech always went out of his way to make sure his unrequited crush was happy. This led to a number of grand gestures over the seasons, but the most unforgettable one was Screech's invention of "The Sprain."
In the show's first episode, "Dancing to the Max," Lisa sprains her ankle right before the big dance competition at the Max, which prompts her partner to drop out. With nowhere else to turn, she reluctantly agrees to let Screech be her partner. Her gamble pays off when they invent a dance called "The Sprain" that's so good it wows their fellow students and the competition's famous host Casey Kasem.
Ultimately, there was rarely a scene Diamond was in that he didn't steal. In many ways, Screech was the hilarious heart of Saved by the Bell, and these funny moments from the show are a reminder of just how important he was to the success of the classic sitcom.